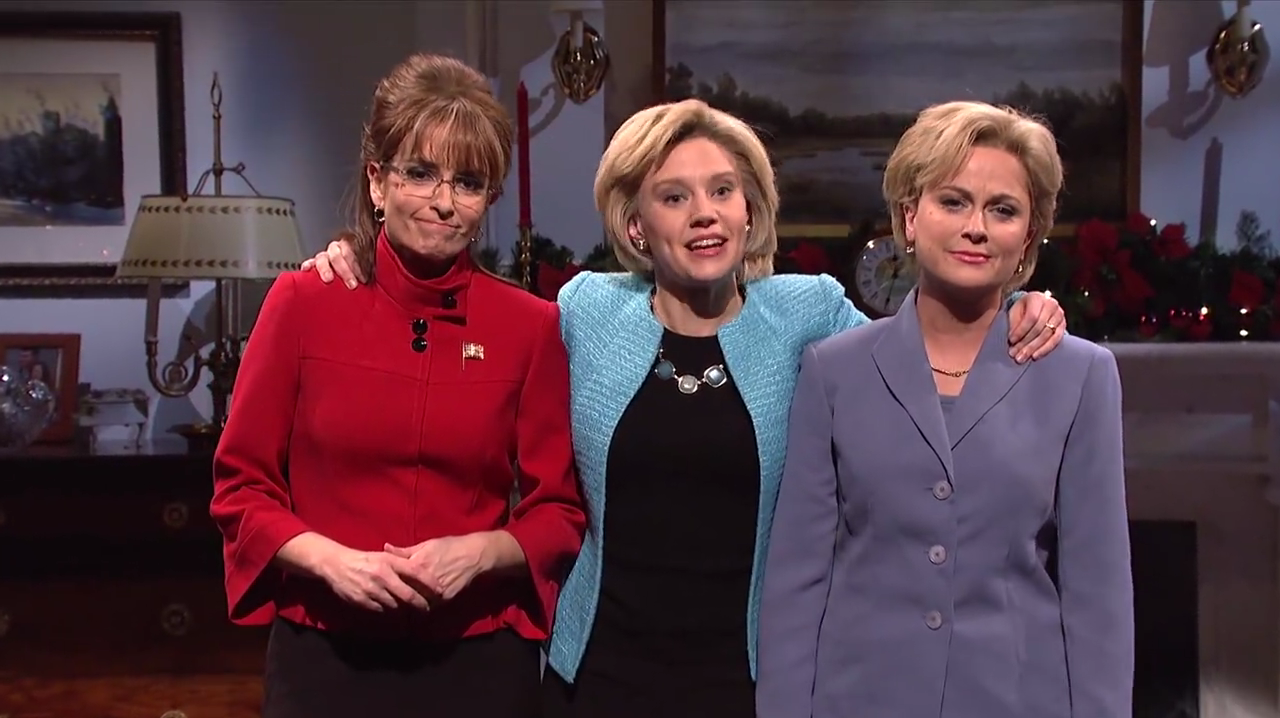 Immediately following Saturday's Democratic debate on ABC—the final presidential debate of 2015—two familiar faces returned to Saturday Night Live and attempted to bring humor back into politics.
Amy Poehler and Tina Fey reprised their beloved impersonations of Hillary Clinton and Sarah Palin, respectively, in a performance with current SNL hotshot Kate McKinnon, who does a formidable impression of the 2015 version of Clinton.
SNL alums Fey and Poehler, who hosted Saturday night's performance, appeared in the spot-on sketch "A Hillary Christmas," in which the 2015 Clinton goes to sleep and is visited by two ghosts of presidential candidacies past: Hillary Clinton circa 2008 (Poehler), and former Alaska Governor Sarah Palin (Fey).
As 2015 Clinton, McKinnon is gearing up for a night of "productive dreaming" when she hears "strong, yet feminine laughter." Yup, it's 2008 Clinton, played by Poehler. Present-day Clinton is riding high and confident, but 2008 Clinton has a warning: She says she "was cocky too" on Christmas Eve 2007, and then "someone named Barack Obama stumbled out of a soup kitchen with a basketball and a cigarette and stole my life." Present-day Clinton is adept at disses, too, at one point calling her Democratic opponent Bernie Sanders a "human Birkenstock."
Still, 2008 Clinton isn't privy to all the issues contemporary Clinton faces. When she remarks that now-Clinton's laugh is "less joyful," McKinnon's Clinton points to problems from the past seven years: "Here's a sneak peak," 2015 Clinton says, sidling up to her past self. "Benghazi." Confused, past Clinton remarks: "Who's Benghazi?" To which 2015 Clinton poo-poos her, laughing that she's but a "young, naive girl of 61," later smashing her phone when she says she's going to "send some emails."
Similarly, when 2015 Clinton asks past Clinton to "pound to that," meaning fist-bump, past Clinton is puzzled. Then, now-Clinton hits upon a very real issue circling sexism: "Oh sorry, that's how I have to talk in 2015," she says. "Not enough to just work hard, we have to be cool but tough, soft but strong, a sweet old lady but a sweet old lady that says, 'Yasss queen.'"
The best moment of the sketch happens when 2015 Clinton tells past Clinton to hold onto something, because she's about to tell her who the Republican front-runner is. When she reveals that it's Donald Trump, 2008 Clinton promptly falls to the floor. When she gets back up, she exclaims: "Oh my God, we're going to be president!"
Soon, Fey's Palin appears, to thunderous applause. Looking dazed, she chirps: "Well, what the heck! I landed in the bedroom of a lesbian couple," much to the two Clintons' chagrin. She laments Clinton's 2008 loss, remarking: "Oh, you poor thing. I heard after you lost you had to work as a secretary."
"Of state," the two Clintons retort.
Then, the three set aside their differences and do what they do best: Break it down over a dance beat, to Outkast's "Bombs Over Baghdad."