MLB 2018 Trade Rumors: Giancarlo Stanton Taking NL MVP Award to the Midwest?
It didn't matter, in the end, that Giancarlo Stanton's Miami Marlins finished six games below .500 in the 2017 Major League Baseball season.
Or, at least, it didn't matter for Stanton on Thursday night, as he picked up the National League M.V.P. award for a summer spent slugging his way into the MLB record books.
Sport exists at the same time in different temporal realities, of course, just as individual feats and aims can diverge from the successes and hopes of the collective. So yes, the Marlins finished the season with 85 losses—good, just about, for second in the National League East, where only the Nationals ended with a winning record.
Stanton scorched 59 home runs, coming within one solid connection on the final day of the season of a mark that should not still be reachable by a mortal. In one collective sense, those homers were futile. The Marlins didn't make the playoffs. But they would have been even further away without Stanton, whose W.A.R. (Wins Above Replacement) of 7.56 was good for fourth in MLB.
In fifth for W.A.R. was Joey Votto, the Cincinnati Reds first baseman who finished as NL M.V.P. runner-up behind Stanton.
"Votto is one of the three National League MVP finalists, and that seemed to catch some by surprise," David Schoenfield wrote for ESPN before the award was decided. "One national TV host was foaming like a rabid dog about Votto finishing that high in the voting, and not just because the Reds finished 68-94. You can debate whether the Reds' bad record hinders Votto's consideration for MVP, but you can't debate his value on the field."
If Stanton is a different case—an unsurprising M.V.P. winner on an average rather than a terrible team—then it's mostly down to the visceral nature of his feats. Baseballs consistently launched with a rifle crack into the ether are hard for anyone to ignore, particularly if they have a live national television audience. Sometimes you can transcend your team by such a distance that their averageness makes you glisten all the more.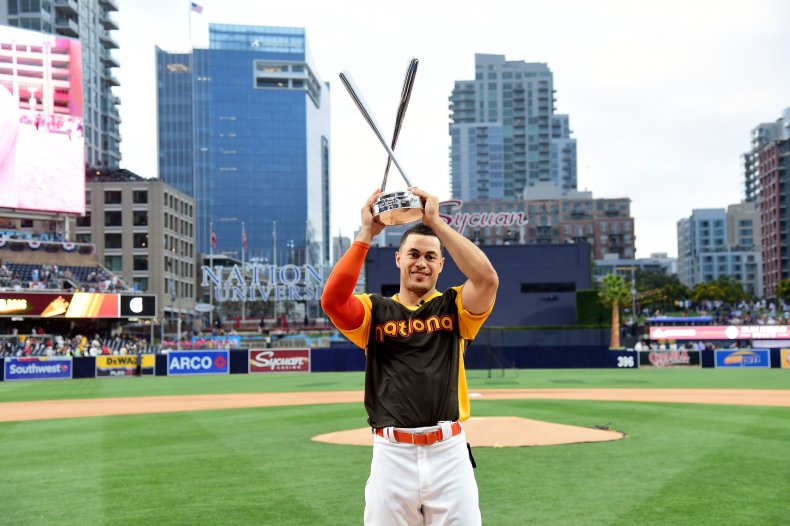 It's not true, however, that Stanton is indifferent to the Marlins' collective achievements. He told ESPN on Thursday that he wants the team's pitching to be "thoroughly addressed, not just somewhat addressed."
The game's preeminent slugger has also made no clear noises that he wants to leave Miami. But the irony at the heart of the matter is that the Marlins, now under Derek Jeter's co-ownership and intending to slash their payroll for 2018, almost certainly cannot contend while lugging around Stanton's giant contract.
"It's an interesting feeling and situation for me,'' Stanton said in that ESPN piece. "This is the only place I've known, but I also understand the business part of it. The direction that new ownership wants to go. They're feeling it out. We're going to try to figure out a plan here.''
The ideal, perhaps—or a version of it—would be for Stanton's temporal reality to match his team's. That means being traded to a contender, or a team on the verge of contending. One such destination could be the St. Louis Cardinals, who "officially discussed" a potential move with the Marlins on Wednesday according to Jon Morosi of MLB Network and Fox Sports.
"The Reds are wasting the Ted Williams of our generation," read the headline of Schoenfield's ESPN piece about Votto.
And that does matter, because when greatness is transcribed into annals and histories it requires a wider context than the cult of the individual. Or, to put it another way: it would be a damned shame never to watch Stanton playing baseball in October.