Greg Gianforte Receives Prison Jumpsuit on First Day in Congress After Body-Slamming Journalist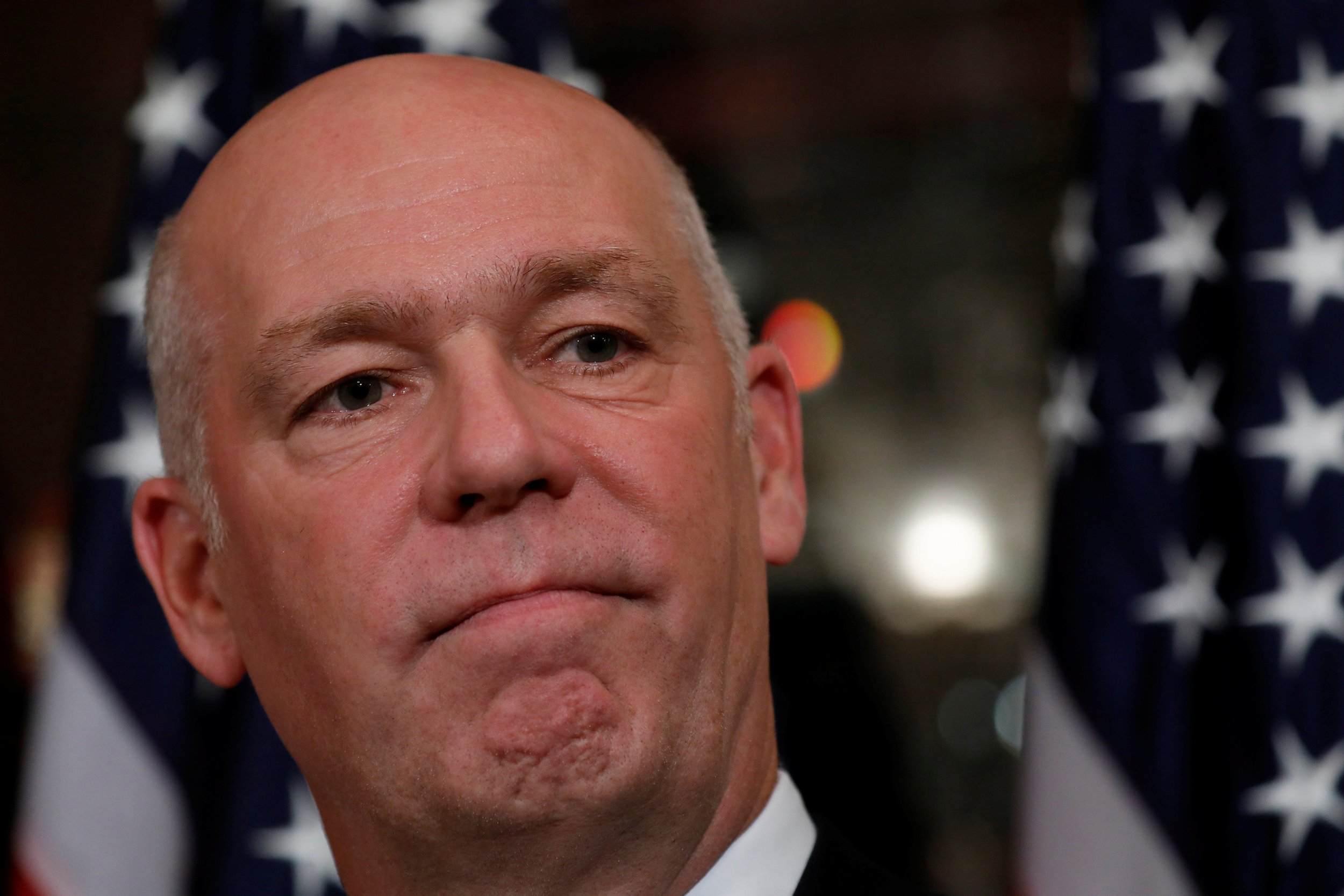 Last month, Greg Gianforte body-slammed a reporter for The Guardian at campaign headquarters the night before a congressional election. On Wednesday, he was sworn into the House of Representatives.
But there's at least one group that's not going to let Gianforte forget his past. The Montana Democratic Party, whose candidate Rob Quist lost the May race against Gianforte, announced in a news release that it mailed the representative an orange prison uniform for his first day in Congress.
"Everyone knows you need plenty of suits to work on Capitol Hill," the party wrote on its website. "While millionaire Gianforte can certainly afford his own, we know he has a lot of legal fees to pay. So we thought we'd help him out."
The party then attached what appeared to be a stock photo of a man wearing handcuffs and a bright orange jumpsuit.
The incident the Democrats were referring to took place on May 24, when Ben Jacobs asked Gianforte a question about health care with a recorder in hand, according to the Guardian. Instead of answering, Jacobs claimed Gianforte fought him and broke his glasses. A Fox News reporter corroborated the account, saying she'd "watched in disbelief as Gianforte then began punching the man, as he moved on top the reporter and began yelling something to the effect of 'I'm sick and tired of this!'"
Afterward, Gianforte's campaign rejected Jacobs' story, saying in a statement that the reporter "aggressively shoved a recorder in Greg's face" and refused to leave.
"Jacobs grabbed Greg's wrist and spun away from Greg, pushing them both to the ground," Gianforte spokesman Shane Scanlon said, according to Vox. "It's unfortunate that this aggressive behavior from a liberal journalist created this scene at our campaign volunteer BBQ."
Gianforte won the election, but local police charged him with misdemeanor assault. He pleaded guilty earlier this month and escaped jail time by apologizing to Jacobs and giving $50,000 to the Committee to Protect Journalists, the Associated Press reported.
Gianforte told the AP he hoped to move on in his political career—"I can't erase it, but I did do everything in my power once the event was over to take responsibility," he said—but the jumpsuit state Democrats sent him Wednesday may indicate that will be difficult.
"As a convicted criminal, he will be hidden by his leadership and not given any position of influence in Washington," Montana Democratic Party spokesman Roy Loewenstein said in the release. "So we got Mr. Gianforte a welcome gift to help his new colleagues identify him."