Gianni Infantino Is Not a Game Changer—He's FIFA's Ultimate Company Man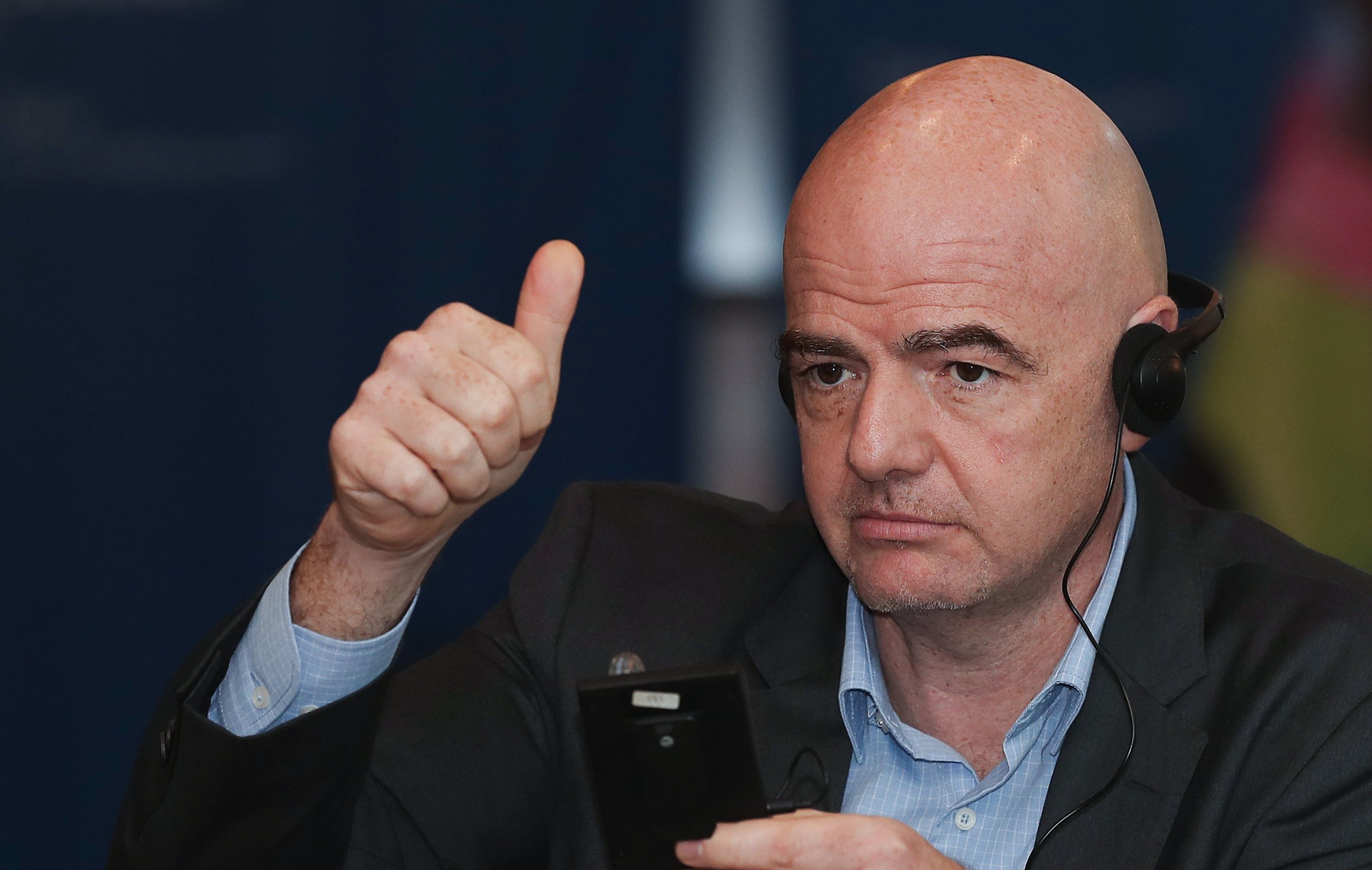 A few days after the dramatic dawn raid that led to the arrest of world football officials at the Baur au Lac Hotel in Zurich in May 2015, Sepp Blatter, the incumbent FIFA president, was re-elected unopposed. That tells you everything you need to know about FIFA.
Soon after, officials concluded that Blatter was involved in a " dishonest payment " to former football great Michel Platini, then head of European football (UEFA) and widely seen as Blatter's heir apparent. It would prove to be the end of both their careers at FIFA.
By February last year, the first FIFA election since 1998 without Blatter as a candidate, and after months of continuous fallout, dreadful headlines, widespread ridicule and external pressure from some FIFA sponsors, the FIFA electors wanted one thing in their new president: A proverbial "steady hand."
Most importantly, what FIFA's electors wanted was someone who would be acceptable enough to U.S. and Swiss authorities — who were, and are, still investigating world football — for FIFA to maintain its 'victim' status with both nations. Without it, FIFA would be sunk.
Newsweek subscription offers >
Read more: Exclusive interview with Sepp Blatter on his legacy as FIFA president
Enter Gianni Infantino.
Seen as the "accidental candidate," as he was described in a Sky Sports profile from February 2016, after Platini was banned along with Blatter, Infantino presented himself as an ever-smiling, multilingual Swiss lawyer. For FIFA's broad church of voters, Infantino was almost the perfect candidate. He looked like generational change, but he also knew just how things worked.
But let's not kid ourselves. Infantino had read the FIFA president's playbook. He won by doing precisely what Blatter and Brazilian Joao Havelange before him did so well.
Newsweek subscription offers >
He also promised more countries a seat at the high table of power by expanding FIFA's executive council. He promised more money to every member association. Before his election he promised more World Cup places to each regional confederation, which accomplishes two things. It makes more members happy and brings in more money that he needs in order to fund a shortfall on his promises that former presidential rival Sheikh Salman bin Ibrahim al-Khalifa claimed in February 2016 was $550 million.
However, Infantino has yet to satisfactorily answer several pressing questions related to his leadership, including the fact that the 2018 World Cup is being held in a nation that allowed state-sanctioned doping under the leadership of the man who is heading the tournament. Or that the 2022 edition is being held in a nation that has metaphorically lifted its skirts about introducing 'reform' to its inhuman kefala system, but has done nothing but take one step forward and one step back for the past six plus years. Infantino visited the Qatari emir and Prime Minister in April 2016, promising to establish a panel ensuring " decent working conditions " in the Gulf state.
While the limited reforms agreed by the congress this time last year were meant to curtail the profile and power of the FIFA president, Infantino has maintained a level of visibility similar to Blatter.
He has made trips around the world to his flock, smilingly promising them they could host a World Cup or some other event. He has had his photo taken with everyone from a trip to Pope Francis in a chartered jet from Geneva to Rome through to Marco Polo del Nero, president of the Brazil football federation who is under indictment by the U.S. Department of Justice (and who, by the way, is the third person to hold the position in five years after the two previous incumbents, Ricardo Teixeira and Jose Maria Marin, are also under indictment or investigation).
Infantino was investigated by FIFA's ethics committee over claims he used a private jet to visit Russia and Qatar, the next two hosts of the World Cup, amidst allegations of conflict of interest for which he was cleared.
His bringing in of sweeping powers last May to hire and fire the independent heads of committees at will caused controversy when the independent head of the Audit and Compliance Committee, former big pharma executive Domenico Scala, resigned in protest , claiming the move would "undermine a central pillar of the good governance of FIFA." He was replaced by Tomaz Vesel, the state auditor of Slovenia.
Welt am Sonntag reported that he ordered his staff to erase a recording of a meeting in which he discussed moves to get rid of Scala with the executive committee — with only two members raising an objection. "In accordance with standard practice, all official FIFA meetings – including Council meetings - are recorded and archived. This was the case for the meeting in Mexico City in question," a FIFA response read. "The email exchange that makes mention of the deletion of audio files refers to a copy of the original audio file of the meeting that was improperly stored on a local drive. This mention does not refer to the officially archived audio file. That file exists and is properly saved at FIFA."
The Panama Papers also raised questions over Infantino at UEFA, showing that as UEFA's director of legal services, he signed off on a Champions League rights deal between UEFA and Ecuador via Cross Trading, a company registered in Niue. Where? Yes, a dot in the Pacific brokering multi-million dollar deals for significant football competitions. UEFA denied any wrongdoing and Infantino said at the time that he was " dismayed " by the reports.
In the style of many who like to divert attention from more challenging matters, Infantino floats ideas about things that don't really need fixing, such as the World Cup and whether to change the offside rule.
But there is a long list of questions he won't talk about.
So far we have not heard anything more than platitudes from Infantino about how he will ensure that FIFA's 212 member associations have the level of democracy, transparency and accountability that groups such as New FIFA Now say world football needs in the 21 st century.
Infantino is FIFA's ultimate company man. He does not have the authority, the capacity or the willingness to bring seismic systemic and cultural change to FIFA.
He has shuffled the deckchairs and applied a fresh coat of paint, but world football and FIFA have not changed course.
In other words, the voters got precisely what they wanted 12 months ago.
What world football and FIFA needed is someone with unparalleled credibility and authority to be a genuine game-changer.
Jaimie Fuller is Executive Chairman of global compression sportswear company SKINS; and co-founder of campaign group NewFIFANow, along with British MP Damian Collins and Australian FIFA whistleblower, Bonita Mersiades. Follow Jaimie on Twitter @jaimiefuller.
Gianni Infantino Is Not a Game Changer—He's FIFA's Ultimate Company Man | Opinion