Video: Stephen Curry and Giannis Antetokounmpo Combine for Sensational Dunk During All-Star Game
The 2019 edition of the NBA All-Star Game contained enough material for a lengthy highlight reel but Stephen Curry's bounce-pass lob to Giannis Antetokounmpo was arguably the pick of the night.
The "Greek Freak" has been defying the law of physics throughout the season and took it up a notch on Sunday night in Charlotte, North Carolina.
With his team leading by 14 points halfway through the second quarter, Antetokounmpo and Curry found themselves on the break with the court opening in front of them and only Kevin Durant between them and the basket.
This being the All-Star Game, a simple pass and lay-up wouldn't have sufficed, so the duo opted for something a little spicier.
Curry slammed the ball on the court, expertly getting it to lob over Durant's head and towards the rim. Antetokounmpo, who had just entered the painted area by time the ball left Curry's hand, simply took off and threw down a sensational dunk.
While the pass was inch-perfect, The Greek Freak still had plenty of work to do and few players in the league would have been able to provide a finish as empahtic as the one he delivered.
At least for the first three quarters, defense is traditionally little more than an afterthought during an All-Star Game but that should take nothing away from Antetokounmpo and Curry.
Not content with providing arguably the highlight of the night, the 24-year-old was the top scorer in the game, finishing with 38 points on 17-of-23 from the field.
The Milwaukee Bucks star added 11 rebounds and five assists in just 27 minutes on the court, while Curry flirted with a triple-double as he finished with 17 points, seven assists and nine rebounds.
Antetokounmpo would have almost certainly been named MVP had his team won. Unfortunately for him, Team Giannis squandered a 13-point lead at halftime and lost 178-164 after Team LeBron scored 96 points in the second half.
Led by Kevin Durant's 31 points, Team LeBron hauled themselves back into the game in the third period, before running away with it in the final quarter. Damian Lillard and Klay Thompson came off the bench to combine for 38 points, on 12-for-29 from beyond the arc as Team LeBron set a new All-Star record for the most three-pointers made in a game with 35.
In his 15th consecutive start in an All-Star Game, James finished with 19 points, eight rebounds and four assists and is now 2-0 when captaining one of the two teams in the event.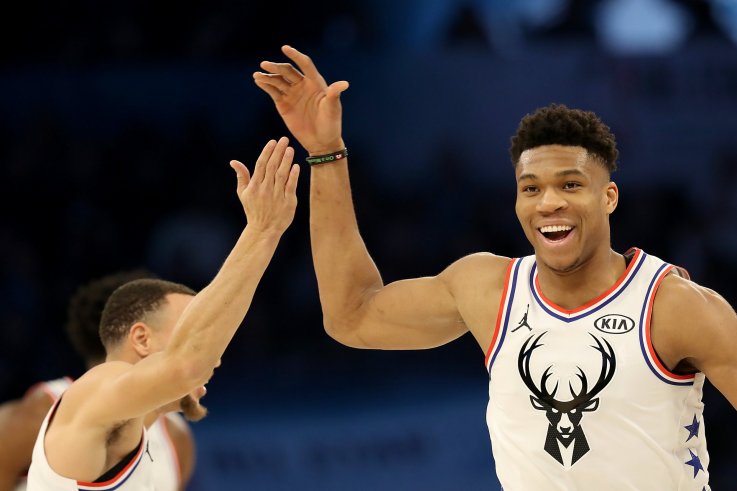 Video: Stephen Curry and Giannis Antetokounmpo Combine for Sensational Dunk During All-Star Game | Sports