Milwaukee Bucks power forward Giannis Antetokounmpo won the NBA's MVP award Monday night at the league's awards ceremony in Los Angeles. The Greek native, who is the third-youngest to win the MVP in the last 40 years behind LeBron James and Derrick Rose, became emotional during his acceptance speech.
Tears streamed down his face as he addressed the crowd and remembered his deceased father.
"Two years ago I had the goal in my head that I'm going to be the best player in the league," Antetokounmpo said. "I'm going to do whatever it takes to help my team win, and I'm going to win the MVP.
"Every day that I step on the floor, I think of my dad, and that kind of motivates me and pushes me to play hard and move forward even though my body's sore and even though I don't feel like playing, I was going to show up and I was going to do the right thing."
Antetokounmpo thanked his Bucks teammates he called "amazing" brothers.
"You guys are my role models." Antetokounmpo said. "I look up to you. I thank you for everything you guys do for me.
"And I want to thank my amazing mom," he said as the broadcast focused on his teary-eyed mother. "She's not just my mom, she's my hero."
He went on to say that children dream big, and that his mother believed in him.
"You're my hero," he said. "A true hero."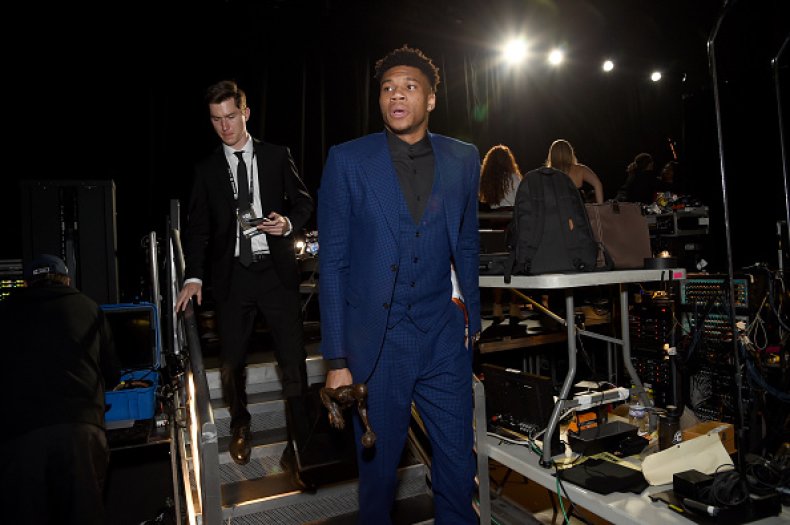 Antetokounmpo is 6-foot, 11- inches tall and was drafted 15th overall in the first round of the 2013 NBA Draft. The "Greek Freak," as he is known, averaged 27.7 points and 12.5 rebounds in the 2018-19 season while dishing 5.9 assists per game. He was named one of the two captains for the NBA All-Star Game with LeBron James of the Los Angeles Lakers under the new all-star game format.
Despite the numbers, Antetokounmpo would rather be recognized for his team winning games and championships.
"MVP is not about stats and numbers ... it is all about winning and all about making sure you go out there and do everything you can to win," Antetokounmpo said. "I think that is what we did as a team."
The Bucks fell to eventual NBA champions Toronto Raptors in the playoffs.
Antetokounmpo is the second Bucks player to win the league MVP, following Kareem Abdul Jabaar's feat in the 1971-72 and 73-74 seasons before the former center went on to win four more MVP awards with the Los Angeles Lakers.
Paul George of the Oklahoma City Thunder was second in MVP voting for the 2018-19 season, followed by 2017-18 MVP James Harden of the Houston Rockets.
Antetokounmpo was also second in voting for the NBA's Defensive Player of the Year award.
Uncommon Knowledge
Newsweek is committed to challenging conventional wisdom and finding connections in the search for common ground.
Newsweek is committed to challenging conventional wisdom and finding connections in the search for common ground.
About the writer
Scott McDonald is a Newsweek deputy night editor based in Cape Coral, Florida. His focus is assigning and writing stories across all topics, from news to politics, business, weather, sports and international news. Scott joined Newsweek in 2018 after a lengthy career of print journalism in Texas, including The Dallas Morning News, where he was a sportswriter, and he's a voter for the Heisman Trophy. He has been a newspaper editor-in-chief and also a newspaper publisher. He is a graduate of The University of Texas at Austin. You can get in touch with Scott by emailing s.mcdonald@newsweek.com. Languages: English