Giannis Antetokounmpo Wins Years-Long Feud With Drake, Gets Shoutout On New 'CLB' Album
The battle between Drake and Giannis Antetokounmpo is over, and the Milwaukee Bucks superstar forward has won.
The NBA Finals MVP earned a shoutout on the rapper's new album "Certified Lover Boy" that dropped Friday.
Drake dropped his new album at 2 a.m. ET, which drove the internet wild. Sports fans, specifically basketball fans, swooned over the reference to Antetokounmpo, which appears on the track "7 a.m. on Bridle Path."
"Don't move like a Puto, at least keep it a buck like Antetokounmpo," the song's lyrics say.
Drake, who is known for name-dropping NBA players during his raps, is the second to shout out the two-time NBA MVP this week. His name also appeared on the track "Junya" from Kanye West's new album "Donda" that dropped Sunday.
"Let me be honest, I run with the Bucks boy, lemme Giannis," that song said.
Being called out on raps puts Antetokounmpo into a new stratosphere among NBA players, continuing his ascent as one of the league's marquee faces after carrying the Bucks to their first NBA championship in 50 years.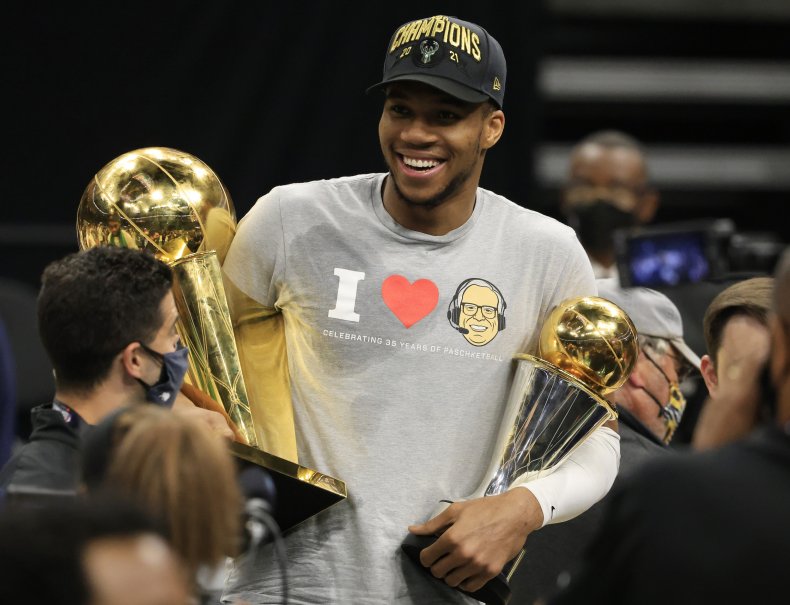 But the shoutout from Drake must have been especially sweet since Antetokounmpo has been embroiled in a years-long war of words with the Canadian rapper. Drake first drew the Bucks star's ire in Milwaukee's Eastern Conference Finals series against the Toronto Raptors in 2019 by loudly mocking him while he shot free throws.
After the Raptors won the 2019 NBA championship, Drake trolled Antetokounmpo by bringing championship belts to the teams' meeting in Toronto in February 2020. That prompted Giannis to fire back.
"He cares about me, I really don't [care about him]," Antetokounpo said after their game.
But evidently they've kissed and made up. Drake paid his homage, made more special by the fact Antetokounmpo's name is extremely hard to rhyme, and he lent his brand, Nike, as the duo teamed up to create a special-edition clothing line in conjunction with the album's release.
Antetokounmpo might be the centerpiece athlete featured on "Certified Lover Boy," but he's not the only NBA personality referenced. Drake also shouted out Ayesha Curry, the wife of Golden State Warriors star Steph Curry, on the track "Race My Mind."
Steph Curry was apparently aware of the shoutout and voiced his approval while also congratulating Drake on the album.
Tom Brady, the Tampa Bay Buccaneers quarterback who was not referenced on "Certified Lover Boy," also sent Drake his congratulations on Twitter while also lamenting the fact he was left off the album.