Giant Bear Breaks Into Connecticut Woman's Car, Sits in Passenger Seat
A giant bear broke into a woman's car in Connecticut and was caught sitting in the passenger seat, footage shows.
Cornwall resident Cody Gillotti, who captured the footage, said on Facebook that the intruder "totaled" the car, which belonged to his mother-in-law.
Gillotti had been relaxing inside, he told NBC Connecticut, when he saw the lights in the car turn on. His mother-in-law was in bed at the time, the news outlet reported, so Gillotti went outside to investigate.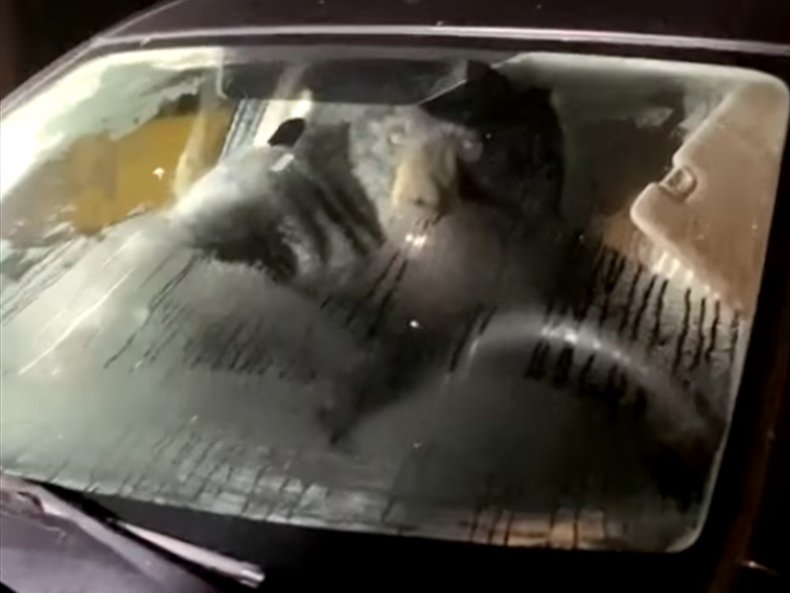 The footage shows the ginormous bear sitting in the passenger seat, peering through the windscreen at Gillotti, with a dazed look on its face.
"It was almost like a deer in headlights, it was just stunned," Gillotti told NBC. "It looked like a teenage kid that just passed out in his car after a long night of partying and his mom caught him."
While the bear looks perfectly still in the video, Gillotti said it actually caused severe damage to the car.
On a GoFundMe page set up by Gillotti to help his mother-in-law repair the car, he said: "The bear was NOT completely still the entire time. He absolutely destroyed the car, ripped apart two doors, shredded the head liner and back seats."
Gillotti told NBC it also "stinks to high heaven" inside the car.
The Department of Energy and Environmental Protection arrived to remove the bear from the car shortly after Gillotti made the discovery.
Officials found the bear had locked itself inside the car as they attempted to open the door with rope, NBC reported. Wildlife officers then used a bean bag round to help ease the bear out of the car.
Gillotti told the news outlet that the car began "rocking back and forth," as the bear became more frightened. Gillotti said that is when he realized "the bear was about to come busting out."
The bear then broke out of the car door and ran away.
Gilloti said bears are common in the area, however it is rare to find them in cars. He told Fox61 that the bear was "huge," and one of "the biggest [he's] ever seen."
Before the bear broke into the car, it appeared he stopped off at Gillotti's truck first, which he has not long owned. The bear ripped up the seats of the truck—but did not cause as much damage—before moving on to the mother-in-law's car.
Black bears are abundant throughout Connecticut. They can often wander into residential areas, attracted to garbage, bird feeders and pet food.
In 2019, there were 7,300 bear sightings across all of Connecticut's towns. Following the incident, the Department of Energy and Environmental Protection warned residents to keep car doors and windows locked, to avoid any similar instances.