Giant Crocodile Caught in Trap at Popular Swimming Spot
A giant crocodile has been removed from a swimming spot in Australia's Northern Territory.
At Wangi Falls in Litchfield National Park, the 11-foot reptile was caught by the Crocodile Management Team from the Northern Territory Parks and Wildlife Commission.
Wangi Falls is a popular swimming spot in the park but has been closed since this past October. This is because during the wet season traps and crocodile barriers are removed so they do not become damaged from fast-flowing water, the commission said in a statement.
When these barriers are removed, crocs are able to sneak into these swimming areas without anyone noticing.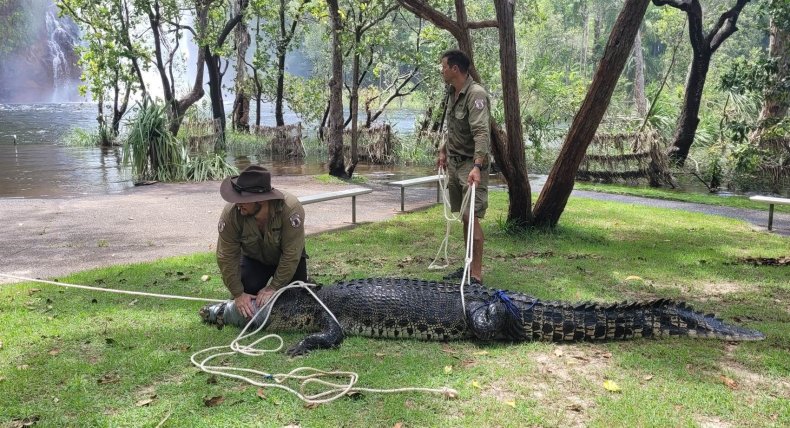 A trap was put in place to catch this crocodile after a member of the public spotted it lurking in the water. It is not the only one to be removed recently. So far, the Crocodile Management Team has removed 25 crocodiles from the area since the beginning of the year, the commission said.
The catch comes just days after a man suffered severe injuries from a crocodile attack while egg collecting in the Northern Territory near the town of Daly River, south of Darwin. The man was rushed to the hospital by helicopter, where he received surgery for his injuries.
Between 100,000 and 200,000 saltwater crocodiles are estimated to be living in Australia. The reptiles can grow to huge sizes and have very powerful jaws.
Teams have also removed a crocodile measuring 10 feet, as well as one measuring 11 feet that was taken from another area of Litchfield.
Crocodile attacks in Australia are rare but not unheard-of. Although the reptiles do not usually attack unless provoked, this can occur when humans are swimming.
The Parks and Wildlife Commission recently issued a warning on crocodile attacks. It said most fatal attacks occur when people are swimming in water outside of safe areas, where crocodiles are more likely to swim.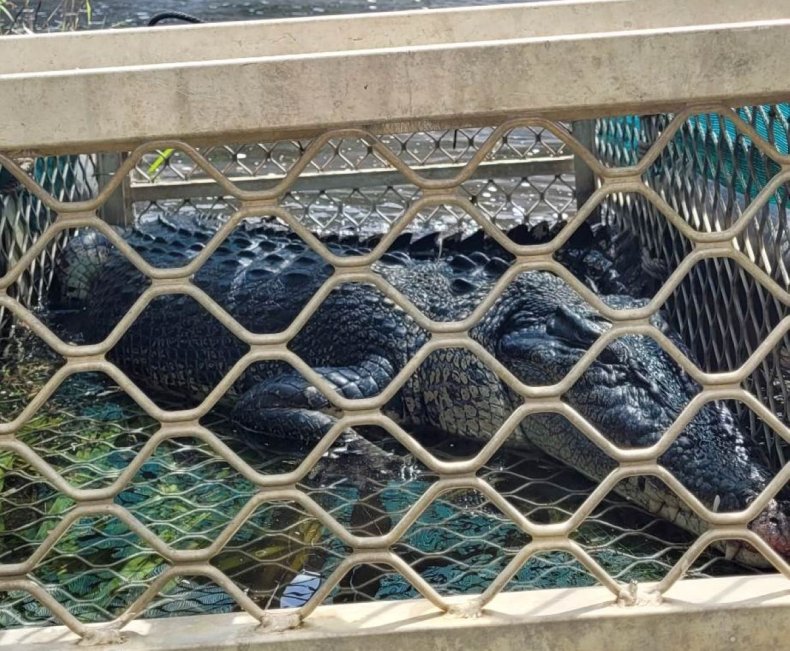 The commission warned that especially during the wet season "crocs are on the move between waterways."
"This means that any body of water could contain a croc. No sign, no swim. Avoid approaching the water's edge and obey all croc warning signs, they are there for your safety and protection," the commission said in a statement.
Last May, a woman was attacked by a large crocodile while swimming in a lake in Western Australia. This was in an area that is usually thought to be safe for swimmers. After the crocodile bit the woman on her leg, she was rushed to the hospital.
Do you have an animal or nature story to share with Newsweek? Do you have a question about crocodiles? Let us know via nature@newsweek.com.