Giant Dog Best Friends With Little Sisters Delights the Internet
A giant dog who is inseparable with his little sisters has gone viral after pictures of the trio were shared online.
Owner, Phil Smith, shared the pictures of the dog, 2.5 year old South African Mastiff aka Boerboel, Barney, on Facebook, with a caption that read: "Barney-boy the world's goodest boy."
In the photos which have already gathered over 17,400 likes, Barney can be seen gently playing with his little sisters, 6 year-old Winnie and 12 year-old Maisie, laying on their bed and even wearing their girly pink heart-shaped shades with no issues.
Smith told Newsweek: "He is the sweetest dog ever! He loves a play in an off-leash park. He is our only dog so he's besties with our 4 cats, and the Border Collie who he visits daily. "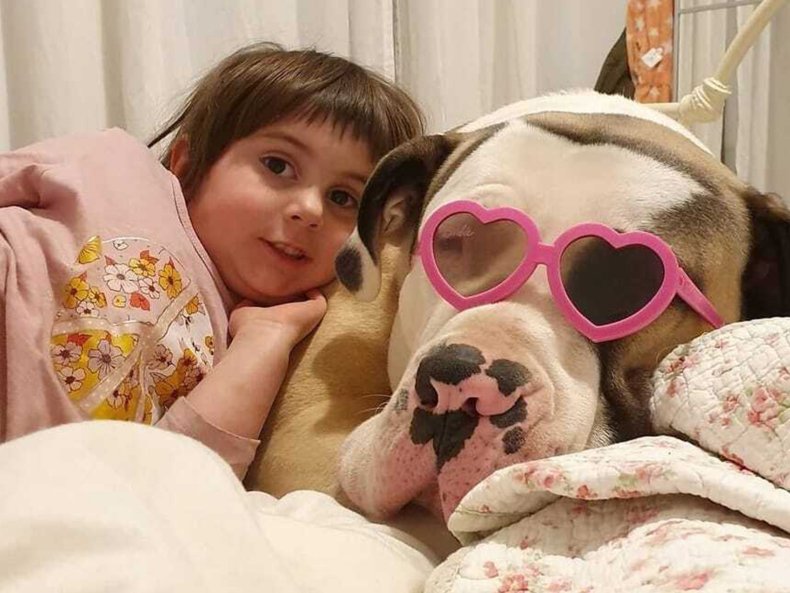 Although he's a big, kind boy, Barney is also very protective of his family and his property, especially his two little sisters. Smith added: "Although once off the property he will happily let a stranger squish his face up whilst hugging him."
Even though he looks huge, and he weighs 80 kilograms(176.37 pounds), Barney is not a big eater. "Barney is a fussy eater and surprisingly doesn't eat all that much, as you can see from his lean muscle," said Smith.
According to Mastiff Guide, South African Mastiffs were originally bred by farmers to protect their land from ferocious predators, and their Afrikaans name Boerboel, proves this. The word "Boer" is an Afrikaans word for "farmer," while "Boel" is a slang term meaning "dog."
The average height of a male Boerboel is anywhere between 25-28 inches, and the average height of a female Boerboel is between 23-25.5 inches. The average weight for this dog is between 155-200 pounds.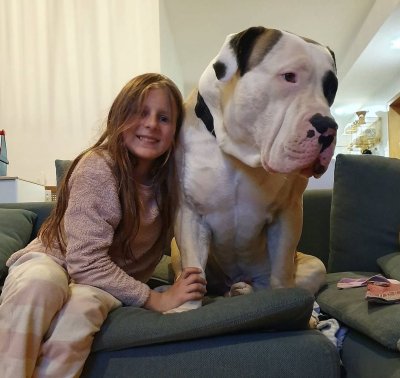 Most users were impressed with the giant dog's kindness. One user, Lynn Antley Duncan, said: "I am in love, gorgeous." Tara Miller commented: "Oh my gosh Can he be any cuter!?!"
And Jacqueline Venable Simmons added: "I'm in love! You can see how precious he is. What a tender-hearted Love he is! That face!"
Other users didn't believe he was a dog, or that he was real at all. Tiffany Martin said: "That's not a dog... that's a freaking horse! Pretty sure my 2 year old could ride him. I wouldn't allow it, but you know what I mean." Ashley Marie McMains wrote: "Is that dog real? He's a giant."
Mady Weaver joked: "Look at [this] cow pretending to be a doggo." Joseph Bailey said: "This is a dog group not a horse group. Please post accordingly." And Sandra Jimenez added: "Are you sure that's not a human in a dog costume??? His head is as big as your whole kid!!!"
Other users were shocked, Diane Ruff Fisher added: "Oohhh my goodness...he's huge!!"
Do you have funny and adorable videos or pictures of your pet you want to share? We want to see the best ones! Send them in to life@newsweek.com and they could appear on our site.