Giant Donald Trump Balloon in KKK Robe Welcomes Melania to Phoenix Immigration Shelter
First lady Melania Trump was greeted in Phoenix Thursday by a group of protesters with a giant comical balloon of her husband, Donald, in a Ku Klux Klan outfit.
As Melania arrived at a migrant-holding facility for children, the protesters had a balloon of the president wearing a KKK robe over a blue suit and holding a white, sharply pointed hat.
"About 30 protesters are waiting for Melania Trump across the street from a Southwest Key facility in west Phoenix," Matthew Casey, a KJZZ Phoenix reporter, tweeted alongside a video of the inflatable Trump. Casey added in the comments section that the protesters were also playing the N.W.A song F*** Tha Police.
According to KJZZ's Fronteras Desk, Melania had to enter the facility from the back to avoid the small crowd that had been waiting in hot temperatures since midday to confront the first lady over the Trump administration's handling of immigration.
"She looks like a coward," Maria Cruz Ramirez, from the activist group Puente, said. "She had to go in from the back."
Melania reportedly met with the employees of the shelter and children inside. According to its website, Southwest Key is a national nonprofit established in 1987 that aims to improve the lives of children and their families. Their Phoenix facility holds around 120 children.
Earlier that day, the first lady flew to Tucson, Arizona, for her second migrant-holding facility visit within the past week. There, she went to a U.S. Customs and Border Protection facility to speak with officials about migrant control in the area.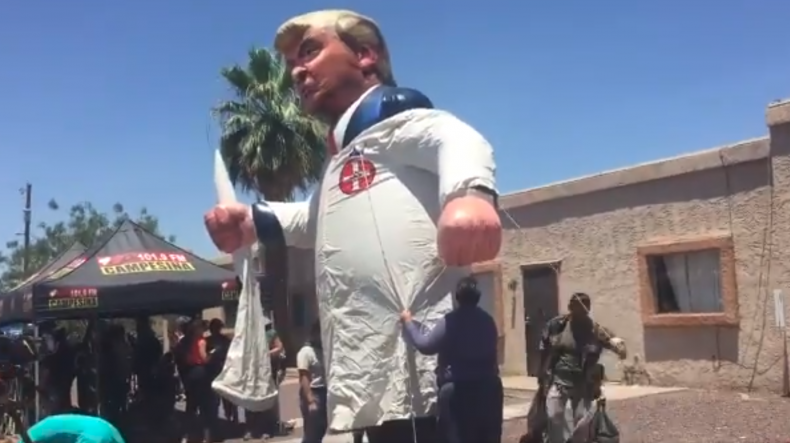 Last Thursday, Trump made an unannounced trip to visit immigrant children being held at a facility near the Texas border. The kids had been separated from their parents due to the Trump administration's "zero tolerance" policy on immigration.
"I'm looking forward to seeing the immigrant children," Trump said at the Upbring New Hope Children's Shelter. "We all know they're here without their families, and I want to thank you for your hard work, your kindness and your compassion you're giving them in these hard times."
Trump's trip came a day after the president signed an executive order that effectively halted the practice of separating children from their parents who illegally cross the U.S.-Mexico border. The move came amid growing backlash from both Republicans and Democrats after the media began showing images, videos and photos of children inside the controversial detention facilities.
However, the zero tolerance policy, which was announced in April, is still in place, despite protests from dozens of lawmakers and public figures.