Giant Hogweed Plant Sends Virginia Teenager to Hospital with Third-degree Burns
A teenager has suffered second- and third-degree burns to his face and arm after he encountered a giant hogweed plant while working his summer job.
Alex Childress, 17, was gardening in the Fredericksburg area of Virginia on Tuesday to raise funds for college, when he chopped down a tall, green plant topped with white flowers, the Richmond Times-Dispatch reported.
Little did he know he had cut back a giant hogweed, releasing its poisonous sap and unwittingly brushing it across his face and left arm.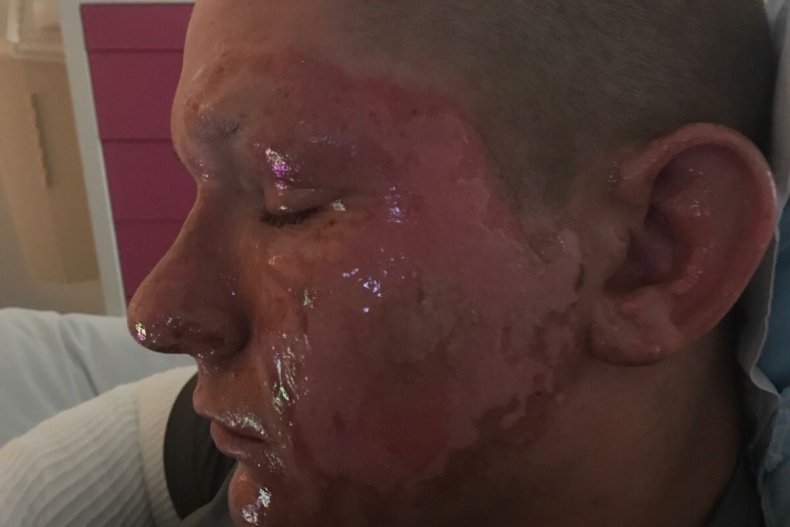 When he got home, his father Justin Childress was startled to see the top layer of skin on the left side of his face had peeled off like the aftermath of "really bad" sunburn, he told the Richmond Times-Dispatch.
Doctors later revealed the giant hogweed had caused Alex to suffer second- and third-degree burns to the skin on his face and left arm.
Giant hogweed, or Heracleum mantegazzianum, has a watery, clear sap which makes the skin more sensitive to sunlight in a process called phytophotodermatitis.
When combined with moisture and sunlight, it can cause painful blistering. The blisters can cause permanent scarring, and the skin can remain sensitive for many years.
The plant should therefore only be handled while wearing protective clothing and eye protection.
The teenager was treated at the burns unit at VCU Medical Center on Tuesday night, and discharged on Thursday. He was given daily wound care, including removing dead skin from the burn.
As sunlight can make the burns worse, Childress will have to avoid the Sun until he has recovered and wear high SPF sunscreen, according to his father.
Read more: Giant Hogweed Warning: Plant That Can Cause Blindness, Burn Skin, Spreads Into New State
Due to his injuries, Childress won't be able to work for the rest of the summer, and doesn't have insurance to cover medical bills, he wrote on a GoFundMe page.
"I have a scholarship to Virginia Tech with the Army ROTC but I may end up loosing [sic] it now because of medical disqualification," he wrote on the GoFundMe page. "If you can help it would be great. I will use any funds for supplies for college if I can still attend this fall, and medical bills from being in the Burn ICU."
The fundraiser for Childress has so far raised over $1,000 in six hours.
The incident comes after officials warned in June that giant hogweed had been spotted in Virginia for the first time. The Massey Herbarium at Virginia Tech, which researches flora in the state, tweeted it had found the first giant hogweed in Clark County. The plant was also identified in Isle of Wight County.
Giant hogweed is listed as a noxious weed by the federal government, as well as the states of Alabama, California, Connecticut, Florida, Massachusetts, Minnesota, New Hampshire, North Carolina, Oregon, Pennsylvania, South Carolina, Vermont and Washington.
The perennial herb originated in the western Caucasus Mountains in West Asia, and is thought to have spread around the world by collectors working for botanical gardens. A member of the carrot family, it can grow up to 14 feet.
This piece has been updated with background information.