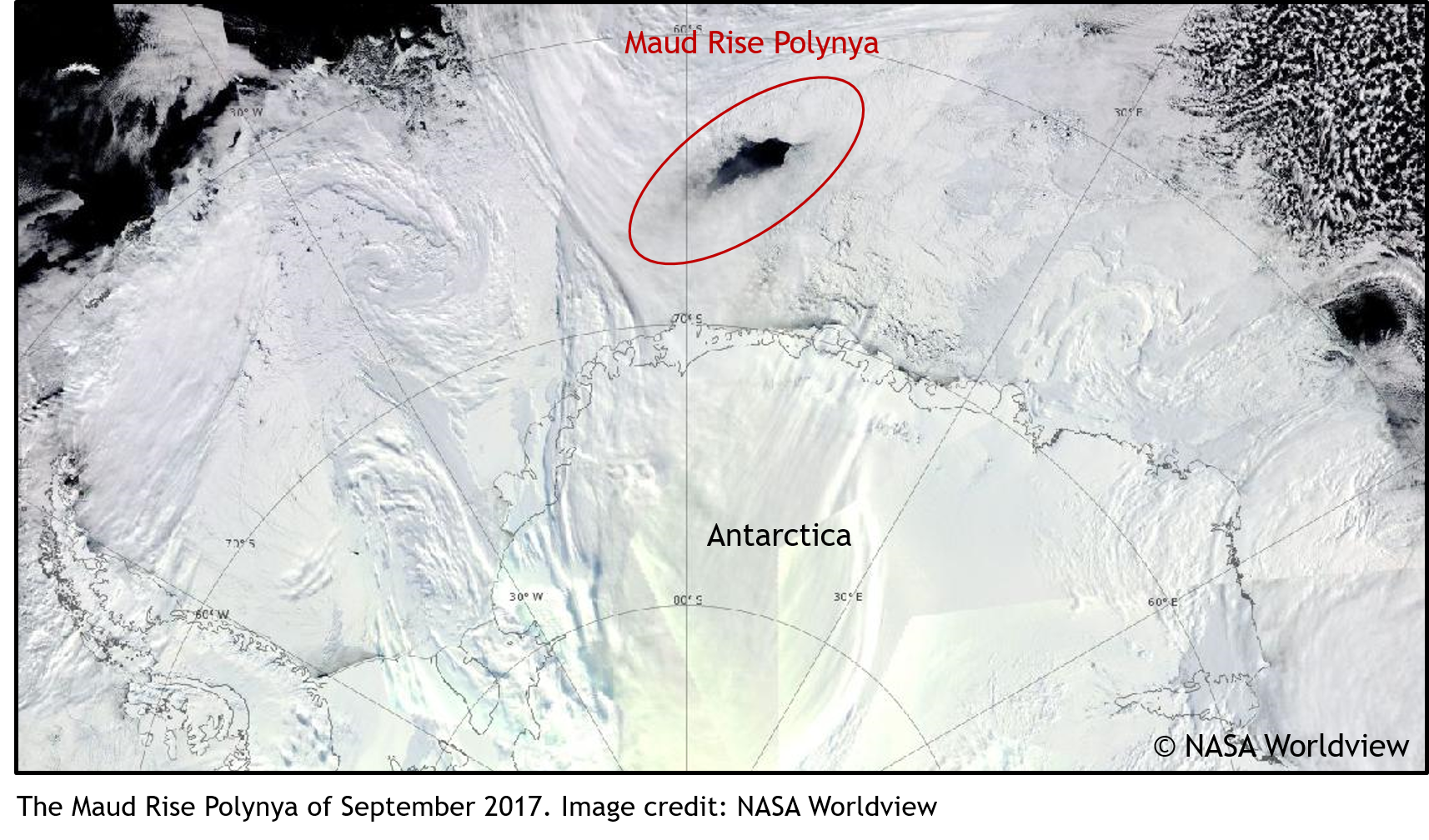 In 2017, a giant hole appeared in the Antarctic ice. It appeared in mid-September and, initially, measured 3,700 square miles. Within six weeks it had grown to more than 30,000 square miles—an area almost as big as Kansas.
Known as a polynya, the hole was an area of unfrozen ocean surrounded by ice. This one, known as the Maud-Rise Polynya, located in the Lazarev Sea, was first recorded in 1974 but had not reappeared since. It was spotted during the depths of the Antarctic winter, when sea ice is at its thickest.
What caused it to open back up was a mystery.
It had previously been suggested polynyas that appear in the winter were caused by winds blowing across the ice—but what exactly causes them to appear is not fully understood.
In a study published in the Journal of Geophysical Research: Atmospheres, scientists, led by Diana Francis from New York University, have now found that cyclones were behind the phenomenon.
The team used satellite observations and high-resolution data relating to the time and space of the polynya to work out the conditions that led to the hole.
They discovered that intense cyclones and strong winds had caused the ice to be carried away from the region. The cyclones, they found were comparable to Category 11 on the Beaufort scale. Surface winds drag the sea ice to the left, while the cyclonic winds carry them in the opposite direction. This led to an opening in the ice field near the center of the cyclone.
The Maud-Rise Polynya grew and grew until it eventually merged with the open ocean, as the ice began to retreat as a result of the onset of summer.
Researchers say the link between cyclones and polynyas has implications for the future, as climate change models suggest there will be more polar cyclones in the future.
"Mid-sea polynyas are important because of the exchange of heat between the ocean and the atmosphere resulting after their occurrence, especially during the winter months when the sea ice pack is expected to be consolidated, having such 'windows' affects the ocean circulation and the atmosphere as well," Francis told Newsweek.
After the polynya has opened, it transfers vast amounts of energy between the ocean and the atmosphere—with the potential to globally alter climate because of how it affects ocean circulation.
This is what Francis will be working on next: "My focus will be on looking at other mid-sea polynyas and seeing if the same mechanism is causing their opening," she said. "I would like also to look at the frequency of all mid-sea polynyas around Antarctica and related to the cyclone activity during winters."