Giant Hollywood-Style Trump Sign Appears on Los Angeles Freeway
Welcome to Tinsel Town: Large letters in the style of the iconic Hollywood sign reading "TRUMP" were found on Los Angeles' 405 Freeway on Tuesday morning.
Los Angeles CBS Local reported that the letters were installed sometime between late Monday night and Tuesday morning on the southbound side of the Freeway in Sepulveda Pass. The giant letters appeared to use the iconic typeface from the "SF Hollywood Hills" font family, making it blend into the hilly setting seamlessly.
California Highway Patrol's incident log reported the "traffic hazard" around 6:41 a.m. PST, as per KTLA 5. Those who reported the sign feared that it could "spark a blaze," since it was placed in an area with dry bush.
"Someone put up this Trump sign overnight along the 405 freeway, near the Getty," Twitter user Christina Pascucci shared. "This is right in the middle of what's largely considered one of the most liberal cities in America."
The signage, which appeared to be 10 feet in height, was removed by 9 a.m.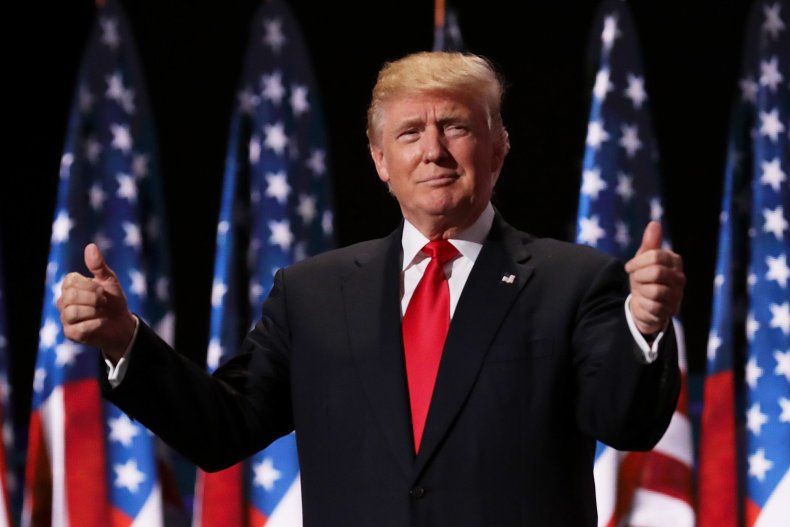 Many Twitter users didn't seem thrilled by the sign's location. "Spotted a Trump sign along the 405 near the Getty," one user wrote, recalling the blaze that occurred not far from the Getty Museum last year. "Can we get a fire on that hill again but just on the sign?"
"Someone put up a massive Trump sign overnight along the 405 freeway, near the Getty. Is #California going to turn red??" another user wandered.
"To the person who put up that ugly trump sign on the side of the 405." a third person wrote. "You and your negative energy will not ruin my day boo. Enjoy it while it lasts bc he won't."
The people behind the sign have yet to be found.
This isn't the first time the iconic Hollywood Sign has been a victim of parody. In January 2017, an artist changed the sign to read "Hollyweed." The two letter o's were transformed into e's using sheets. According to The New York Times, the artist behind the prank, Zachary Cole Fernandez, was charged with trespassing.
Fernandez considered his antics to be more of a "harmless" artistic statement. "Yeah, I broke the rules, but I broke it with good spirit and good intentions," he said at the time. "It was just to bring light and positivity and happiness."
"I don't want to destroy anything," he added. "I'm about peace and love and respect and integrity and a lot of things that in some ways are missing these days. I wanted to show there's a light in the world."