Giant Marlin Hit by Boat Leaps on Board, Spears Two Fishermen, Escapes
Two brothers are lucky to be alive after a bizarre incident with a marlin while they were fishing off the coast of New South Wales, Australia. The 200lb piscine beast crashed onto their boat while they were traveling at rapid speeds.
The men, aged 46 and 48, were with another man on a five-meter hull inflatable boat Sunday when the fish fracas happened off Solitary Islands Marine Park in Wooli, 9 News reported.
While their vessel was traveling at around 21 knots they hit the fish, which then came onto their vessel. Marlins are recognisable by their spear-like snouts.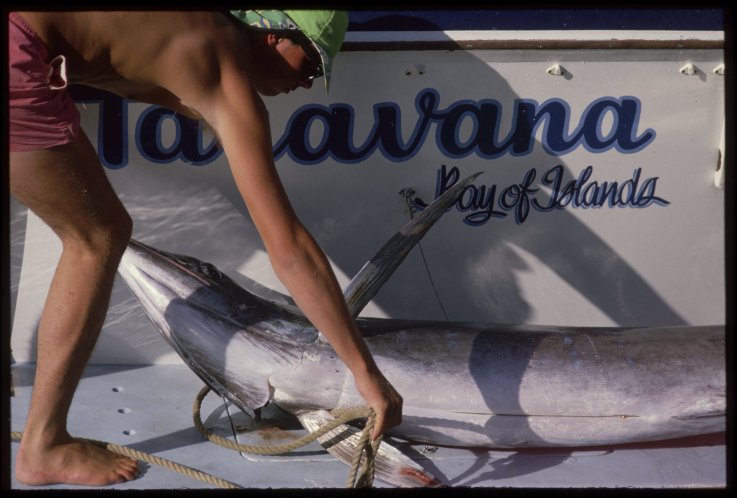 It sliced open one of the men's lower right arm and cut into the right shoulder of the older brother. The other man on the boat was not injured. The fish got itself off the boat and back into the water.
Westpac Rescue Helicopter aircrew member Michael Kerry, who attended the scene, said both brothers were "really shocked by the bizarre incident," adding that they were "in the wrong place at the wrong time."
"The gentleman who was closest to the fish saw it at the very last moment and put his arm up to protect himself, mainly his head, and that's when the fish has impacted and caused most of the damage.
"[The man] has a very deep laceration to that arm as well as fractures," Kerry said (via ABC News).
NSW Police said in a statement: "The marlin's sharp snout sliced open the younger brother's lower right arm, causing an open fracture.
"The older brother suffered a deep cut to his right shoulder."
Stan Young from Wooli Fishing Charters said: "They're lucky they're alive, especially the guy that got speared in the shoulder and come out the other side of him — terrible"
"It's like being struck with a sword." The brothers' injuries are not thought to be life-threatening.
All three main species of marlin–black, blue and striped–are found in the area. Offshore water temperatures range from 19-28C, making it ideal for game fishing, The Guardian reported.
The attack was unusual, with sharks usually being the biggest risk in the waters off Australia's coast.
Earlier this month, a three-and-a-half-meter tiger shark was among dozens of sharks intercepted in a trial of high-tech drum lines off Sydney's Palm Beach-Newport area, Stuff reported.
In February, a man was airlifted to hospital after being bitten by a shark in Byron Bay off the coast of New South Wales.
Giant Marlin Hit by Boat Leaps on Board, Spears Two Fishermen, Escapes | World