Giant Mural of 'Superhero' Beto O'Rourke Pops Up in Texas Ahead of Midterms
A mural depicting Democratic Representative Beto O'Rourke of Texas, who is running to unseat Republican Senator Ted Cruz, as a superhero has popped up in Austin, less than two weeks before the midterm elections.
The mural, which portrays O'Rourke tearing open a suit jacket in Superman fashion to reveal a "B" on his chest, was created by artist Chris Rogers, who had been working on the project for weeks, according to his Instagram account.
"Out of the darkness comes the light," Rogers wrote in a caption sharing an image of himself standing in front of the mural, which he titled "Beto for Texas."
Rogers, who did not immediately reply to a request for comment, had posted sketches for the mural earlier this month and said he would start work on the project on October 11. He completed the mural as early voting for the midterm elections started and worked away on the project—even through rain—to get it completed in time.
In addition to depicting O'Rourke as a superhero, Rogers's mural, which is located in an Austin alley, also shows a "B" emblem projected into the night sky above Austin's skyline, not unlike the "Bat-Signal" used to summon DC Comics superhero Batman in times of need.
The artist said in an Instagram post that he had initially considered painting an "upside-down Texas flag" to signify "a distress signal," but he said that after consulting people who are "much more inclined to political science and campaigning than me," he was concerned that an upside-down flag "could not only be misconstrued by the larger public, but, even worse, be used by opposing parties to twist the message and potentially strengthen their attempts to smear Beto O'Rourke."
"That ain't happening," the artist said. "Not on my watch."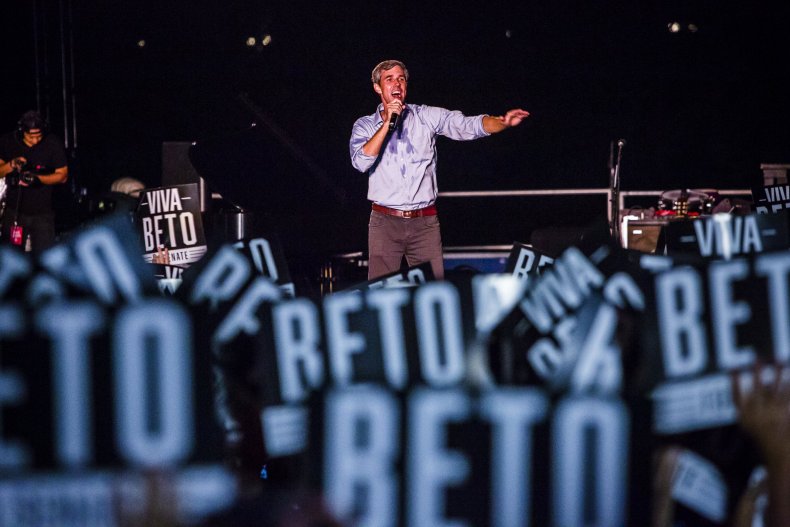 In the past few months, O'Rourke has proved himself as a serious contender to his Republican opponent, incumbent Senator Ted Cruz.
Campaigning on key issues, including immigration, gun control and human rights, O'Rourke managed to raise record-breaking amounts of money in campaign donations with a recent haul of more than $38 million in the third quarter amounting to roughly three times the funds raised by Cruz.
Still, Cruz currently enjoys a 7-point lead over his Democratic rival, according to a RealClearPolitics average of polling.
Both the Republicans and President Donald Trump have ramped up attacks on O'Rourke, with Cruz appearing to encourage a supporter who shouted "Lock him up" at a rally in Georgetown, Texas, on Tuesday.
"Well, you know, there's a double-occupancy cell with Hillary Clinton," Cruz said, before adding: "Ya'll are gonna get me in trouble with that."
Trump also railed against O'Rourke on Monday, calling him a "stone-cold phony named Robert Francis O'Rourke," before acknowledging the candidate was "sometimes referred to as Beto," a name the politician has used since childhood.
Read more: Donald Trump Calls Beto O'Rourke a 'Stone-Cold Phony Named Robert Francis O'Rourke' During Texas Rally
"He pretends to be a moderate, but he's actually a radical, open borders left-winger," the U.S. leader said of the Democrat.
For his part, O'Rourke has said that a recent decision, taken straight from Trump's playbook, to refer to Cruz as "Lyin' Ted" during a debate last week was not the "best" idea.
"That wasn't the best phrase for me to use," O'Rourke said, in a prerecorded interview with ABC News that aired on Sunday. "I'm going to do my best to stay focused on the future," he said.