World's Heaviest Giant Panda Twins, Weighing As Much As a Football, Born in China
The heaviest pair of captive giant pandas in the world were born Saturday at a breeding center in Chengdu in Western China. Combined, they weighed about the same as a football at birth.
The twin male and female cubs weighed in at 7.5 ounces and 7.4 ounces, respectively, the Chengdu Research Base of Giant Panda Breeding reported Thursday. The average weight of a newborn panda is roughly five ounces.
It took the pair's mother, Po, about five hours to give birth to the pair, after her water broke at 4.47 a.m. local time. The male cub was born first at 7.14 a.m. and the female followed at 9.28 a.m.
The mother quickly warmed to her newborn cubs, holding them in her arms and licking them as soon as she could muster the energy.
The cubs have an American connection through their mother. Po was born at Atlanta Zoo on November 3, 2010. Originally thought to be male, she was named after the lead character in the movie Kung Fu Panda, which was released in 2008. Po was later transferred to the Chengdu center.
The twins' father, Yingying, and his twin sister also both weighed more than seven ounces at birth, which is highly unusual. Yingying weighed 7.3 ounces and his sibling, Nini, weighed 7.1 ounces.
With the birth of the twins, the center's population hit 200 giant pandas.
The center welcomed the lightest captive giant panda cub in the world last month, state-owned outlet China Daily reported.
Cheng Lang, a female panda cub, weighed just over 1.5 ounces at her birth on June 11. That's roughly one-third the average weight of a panda cub, according to the center's chief, Zhang Zhihe. It's also just shy of the weight of a golf ball.
She has a much larger, and slightly older, twin sister, who weighed a healthy six ounces at birth. Zhang said Cheng Lang measured only two-thirds of her sister's length. The little panda was slowly catching up with her older sibling, Zhang added.
Cheng Lang's mother, Cheng Da, went into labor at 9:35 a.m. local time, before giving birth at 14:41 p.m and again at 18:08 p.m, the panda sanctuary reported.
Experts at the center cared for the tiny newborn round-the-clock after her birth. Although she was born without complications, she may face problems because of her tiny stature. Newsweek has reached out to the panda center for an update on her health.
Before Cheng Lang, a male cub called Wuyi was the lightest giant panda in the world, China Daily reported. Wuyu weighed just under 1.8 ounces at birth on August 7 2006. Like Cheng Lang, he was born in the Chengdu base.
Wuyi is still alive and healthy 13 years later. According to state news agency Xinhua, he now weighs approximately 291 pounds.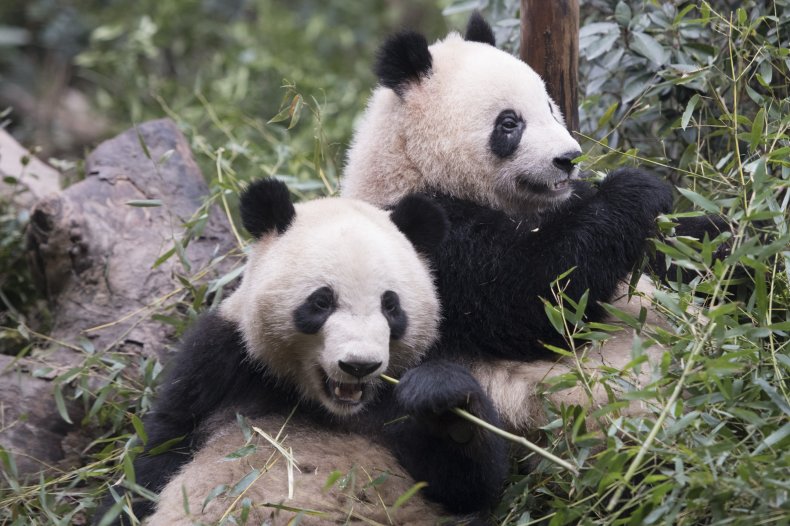 World's Heaviest Giant Panda Twins, Weighing As Much As a Football, Born in China | World