Giant Pet Tortoise on the Run After Escaping Kansas Home
We might think of tortoises as slow creatures, but one family found out the hard way that they can still manage to run away.
One Kansas family is asking their neighbors to keep an eye out for a "giant tan, brown hump" after their 10-year-old pet tortoise, Madmartigan, escaped their Wichita backyard sometime between Monday morning and Monday afternoon.
While they believe that Madmartigan is still in the area, they are worried about her safety, particularly because temperatures have fallen in recent days, Harun Bahri told KSN News.
"We are originally from Phoenix, Arizona, and in the winter times, we do get frost, but typically the tortoise is in a burrow and is actually warm and inside," Bahri, whose wife has owned Madmartigan since she was a hatchling so small she could fit in the palm of a hand, said. "While she could probably handle a cold weather snap, too cold is definitely not too good for her health—so it's a little worrisome."
Traffic also poses a significant danger to Madmartigan, a desert sarcodes tortoise, he said, because she could be hit by a car and crushed while trying to cross the road. Motor vehicle accidents involving turtles or tortoises are a common occurrence in the United States, according to the National Wildlife Federation.
"If she is on the road, pick her up on the side. For the most part, she is a very skittish, shy animal—odds are she is not very aggressive," Bahri said, adding that Madmartigan won't bite unless you stick your hand in her mouth.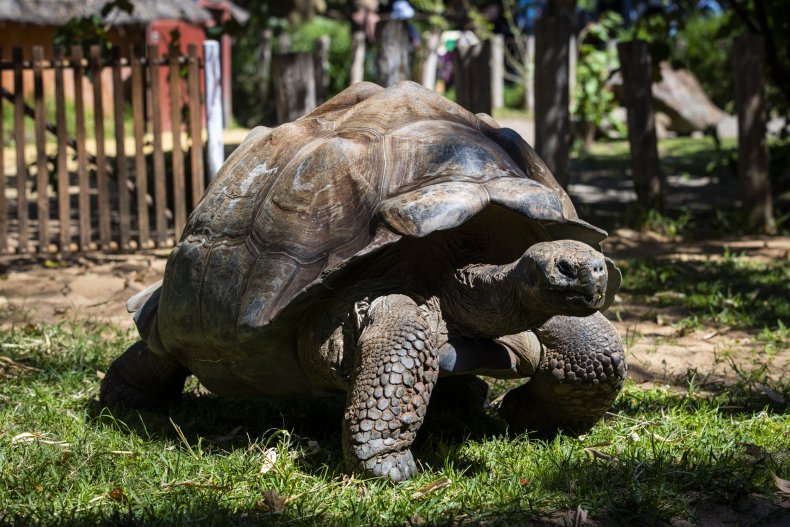 So far, the family has printed out flyers, posted on social media, and contacted Wichita Animal Control, but Madmartigan, who weighs 60 to 70 pounds and measures 18 inches beak to tail, continues to elude them. Tortoises have a reputation for sluggishness, Bahri said, but they can actually cover a lot of ground in a short period of time.
"She is a roaming animal, so she can actually get a lot further than you would think, and tortoises are actually a lot faster than you expect, a lot faster, actually, which was a surprising thing to learn," Bahri said.
But every member of the family—including Bahri's four-year-old son, who asks about his reptilian companion constantly—hopes to find Madmartigan sooner rather than later.
"It's one of the coolest animals I have ever seen and ever had as a pet; it's like having a dinosaur obviously that isn't going to kill you," Bahri said. "It's got personality, believe it or not, and we just miss her terribly."
Desert sarcodes tortoises can reach 150 years old, Bahri said. If Madmartigan is returned safely, he intends to one day pass her down to his children.