Man Puts Giant Skeleton in His Front Yard to Warn Unvaccinated
A North Carolina attorney has gone to extreme measures in a bid to warn his neighbors about the dangers of remaining unvaccinated.
To convey the seriousness of his plea, Jesse Jones set up a giant 13-foot-tall Halloween skeleton, complete with gravestones, outside his home in Oakland, Raleigh.
"Not vaccinated – see you soon, idiots!" reads one sign strategically seen hanging from the skeleton's hips. "It wasn't a hoax!" reads another etched onto a tombstone.
Jones says he wants to warn those who remain skeptical about COVID-19 in the community, while urging more people to get vaccinated.
"Back then we didn't take this seriously," he told WTVD, before explaining that the virus has personally affected his family. "My wife lost her mother due to COVID, and she was a woman who spent her entire life looking after people.
"She died completely alone in a hospital room without being able to see one relative for 14 days. It was a nightmare. Nobody should go through what my wife went through watching her mom die like that," he added.
Jones also said 14 of his clients had died of COVID-19, as well as a former employee who was not vaccinated before his death.
"If you're not vaccinated, you are not a patriot," Jones told the outlet in a bid to encourage more Americans to take vaccinations seriously. "You're endangering America because this virus doesn't play. I need to look after you, you need to look after me and if everybody would just wear a mask, distance, be an American, be a patriot and follow the rules, this would go away very quickly."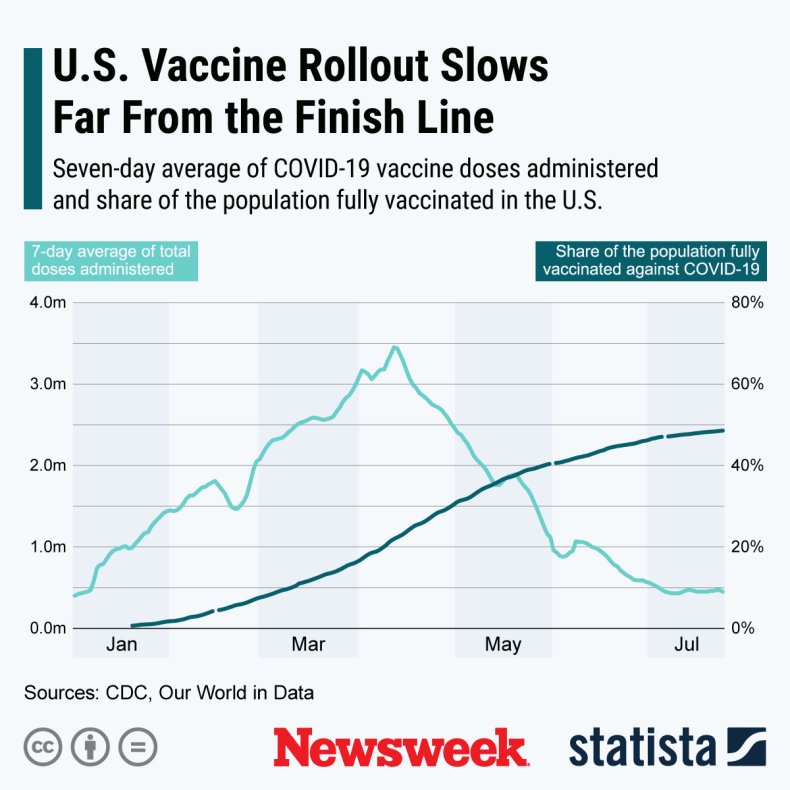 The public health advocate said peoples' hesitancy on getting the vaccine was due to "misinformation" and because "people are selfish."
"Maybe we can get one or two people vaccinated," he told the Herald Sun, in reference to his skeleton stunt.
Last year, in the pandemic's early days, Jones commissioned a life-sized velociraptor statue as a public health advocate. "Extinction sucks," the sign on its chest read at time, the publication reported.
The vaccine rollout across the U.S. has slowed, according to a seven-day average of total doses administered and the share of the population fully vaccinated, according to Centers for Disease Control and Prevention (CDC) data and as graphed above by Statista.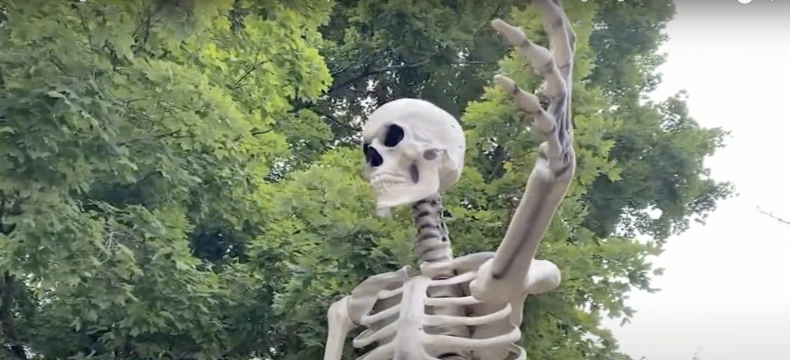 The Delta variant, first identified in India in December, has spread faster than any previous strain of SARS-CoV-2, otherwise known as the COVID-19 virus. It has driven up infection rates in every state of the U.S., prompting the Centers for Disease Control and Prevention (CDC) to once again recommend universal mask-wearing.
However, some scientists predict the Delta outbreak is going to get much worse and a COVID-19 variant worse than Delta and Lambda may be on the horizon.
The Delta outbreak is going to get much worse, warns Michael Osterholm, an epidemiologist who leads the Center for Infectious Disease Research and Policy at the University of Minnesota.