Massive Tarantula Surprises Unwitting Texas Couple
Unwelcome guests are always a little more unwelcome when they're of the creepy-crawly variety. Just ask Teouna and Ken Thomas, a Texas couple who were recently shocked to suddenly find a giant tarantula crawling up their window.
On Friday, Teouna shared a photo of the spider crawling up her and her husband's window in their new San Antonio home. She assured people that it was real, and asked for help. "THIS IS NOT A TOY GUYS," she wrote. "I PROMISE I'M STILL SHAKING. Someone please tell me what this is?"
Teouna told Newsweek that she didn't expect to see this type of wildlife in Texas. "I was in total disbelief! This is San Antonio, not the Amazon Rain Forrest [sic]! I really felt like okay 2020, there is nothing else left in your deck," she wrote to Newsweek in a message.
Teouna told the Fort Worth Star-Telegram that her husband pointed out the arachnid, and his fear was startling. "My back was turned against the door that leads to the patio and I saw my husband's face and he was like, 'Oh my God, what the heck is that?'" she said to the Star-Telegram. "He doesn't scare easily and looking at his facial expression and hearing what he said, I expected to see some monster."
She added that she was worried about her dog on the front porch. "I'm like almost in tears thinking he's going to bite my puppy and he wouldn't live through it," she told the Star-Telegram.
Luckily, though, her husband Ken managed to capture the spider and told her to take a picture.
Commenters on Facebook offered advice and hoped that the spider was indeed a toy. Some people suggested moving, or calling an exterminator, but others suggested simply relocating the tarantula. "Don't hurt it! They are really nice and beneficial," one woman wrote. "I grew up with those all around. Just let it be. Maybe you can get someone to relocate it?"
An expert at the San Antonio Zoo told local news outlet KSAT that the spider was likely a Texas Tan Tarantula: a big but mostly harmless spider that often eats crickets and roaches. According to Study.com, the Texas Tan is the largest tarantula in the United States and can have a leg span of up to six inches.
Teouna said the couple brought the spider down to the front desk in their building complex. In a Facebook comment, she said the receptionist wanted to keep it as a pet, but she told the Star-Telegram that she planned on releasing the spider back into the wild. She just hoped it wouldn't be too close to her building.
Teouna told Newsweek that the woman at the front desk has since released the tarantula, but she wasn't sure where. "The young lady emailed us to let us know she'd released him back into the wild. I didn't ask where but I'm hoping far away f[r]om our complex," she wrote.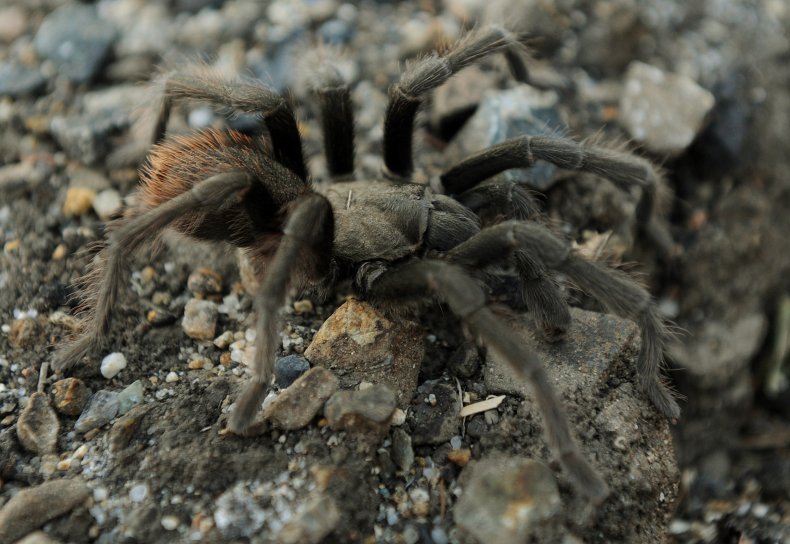 Updated 6/25/20 10:07 a.m. EST: This story has been updated to include comment from Teouna Thomas, which was received after the story was originally published.