Artist Transforms Parking Lot Cement Barrier Into Giant Toblerone Bar
Cement barriers might not be the biggest marvel in architecture, but one Swedish artist managed to transform it into something far from ordinary.
Johan Karlgren created a giant-sized Toblerone bar—albeit not edible—from a parking lot's cement barrier in 2017, and it has recently gained traction online once more.
His work focuses on the unconventional use of Perler beads—small plastic beads that children use to make, often misshapen, designs.
Karlgren's designs convert often drab-looking public places into far more interesting sights.
"It's something that makes me happy, and hopefully other people [when] seeing it as well," he told Newsweek via email on Tuesday.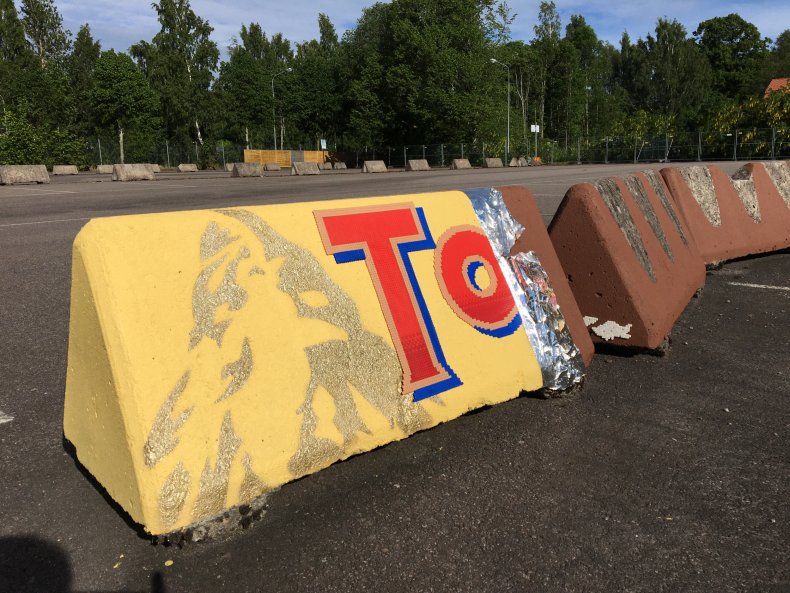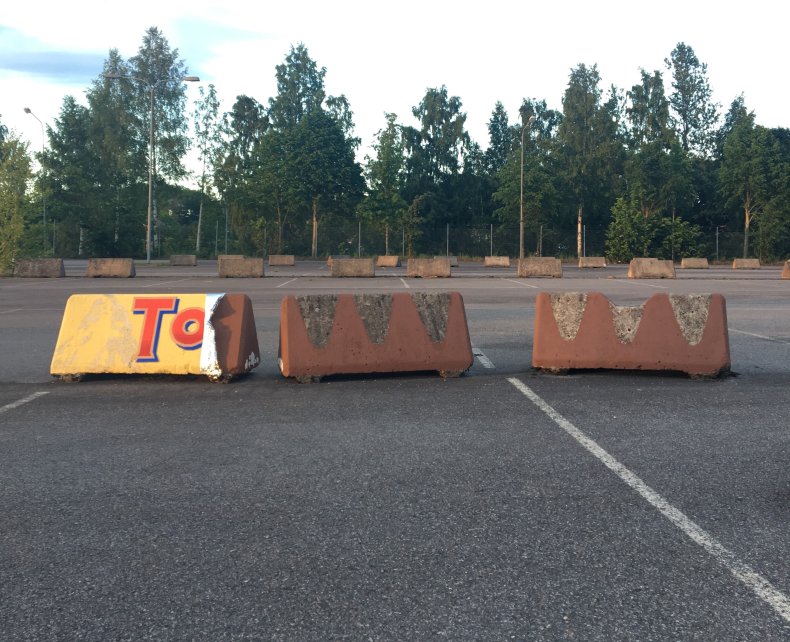 His other work has included turning a puddle into a mini Suez canal with a Perler bead Evergreen boat, and transforming a pipe into a Super Mario Bros "Warp Pipe."
Karlgren used paint and aluminum foil along with the beads: "I took a bar of Toblerone to the local paint shop and had them mix me the right colors after scanning it," he said.
'Easier to Apologize'
The cement barrier itself was painted brown and half was covered in tinfoil, before the Perler bead logo was added.
Although in most cases Karlgren chooses to skip-jump the permission stage of creating public art, this time was a little different. "I've found out over the years that it's easier to apologize than ask for permission, but in this particular case the owner of the parking lot let me play cause he really liked the idea," said Karlgreen.
"He even let me borrow the keys to the place. Since it was locked at night it survived over a year."
Although the work was made in 2017, the internet has done what the internet does, and resurfaced it four years on—often without credit to Karlgren
Three days ago, a Reddit user shared the work, writing: "Someone painted the cement barriers into a giant Toblerone." With over 67,000 votes, the internet was impressed but had little idea who created it, or in some cases even miscredit it.
Similarly, Instagram accounts have been sharing the images with no trail back to Karlgren, much to his disappointment. "It's been living his own life," he said. "It's always sad to see your work uncredited but i've got a beautiful following that's quick to point out that it's mine."
Karlgren regularly shares his new and old work to his own Instagram, @pappasparlor, where he has a following of over 140,000.
For the artist though, it's just as cool to see the response, even if he is uncredited: "In the end, it's making people smile nevertheless, just like I intended it to [while] making it."