Giant Topless Jeff Goldblum Statute Appears in Central London
A 25-foot-tall semi-naked statue of actor Jeff Goldblum has appeared in central London today—but why?
The statue depicts an iconic scene in Jurassic Park where Goldblum's character Dr. Ian Malcolm is leaning back with his shirt open after being attacked by a Tyrannosaurus Rex. The scene has become a world-famous meme in recent years, with Funko Pop! even making an action figure depicting the pose.
According to BBC, the statue was erected to mark the 25th anniversary of the release of Steven Spielberg's Jurassic Park, one of the most beloved movies of all time. The 330 pound piece of art was commissioned by streaming service NowTV and will sit in Potters Field, near Tower Bridge, until next Thursday. It is unclear where it will go after that.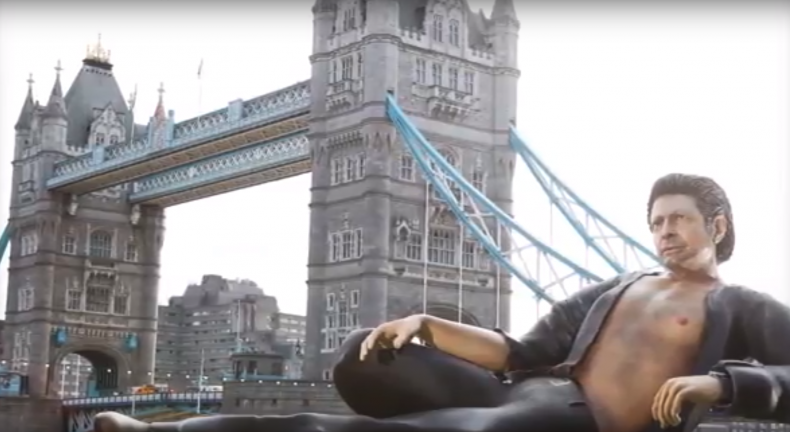 Fans of Jurassic Park and Goldblum have already started flocking to the site, with some posting their selfies with the statue on social media.
Earlier this year, Goldblum addressed long-standing rumors on why he has so many topless scenes in the Jurassic franchise. "It's supposed to be Costa Rica, right? So things are hot and I'm sure I'm in some sort of fever," he said. "So all the logic is that we got to get some of these wet clothes off immediately. As I remember, I don't think anybody fought me on that."
Jurassic Park is a 1993 sci-fi film that takes place in a world where dinosaurs exist. Alan Grant (Sam Neill), Ellie Sattler (Laura Dern) and Ian Malcolm (Goldblum) are among a group of people chosen to tour an amusement park on an island populated with various dinosaurs that have been created with DNA found in fossils.
Jurassic Park won three Oscars for best sound, best effects editing, and best visual effects, alongside a slew of other awards.
IMDB has ranked the movie as the 184th best film of all time.