Eli Manning's Streak Ends With New York Giants: The NFL Apocalypse is Nigh
The NFL Stats office dropped a tweet bomb into fans' feeds this afternoon: "BREAKING: The #Giants have benched Eli Manning, and will start Geno Smith this week…" And just like that, the Manning Era in New York might be over—and the NFL might have entered its end days.
Looked at one way, yeah, the New York Giants' decision to sit franchise quarterback Eli Manning isn't unexpected. At 2-9 heading into Sunday's game against the Oakland Raiders, the team will likely finish the season with its worst record in more than a decade. In the white-hot spotlight of New York, a terrible team's QB will get the blame for the team being terrible.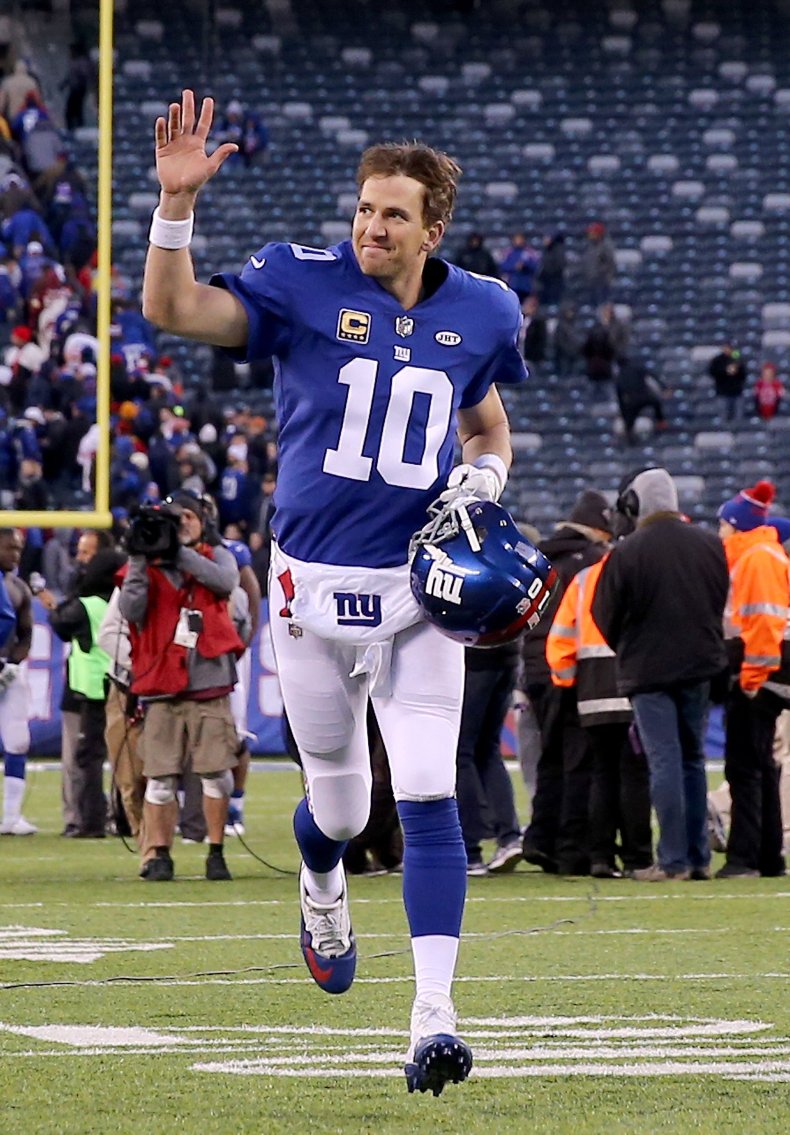 Does it matter that it's not his fault? Fuggedaboutit. Manning is having a respectable season: 62.5 percent completion percentage, 2,411 yards, 14 touchdowns against seven interceptions. But who cares when the Giants are worse than the Jets? (The Jets!)
It's almost a foregone conclusion that head coach Ben McAdoo will be gone after this season. But Manning's future is more tenuous. He's 36 years old, which is pushing it for quarterbacks. (Never mind Tom Brady still playing at 40. He has a special spectacular fountain-of-youth workout and lifestyle regimen.) Even if he comes back next week, or even mid-game against Oakland, Manning's getting benched feels like the beginning of the end—definitely in New York and probably for his career.
And Manning knows it, too. When asked about the benching Tuesday, he struggled to get the words out. "It's hard. Hard. Hard day to handle this," he said, choking back tears. "But, you know, hang in there and figure it out."
It will be hard for the Giants to replace Manning. He brought two Super Bowls to the metro area, defeating Brady and the New England Patriots both times against the heaviest of odds (18-1!). He started 210 straight games for the Giants, and, more importantly, he has been the face, heart and soul of the team for 14 years. Even people who live in New York and New Jersey and hate football know Eli Manning and, most likely, can't help but like a guy with such an aw-shucks mug. But the Giants will move on and they'll honor Manning and we'll see #10 at MetLife Stadium for years to come.
But for the NFL, Manning sitting out the start of Sunday's game carries far more symbolic weight. It has been almost 20 years since the league last saw a week without a Manning taking the field as a starter. (That doesn't count games where Eli or older brother Peyton were sidelined by injuries or bye weeks—situations where we knew they would be back, eventually.) Peyton Manning, a first-ballot hall-of-famer, retired in 2015 after leading the Denver Broncos to victory in Super Bowl 50. Eli's career could end by being replaced by Geno Smith—a 27-year-old quarterback who, in his five-year career, has thrown more interceptions than touchdowns (28-36) and washed out with the Jets.
If ever the league needed to mainline the pure, uncut football passion of a Manning, it's now. The NFL is under assault by a multitude of existential crises: it's suffering declining ratings, an intensifying concussion crisis, continuing anthem protests and a civil war between billionaire owners worried about losing a rounding-error's worth of profit. And now, the last Manning has been sidelined when the league needs him the most.
Eli Manning getting benched feels like the collapse of the league made tangible. The pro football apocalypse is nigh. And of course it would be the Giants to bring it all down.