Giants Fans Roast Coach Joe Judge, Team for Costly Late Mistakes in Loss to Washington
Losing on a last-second field goal is bad. Losing because a lineman jumped offsides on what would have been a missed field goal attempt, giving the other team another chance at the field goal is worse, according to New York Giants fans.
Giants fans roasted their team and specifically coach Joe Judge online for committing a slew of costly mistakes in the fourth quarter of their 30-29 loss to the Washington Football Team on Thursday.
The Giants coughed up a collection of golden opportunities to claim their first win of 2021. Wide receiver Darius Slayton dropped a sure touchdown that would have put them up 10 points in the fourth quarter. They failed to pick up a first down on their final offensive drive that could have iced the game, then jumped offside twice on Washington's last drive—including Dexter Lawrence's costly infraction that gave Washington kicker Dustin Hopkins another field goal chance after he pushed his initial kick wide right.
"We have to address this to make sure we keep putting players in a position to prepare them properly and make sure we can execute it the right way," Judge said about Lawrence's penalty after the game. "Obviously [it's] something we don't want to have; something that's not acceptable, but we're not going to put this game on any one player or one play. There's enough things we can clean up as a team, and we can play better going forward."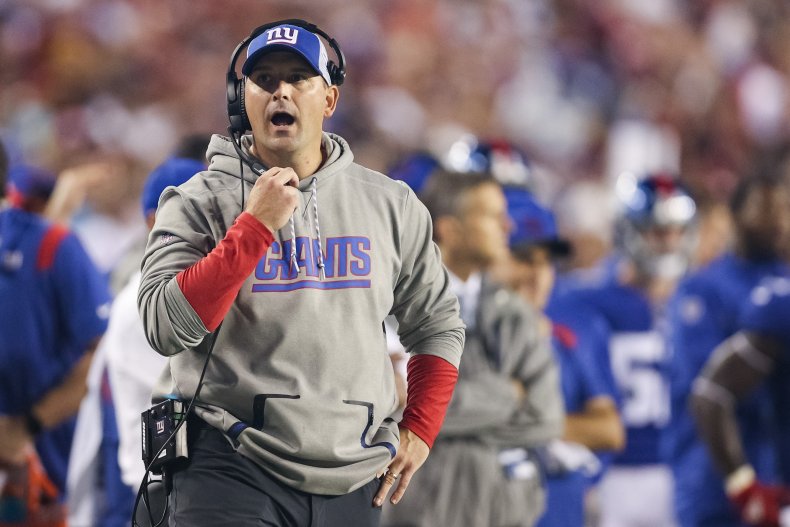 Judge may have said all the right things, but Giants fans laid most of the blame on him. The second-year head coach, who preached discipline and accountability when he was hired and made players run laps after committing errors during training camp, is 6-12 in his short tenure as coach and watched the team commit 11 penalties, including a holding call that negated a first-half touchdown run from Daniel Jones.
Fans were even more frustrated because Judge was hired as a special-teams expert and spent 11 seasons coaching under Nick Saban and Bill Belichick at the University of Alabama and New England Patriots. All that winning didn't rub off as the Giants are 0-2 for the second straight year under Judge and the eighth time in the past nine seasons.
That frustration is spilling over to the players too as New York's season is already on the brink. Wide receiver Kenny Golladay, who the Giants gave $40 million guaranteed to in the offseason, was spotted yelling at Jones on the sidelines, and 2021 first-round pick receiver Kadarius Toney posted a cryptic story on Instagram after playing just 19 snaps and not recording a catch.
Judge said he saw Jones and Golladay make up after the game. Jones said Golladay was frustrated by a lack of targets—he had three catches for 38 yards and two drops Thursday.
"I've got to do a better job of finding him in some places," Jones said. "You certainly want receivers that want the ball, so we'll keep working through that."
Adding to the insult was New York's loss came to a divisional rival, and Washington had no problem rubbing salt in the wound.