The Giants Took 92 Years and an Eli Manning Benching to Start a Black Quarterback
Eli Manning will not start for the New York Giants on Sunday on the road against the Oakland Raiders, ending the NFL's longest current ironman streak for a quarterback.
In the process of benching Manning, the Giants will end a far more durable and dubious record. In place of the 36-year-old under center in the hostile Oakland Alameda Coliseum will be Geno Smith, a former second-round pick of the New York Jets. When Smith takes the first snap he will become the first black starting quarterback in the Giants' 92-year history.
All 31 other NFL franchises have started a black quarterback in the 49 years since Marlin Briscoe first played the position for the Denver Broncos. The New York Times reported that Smith is also the first quarterback to start for both the Giants and Jets.
Just how long Smith will hold the starter's job is another question. "Over the last five games, we will take a look at Geno, and we will also give Davis [Webb] an opportunity," head coach Ben McAdoo told the Giants' official website. The franchise, which has crawled to a 2-9 record this season and lies rock bottom of the NFC East, selected Webb with the 87th overall pick of the 2017 NFL Draft. Smith, who spent three years with the Jets from 2013 to 2016, started all 16 regular-season games as a rookie but threw 21 interceptions to go along with 12 touchdowns.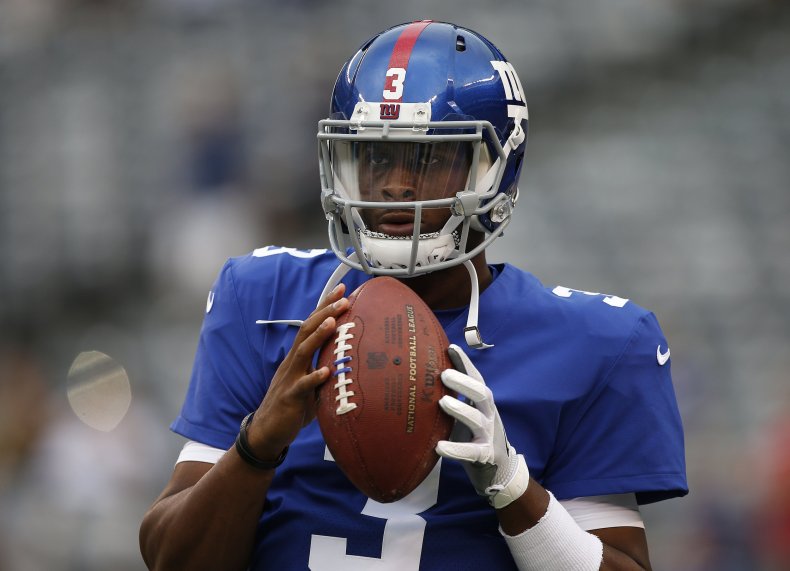 Without Manning's say-so, the Giants might not have decided to move on quite yet from starting their veteran signal-caller, who has collected two Super Bowl rings and a reputation for clutch play rather than the dominant statistics of his peers.
"Coach McAdoo told me I could continue to start while Geno and Davis are given an opportunity to play," Manning said. "My feeling is that if you are going to play the other guys, play them. Starting just to keep the streak going and knowing you won't finish the game and have a chance to win it is pointless to me, and it tarnishes the streak. Like I always have, I will be ready to play if and when I am needed. I will help Geno and Davis prepare to play as well as they possibly can."
Smith will have to work without two starting wide receivers. All-Pros Odell Beckham Jr. and Brandon Marshall are both out with injuries. The Giants' website appeared to be trying to soften the blow of Manning's demotion when it wrote, "Manning has been throwing to an inexperienced group of wideouts that includes Roger Lewis, Jr., Tavarres King, Travis Rudolph, plus rookie tight end Evan Engram." Smith cannot hope to ever compete with Manning's streak of starts. But he will write his name in the annals of the NFL on Sunday.