A Gift from Hurricane Florence: Blue Button 'Jellyfish' Make Rare Appearance on New Jersey Coast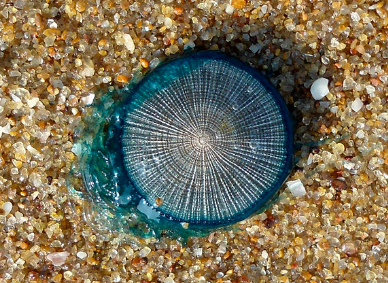 The impact from Hurricane Florence along the U.S. East Coast has been dramatic, from historic flooding to an outbreak of giant mosquitos in North Carolina. Now we can add another rare occurrence to Florence's list: Blue button jellyfish have made an extremely rare appearance on the New Jersey coast.
Formally named Porpita Porpita, the blue button jellyfish are technically Chondrophore, a colony of Hydrozoan Polyps which makes them similar to a Portuguese Man O' War. Blue buttons, known for brilliant color, are common along the Gulf Coast, and also found in parts of the Atlantic Ocean, and the Pacific and Indian Oceans. They just rarely travel so far north as the Jersey shore.
However, a woman walking with her son and two dogs along the coast in Beach Haven this weekend looked down to find several blue buttons had made the journey.
"They were so blue they almost looked unreal," Suzanne Schnenker, who posted her find on New Jersey Jellyspotters, told NJ Advance Media. "I'm so glad I snapped a picture, but I just wish I had realized how rare they were at the time and saved one for the jelly spotters to do DNA testing on."
Biologist and jellyfish expert Paul Bologna of Montclair State University told NJ.com he has never seen a blue button in New Jersey. He said the ones Schnenker saw were likely pushed into the Gulf Stream to New Jersey by Hurricane Florence, reported nj.com. Bologna said he's heard of Portuguese Man O' Wars arriving in Ocean County in these weeks after Hurricane Florence hit in mid-September.
As for the blue buttons, Bologna considered the sighting a gift.
"It's the first time I've ever seen one in New Jersey," Bologna said. "I've seen them in Florida but never this area. They are beautiful and stunning."
With jellyfish-like tentacles, blue buttons are small, about 1.5 inches in diameter, and live on the surface and are floaters or drifters. It's wise not to touch them because they can cause skin irritation. Along the Gulf Coast, they frequently wash ashore in the Florida panhandle and Alabama coasts in large numbers in the summer months.