Gifted Programs Hurt the Students Left Behind—and Those Pushed Ahead | Opinion
Last week, New York City Mayor Bill de Blasio announced he'd be overhauling the city's Gifted and Talented public school program. For years, the highly selective program was criticized for being overwhelmingly made up of white and well-resourced children, New Yorkers' way of hoarding a quality education for their kids. Of course, the program also had its defenders, many of whom voiced their concern that gifted children would no longer have a public school route for developing their talents, now that they would have to study with everyone else.
In fact, my experience teaching both in New York City and in a small international school in East Africa taught me how wrong this view is.
My job in East Africa was educating the children of privileged westerners and upper middle class Africans. I was the only English teacher, which meant that the school placed all of our eleventh and twelfth grade cohorts into AP Literature and AP Language classes; the tuition was so exorbitant we couldn't get away with not making the only option an advanced one.
"Are all of these kids ready for AP?" I remember asking the administration when they proposed I just teach every single teenager the sacred doctrine of AP Lit and Lang.
"We just teach AP, maintaining the integrity of the curriculum as best we can," was the answer I got. "Just teach them, differentiating when necessary."
I was initially horrified. And why wouldn't I be? I had just left a city that believed it was a travesty to teach children of different levels in the same class. Gifted and non gifted in the same class? Impossible!
In Africa, I had no choice. 15 years as an educator across three continents make me dubious it was possible. And yet, lo and behold, it worked.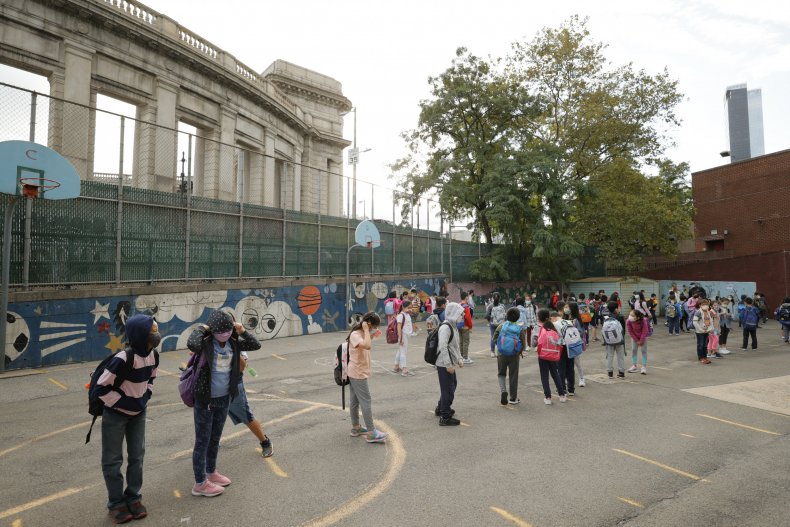 No doubt, it was difficult to teach students who had wide gaps in their ability. But I was able to pull the best out of each of them—even if what constituted the "best" looked completely different for each student. Only one of my seven students truly had the chops for what the Advanced Placement thought sixteen-year-olds should be able to do. Yet each one grew in their ability to think critically, read for greater meaning and analyze texts with layered themes and nuanced arguments.
Though the school where I taught in East Africa was small, private, and not facing many of the complex realities of this nation's largest public school system, the stripping away of the ideology that only "certain" kids were capable of a challenging curriculum showed me how detrimental such thinking is for students and teachers alike.
Yes, students come to our classes with different abilities. Sometimes students who have stronger skills are bored. Teachers know this is unfair to them and we try our best to engage them and their peers. But programs like GT can easily create an unnecessary hierarchy of students.
Students who get through assignments quicker and are willing to stay up late studying so they can get an A on a test are just assumed to be "advanced." Students who aren't committed to academic work at this level or may take longer to process information are almost automatically placed on the lower rung. Subsequently, these kids often continue to show they are "just average," giving into the self-fulfilling prophecy.
While it's not often discussed, the hierarchy can also be stifling for students who are placed on the advanced rung. I've watched students who are intelligent and dedicated to their studies be labeled exceptional. They've been tracked into multiple AP classes and repeatedly told that because they work so much harder than the kids in the "regular" classes they should have no complaints about some of the material that's too complicated to understand.
These kids then stay up to obscene hours of the night trying to live up to the label they were assigned based on their ability to reach learning goals a day or two earlier than their peers in the "regular" classes. In many schools that cater to the "gifted," students buckle under the pressure of excessive classes that are developmentally inappropriate.
To be clear, I want all students to be challenged and reach their full potential. I just don't want to restrict students who have higher skills from developing them even further. I don't want more hierarchies created solely on the assumption that knowing how to "do school" well equates to being smarter than those who don't. I don't want the policies rooted in the belief that a rigorous curriculum should be a prize awarded to the "right" students.
And I don't want us to continue to exclude the masses—and then gaslight them into believing this exclusion is for their own good.
New York City Chancellor Meisha Ross Porter has suggested that her administration plans to implement a program across a wider range of city schools that seeks to assess kids who are "gifted." The program will then provide them "accelerated" learning opportunities while keeping them within the integrated class of "regular" learners.
I think it's a great idea.
Years after I left East Africa to teach in another country, I heard from the student in my AP class who had struggled the most.
"Can you believe I'm taking a Literature class even though it's not required?!," she wrote. "I'll be surprised if I get higher than a C, but at least I know how to write about books now because of your outrageous essay assignments in AP."
Keturah Kendrick is a writer, educator, traveler and the author of "No Thanks: Black, Female, and Living in the Martyr-Free Zone." Follow her on Instagram at @keturahkendrick, at Facebook at @keturahkendrick and on Twitter at @HappySingleGal. Her website is keturahkendrick.com.
The views in this article are the writer's own.