Presents for the President: Modi's Lincoln-Themed Gift Tells Trump to Believe in People's 'Basic Goodness'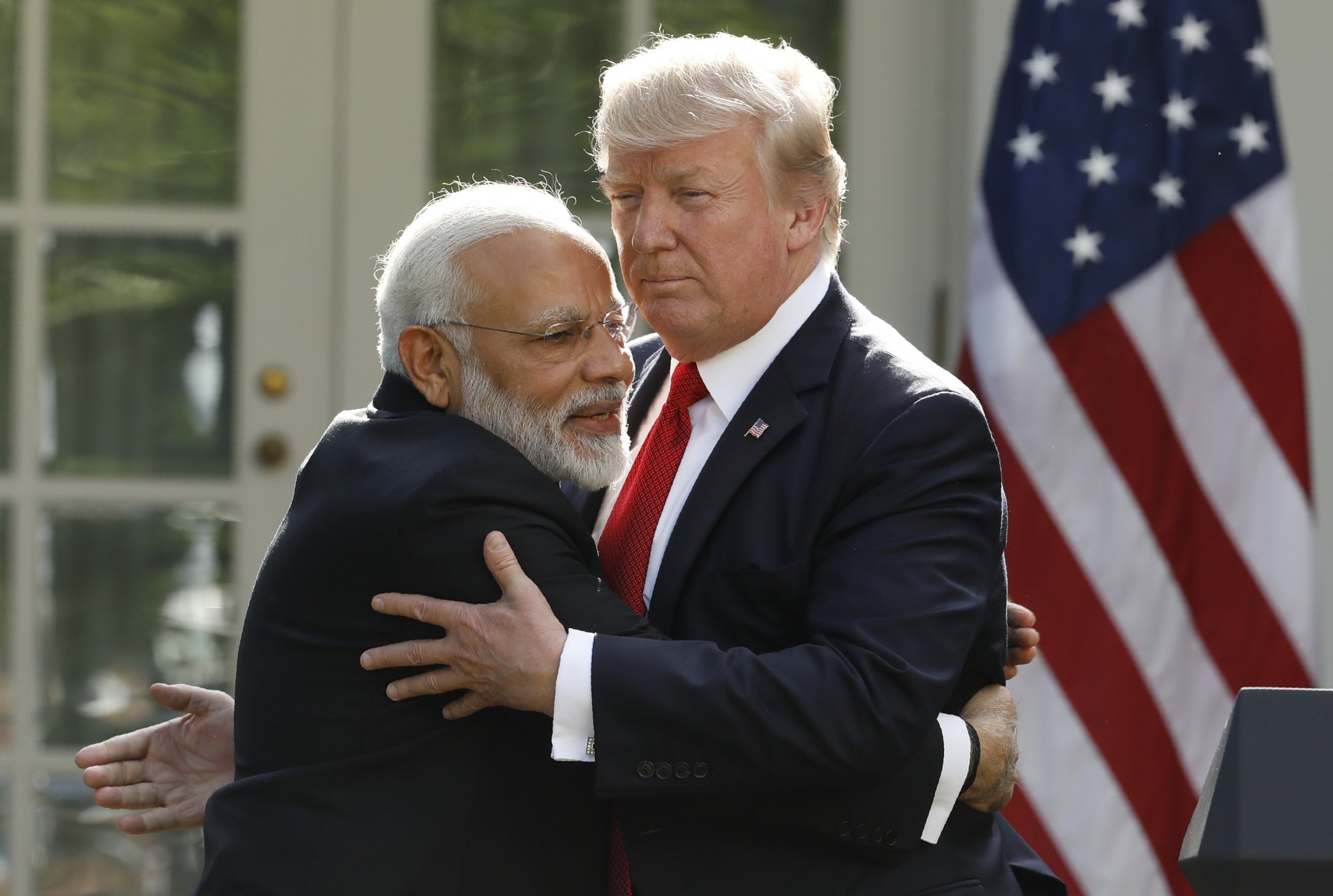 President Donald Trump received more than press coverage and diplomatic goodwill from his meeting Monday with Indian Prime Minister Narendra Modi—he also got gifts.
Modi, as foreign leaders often do, brought the American president presents while visiting Washington, D.C., to discuss common strategic interests, the countries' trade relationship, responses to threats from North Korea, economic growth and love of social media. But his gifts may have had a not-so-subtle message for Trump: believe in your people.
Related: Watch India's P.M. Modi evade Trump's power handshake with a bear hug
Modi gave Trump not only a wooden chest patterned with a design from Punjab but also a folio with a 1965 Indian postage stamp making the death of Abraham Lincoln, issued a century after the 16th president's assassination, according to Modi's Twitter account. Inside the folio, a paragraph outlined the similarities between Lincoln and Indian leader Mahatma Gandhi.
"[Lincoln] had faith in people, in the basic goodness of men and in democracy. 'God must like the common people,' he said, 'or he would not have made so many of them,'" the folio read. "He believed that no man is good enough to govern another man without that other man's consent. Democracy meant to him 'the government of the people, by the people, for the people.'"
Modi gave first lady Melania Trump two shawls and a hamper with a bracelet, honey and tea.
In return, Trump led Modi on a tour of the White House, making a stop in the Lincoln Bedroom and showing the prime minister a version of the Gettysburg Address.
U.S. presidents regularly receive presents from international leaders, though they can't keep anything over $375 without buying it at market price, according to Axios. In most cases, expensive gifts are sent to the National Archives.
Commanders in chief have been given some unique items over the years. George W. Bush got a 2-month-old puppy named Balkan of Gorannadraganov from Bulgarian President Georgi Parvanov. Barack Obama received a crocodile insurance policy—that, of course, would give his wife a payout should he be injured by a crocodile—from Australian politician Paul Henderson. And Bill Clinton accepted a rug with his (and his wife's) face on it from Heydar Aliyev, president of Azerbaijan.