Gigantic Rare Eagle Discovered 5,000 Miles From Its Home Baffles Experts
A rare and massive eagle recently surprised residents of the eastern United States.
The Steller's sea eagle (Haliaeetus pelagicus) was spotted along the Taunton River in Massachusetts, according to the Massachusetts Division of Fisheries and Wildlife. One of the largest raptors in the world and the largest sea eagle, its wingspan reaches about 6.6 feet and it can weigh up to 20 pounds.
Its presence was even more captivating considering that its habitat is about 5,000 miles away. It is normally found in Korea, Japan and Russia's Far East, specifically the Kamchatka Peninsula.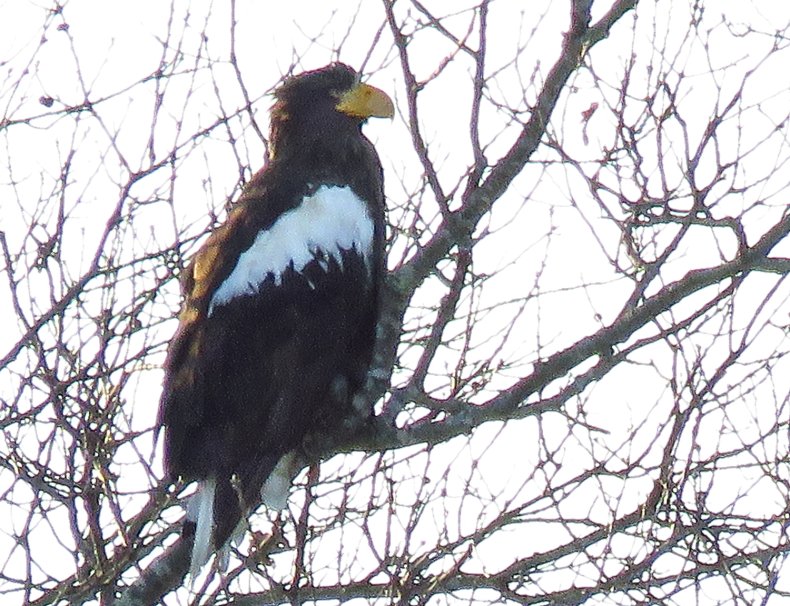 Massachusetts ornithologist Andrew Vitz confirmed to Newsweek that this is the first record of a Steller's sea eagle in the state.
Emily Stolarski, spokesperson for the state's fisheries and wildlife division, said the bird was first reported to the agency by David Ennis, who provided a photo that the agency used as part of a Facebook post.
Nick Lund, advocacy and outreach manager at Maine Audubon, said the Steller's sea eagle was originally found in North America in Denali in Alaska during the summer of 2020. At the time, it was the first time this species had been seen in the U.S. outside of far western Alaska.
"This individual has since traversed North America—an incredible journey—with sightings in Texas, Quebec, New Brunswick, Nova Scotia, and now Massachusetts," Lund told Newsweek. "Birders can tell it's the same individual by analyzing photographs of its wing feathers."
In July, the website Bird Guides documented the eagle's presence in Canada.
"Showing a distinctive white spot in the primaries on the left wing, as well as other similarities in the white feathers of the upper wing coverts, photos appear to prove beyond reasonable doubt that the two sightings relate to the same wandering eagle," the guide said.
Lund said word didn't spread to the general community until December 19, when the eagle reappeared and was reportedly seen by hundreds.
He documented his own journey to see the species on his blog The Birdist, leaving his home in Maine before 6 a.m. to meet other bird enthusiasts. Less than two hours later, he received a text from a colleague saying that a Steller's sea eagle had been spotted.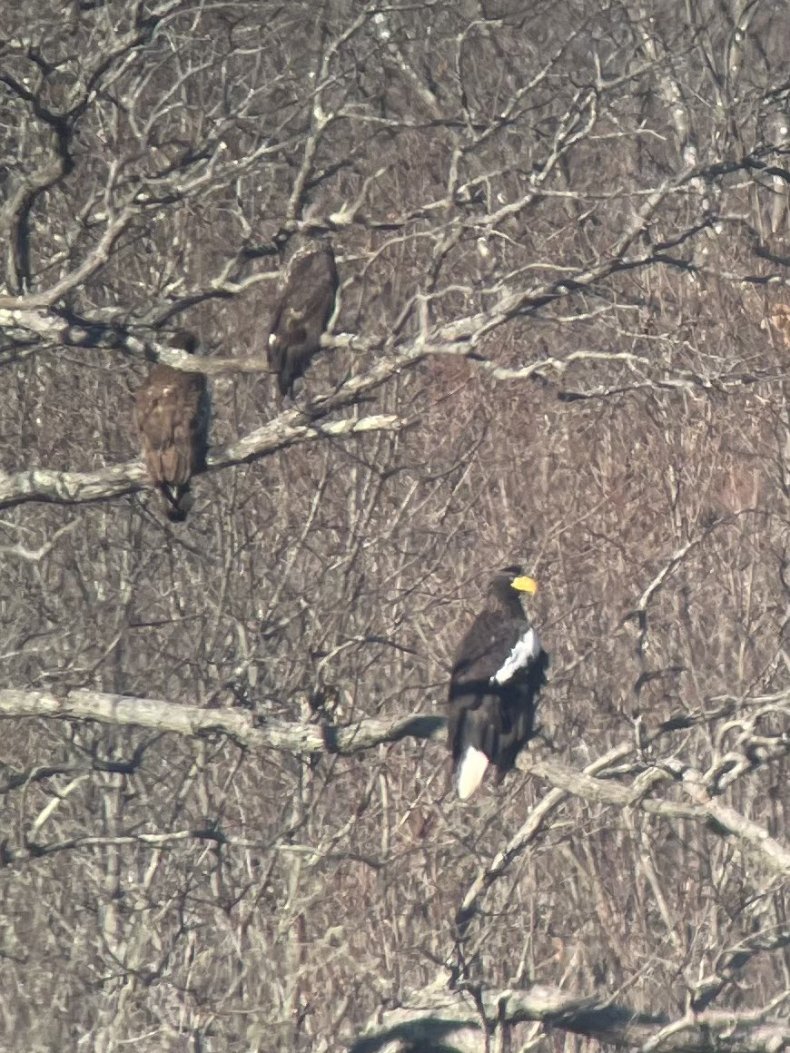 An impromptu car trip followed that led Lund and friends to Dighton State Park about 20 minutes before noon. As stated in his blog, a Steller's sea eagle was perched in a tree with bald eagles.
Approximately 200 onlookers were on scene.
"An amazing day," Lund wrote. "I never in my life thought I'd see a wild Steller's Sea Eagle, and may never again."
The International Union for Conservation of Nature lists the Steller's sea eagle as "vulnerable," with a decreasing population in its native Asia that currently sits at between 3,600 and 4,670.
To compare, Lund said there are more than 316,000 bald eagles in the lower 48 states alone.
"It has not been seen since [December 20]," Lund said. "It could be anywhere now, likely still in Massachusetts but we won't know until and if it is re-found."