Gillian Anderson Recalls 'Intimate' Moment She Met Bill Clinton
Gillian Anderson recalled being mesmerized by her brief encounter with former President Bill Clinton.
The X-Files star will next appear in Showtime's The First Lady as Eleanor Roosevelt. During her appearance on Jimmy Kimmel Live! on Tuesday night, all the talk of first ladies and presidents brought the pair onto the topic of meetings with real life figures. As it turns out, Anderson had a memorable experience with Clinton—or at least it was memorable for her.
While Anderson admitted she has never met a first lady, she has met one president in her career.
"I met him when he was running for office the first time," Anderson told Jimmy Kimmel Live!. "It was a lunch at somebody's fancy house in the Hollywood Hills."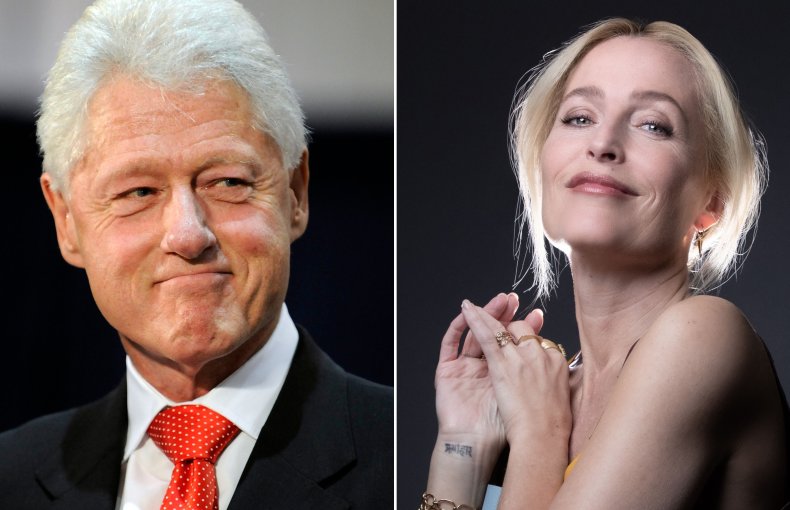 Clinton was giving a speech to the room, and as is customary, everyone lined up to meet him afterwards, which is where Anderson felt a moment.
"He did the most miraculous thing in the world. You know that thing that he does where he shakes your hand and then he grabs your elbow at the same time? He like holds your arm further up. Slightly intimate little thing, makes eye contact," Anderson recalled while demonstrating Clinton's actions.
It was at this moment where the brief meeting became memorable for Anderson. "He moves on to the next person, then he looks back at you," she said while exaggerating her face at Kimmel.
"I got all that except the look back," Kimmel replied. "I did not experience that."
"I went home, and this was in the days of answering machine, and I literally thought I was going to go home to a message from him," Anderson told Kimmel referring to the moment. "I did, it was that real."
Kimmel then asked if Anderson voted for Clinton despite him not calling. After a long pause, Anderson conceded that she did vote for him, "even though he didn't call."
Anderson was appearing on the talk show to promote the show The First Lady, which reframes American presidential leaderships through the lens of the women at the heart of the White House.
While Anderson plays Eleanor Roosevelt, Viola Davis plays Michelle Obama, Michelle Pfeiffer plays Betty Ford, and Dakota Fanning plays Susan Ford. On the presidential side of things, Kiefer Sutherland plays Franklin D. Roosevelt, Aaron Eckhart plays Gerald Ford, while O-T Fagbenle plays Barack Obama.
The First Lady is set to debut on Showtime on Sunday, April 17.
As well as this, Anderson is also set to return in the fourth season of the U.K. Netflix show Sex Education. Later this year she'll star alongside Helen Mirren in White Bird: A Wonder Story and she is also attached to the movie The Pale Blue Eye with Christian Bale.