Kirsten Gillibrand's 'Democracy Dollars' Could 'Dramatically Alter The Demographics of the Donor Pool'
Senator Kirsten Gillibrand's proposal to give voters up to $600 in campaign donations in an effort to challenge corporate influence in politics could significantly boost economic, gender and racial diversity among donors, experts told Newsweek.
Under her proposal, voters will receive $200 in "Democracy Dollars" from the Federal Elections Committee to donate to preferred candidates in federal races for Senate, House and president. Candidates who limit their donations to $200 can receive "Democracy Dollars." Those who don't opt to limit their donations will not be eligible to receive the "Democracy Dollars."
"With an estimated voting eligible population of about 250 million, it could account for many billions of dollars (even $100 in vouchers would come to $25 billion)," Kenneth Mayer, an expert on campaign finance reform at the University of Madison-Wisconsin, told Newsweek in an email. "Participation wouldn't come anywhere close to 100 percent, but even if only a quarter [of] eligible voters participate, we are talking about enough money in a presidential race to replace all other forms of fundraising. It could also dramatically alter the demographics of the donor pool (from a largely White and wealthy set of larger donors, to, conceivably, everybody)."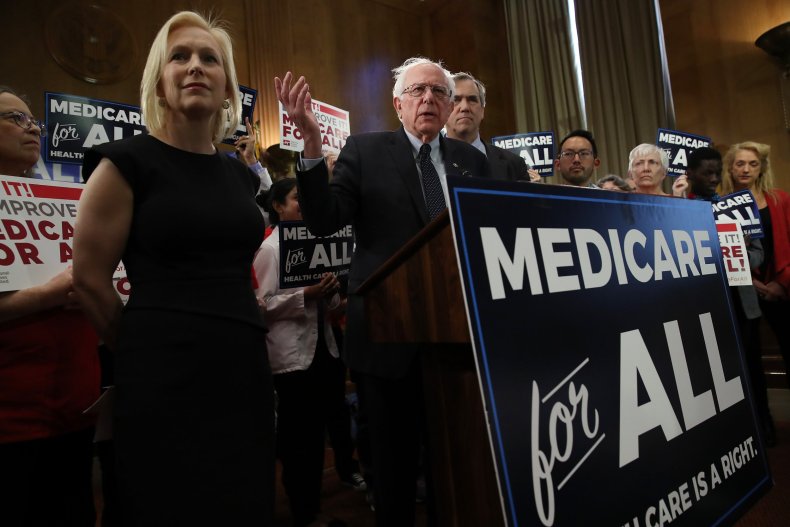 Pew Research data showed that 32 percent of those with family incomes of at least $150,000 made a political donation in the 2016 election cycle. In comparison, 7 percent of people from families making less than $30,000 donated. A Demos survey published in 2016 found that 91 percent of federal election donors in 2012, and 92 percent in 2014, were white. The study also found that men accounted for 63 percent of federal election donors and 65 percent of donors who contributed more than $5,000.
"Changing the way we finance our elections to get corporate and special interest dollars out of our system is a fundamental needed change for getting to the heart of corruption," Lisa Gilbert, the vice president of legislative affairs at advocacy group Public Citizen, told Newsweek in an email. "When the contributions of big donors are limited, and those of small donors are lifted up, legislators will no longer be beholden to moneyed interests."
In a Medium post announcing her plan, Gillibrand said "political corruption" stood in the way of solving a range of supposedly intractable problems facing the country. The presidential candidate said her proposal would be funded by eliminating a "loophole that makes taxpayers subsidize excessively high CEO compensation: CEOs making 25 times the median salary of their employees or more than $1 million, whichever is less."
Her proposal was modeled after a similar plan in Seattle, the Democracy Vouchers program, which sent residents $100 vouchers to donate to political candidates running for the 2017 election.
The number of campaign donors rose from 8,200 in the 2013 elections to at least 25,000 in the 2017 races. Initial data from Seattle's program showed that donations of $250 or less and money from Democracy Vouchers donors accounted for 87 percent of funding to candidates who were eligible to receive the vouchers. However, only 3.3 percent of residents who received the vouchers actually used them.