Kirsten Gillibrand Blasts Jared Kushner's Criticism of Mueller Investigation, Says It's 'An Outrage' and 'Untenable'
Senator Kirsten Gillibrand slammed Jared Kushner's criticism of special counsel Robert Mueller's investigation and downplaying of Russian interference, saying President Donald Trump's son-in-law's comments were "an outrage" and "untenable."
Gillibrand, who represents New York and is running for the Democratic Party's nomination to take on Trump in 2020, was interviewed on Tuesday by MSNBC's Andrea Mitchell. When presented with Kushner's remarks, which he made on Tuesday at the TIME 100 Summit in New York, the senator lit into the president's senior adviser.
"He [Kushner] clearly hasn't read the report himself," Gillibrand said. "But what he said is an outrage. For him to make light of a foreign adversary purposely trying to undermine our elections is untenable," she continued.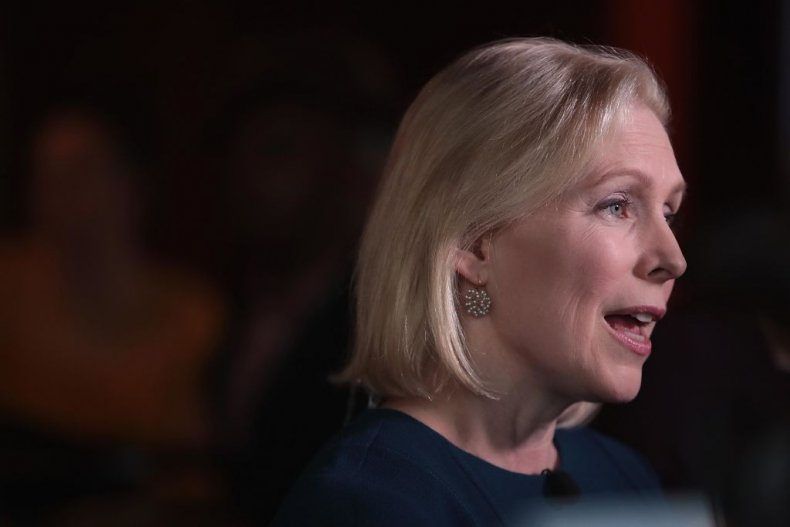 "I am gravely concerned that this administration continues to not take this seriously," the senator said. "And those statements are highly inappropriate."
Speaking at the Time event, Kushner characterized Russia's interference as "a couple of Facebook ads."
"When you look at what Russia did, buying some Facebook ads to try to sow dissent, it's a terrible thing," Trump's son-in-law said. "But I think the investigations and all the speculation that's happened for the last two years has had a much harsher impact on our democracy than a couple of Facebook ads."
Trump praised Kushner's interview at the Time event on Twitter, sharing a link and writing: "Great interview by Jared. Nice to have extraordinarily smart people serving our Country!"
Gillibrand released a public pledge earlier on Tuesday to not use any "stolen hacked" materials during her presidential campaign, in an apparent dig at Trump. The president repeatedly tweeted and publicly promoted WikiLeaks reports based on information hacked by Russians during his campaign rallies in 2016. He even infamously called on Russia to hack and leak more of his political opponent Hillary Clinton's emails. Following the release of the Mueller report last week, Trump's personal lawyer Rudy Giuliani defended his client's use of the leaked material, arguing, "People had a right to know that information."
"Russia is a foreign adversary of the United States, and we all must learn serious lessons from their cyber attack on our election systems in 2016. Russia will be back, and it is troubling that President Trump and his top aides are not only failing to hold them accountable but actually normalizing the idea of 'taking information from Russians' for political gain," Gillibrand said in a Tuesday statement.
"For my part, I vow that our campaign will not seek out stolen hacked information from foreign adversaries or knowingly weaponize such materials, and I urge my colleagues in the 2020 field to join in signing this pledge. Together we can send a clear message to those who seek to harm our democracy—at home and abroad," the 2020 contender promised.