Gillum Tells DeSantis 'This Is CNN, Not Fox—You Have to Bring Facts' During Florida Governor Debate
During a televised debate Sunday, Democratic Florida gubernatorial candidate Andrew Gillum likened his Republican opponent, Ron DeSantis, to President Donald Trump in misstating facts and told him, "This is CNN, not Fox."
DeSantis, a former U.S. representative for the state's 6th congressional district, accused Tallahassee Mayor Gillum of "presiding over a city that's out of control in terms of crime."
"You know, when you have the record number of murders, in fact, the guy running to succeed him as mayor was his former chief of staff and he's sending out literature to voters saying most murders in history last year," DeSantis said during the debate televised by CNN.
"Something needs to change," DeSantis continued. "That's right—Andrew couldn't keep Tallahassee safe; he's not the guy to keep Florida families safe."
Gillum fired back by drawing a comparison between DeSantis and Trump, who has made multiple false statements when they put him in a positive light.
"Alright well, Ron is being Don, and that's Donald Trump, neglecting all sense of reason and facts," Gillum said. "I preside over a city that is experiencing a five-year low in our crime rate, on trajectory to be at a 20-year low in our crime rate. No matter of restatement of what he has to say is going to change the facts."
Gillum concluded, "This is CNN, not Fox. You have to bring facts to the conversation."
DeSantis reiterated, "Record number of murders last year, yes or no?"
Gillum responded, "In our case, we are the eighth largest city and are 27th in crime."
DeSantis throughout the campaign has attacked Gillum for a high crime rate in Tallahassee and his claim has some truth, an analysis by Tallahassee.com found, but Gillum was correct in stating that crime rates are nearing the lowest levels in two decades.
The debate took place shortly after CNN released a poll indicating that DeSantis trailed Gillum 42 percent to 54 percent, with a margin of error of plus or minus 4.2 percentage points.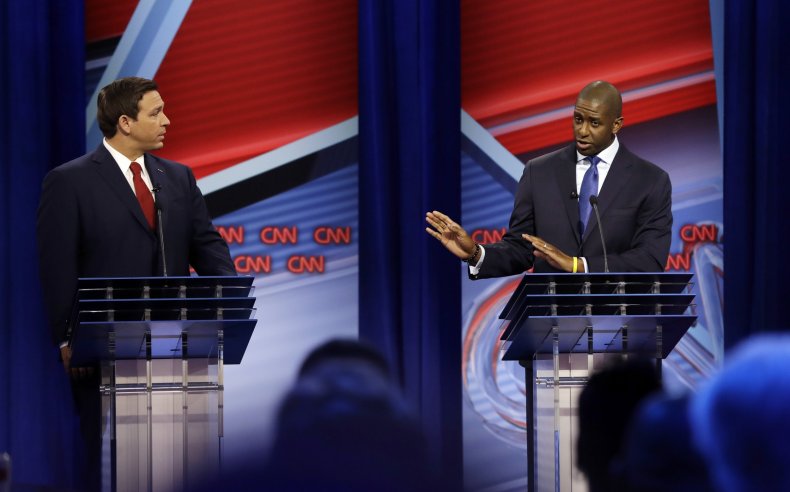 DeSantis's spokesman Stephen Lawson accused CNN of releasing "a questionable and misleading poll attempting to portray DeSantis as trailing Gillum by double digits."
"Simply put, this CNN survey is not worth the paper it is written on because the sample and weights do not reflect a Florida election," Lawson said in a statement. "That CNN takes this poll seriously enough to blast it out to their viewers right before a debate on their network is why so many Americans believe that CNN peddles fake news."
Several other recent polls had Gillum leading DeSantis by only one percentage point. A St. Pete Polls survey conducted from October 20 to 21 showed Gillum ahead of DeSantis 47 percent to 46 percent. A WCTV-TV poll from September 17 to 30 found Gillum leading DeSantis 44 percent to 43 percent. A Mason-Dixon poll from September 24 to 27 indicated DeSantis was trailing Gillum 44 percent to 45 percent.