Gillum Urges DeSantis Not to 'Weaponize Race' After Floridians Get Anti-Gillum Robocalls From White Supremacists
Democratic candidate for Florida governor Andrew Gillum urged his opponent not to "weaponize race" following racist robocalls from a Neo-Nazi group that targeted Gillum.
Gillum said in an interview with CNN's State of the Union on Sunday that he found the calls, which, as Politico reported, were narrated by a person mocking Gillum "in a black minstrel-style voice" with jungle noises in the background "deeply regrettable."
"I mean, on the day right after I secured the Democratic nomination, we had to deal with some of the dog whistles from my opponent… We can have a challenge between ideas and around what we think the people of the state of Florida deserve."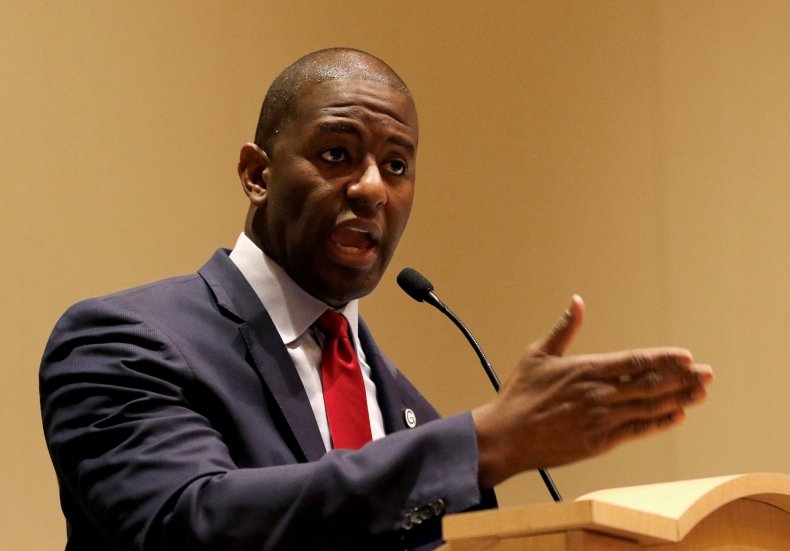 His comments about the racist "dog whistle" politics that came the day after he secured the nomination to become the Democratic Party's first black candidate for Florida governor, referred to his GOP opponent Ron DeSantis's message to the people of Florida not to "monkey this up" by voting for Gillum.
"We've got to work hard to make sure that we continue, Florida, going in a good direction. Let's build off the success we've had [under] Governor Scott. The last thing we need to do is to monkey this up by trying to embrace a socialist agenda with huge tax increases and bankrupting the state. That is not going to work. That's not gonna be good for Florida," DeSantis said, in comments that were immediately slammed as being racially charged.
DeSantis has denounced the robocalls, which the Tallahassee Democrat reported were funded by the Road to Power, a white supremacist website, describing them as "absolutely appalling and disgusting."
Gillum criticized his opponent's comments at the time, and said in the CNN interview that he did not want this race to turn into "a race of name-calling."
"I want to make sure that we don't racialize and, frankly, weaponize race as part of this process, which is why I have called on my opponent to really work to rise above some of these things. People are taking their cues from him, from his campaign and from Donald Trump… And we saw in Charlottesville that that can lead to real, frankly dangerous, outcomes," he added, doubling down on his assertion that DeSantis had taken a page "directly from the campaign manual of Donald Trump."