Three Friends Who Survived Gilroy Festival Shooting Also Escaped Las Vegas Mass Shooting Two Years Earlier
A group of friends is reflecting on their luck after escaping two mass shootings in less than two years.
In October 2017, brothers Christopher and George Cook were at the Route 91 Harvest Festival in Las Vegas, which was the scene of the deadliest mass shooting in modern U.S. history.
Stephen Paddock opened fire on the crowd on the Las Vegas Strip, killing 58 people and wounding more than 400.
That day, the brothers had split up in the crowd and George, who was in a wheelchair, was pushed to safety by an off-duty nurse. Both managed to get away unscathed. A dramatic image posted to Facebook showed his narrow escape.
Newsweek subscription offers >
Working as a bartender at the event was Alicia Olive, who connected with the brothers through a support group on Facebook. They helped each other deal with the traumatic aftermath.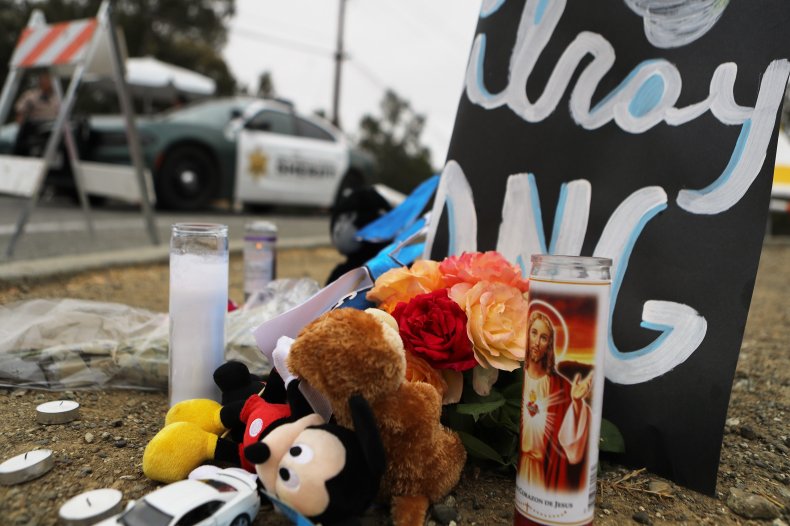 After suffering depression in the wake of the attack, she moved to California to start a new life.
The three of them decided to go to the Gilroy Garlic Festival in Santa Clara County, California, last weekend. It was the first time since the Strip shooting Alicia felt she could let her guard down. But history repeated itself.
Newsweek subscription offers >
On Sunday, 19-year-old Santino Legan started shooting at the festival, killing three people, including a six-year-old boy, before being shot himself by police. Christopher Cook said that the fear of the previous mass shooting had returned.
"You think you're grateful for everything you have until something like this happens," he told CNN.
"I was able to be a bit more calm this time. Difference was, in Vegas you didn't know where it [gunfire] was coming from, but in Gilroy we knew that it [gunfire] was behind us."
As she was being driven away in a bus from the scene in Gilroy, Alicia said in a Facebook Live video: "This is not happening again."
Looking visibly distressed, she described how she "hoped nobody got hurt" before repeating: "It's not happening again, you know?"
George said that the shootings would not stop him from doing what he wanted, telling CNN: "Time heals all. I'm not gonna change what I do or how I enjoy myself."
Police have said they believe the Gilroy gunman was acting alone.
A search warrant revealed a bulletproof vest, gas mask, knife and gun pamphlets at his home in Nevada, suggesting that he was planning an even larger scale attack, CBS reported.
Meanwhile, in January the FBI closed its investigation into the Las Vegas shooting after they were unable to find a motive behind the actions of the killer.
FBI officials concluded that there was "no single or clear motivating factor" behind his actions and that he did not appear to have a religious or political agenda.
Three Friends Who Survived Gilroy Festival Shooting Also Escaped Las Vegas Mass Shooting Two Years Earlier | U.S.