'Why Are You Doing This?' 'Because I'm Really Angry'—What Gilroy Shooting Suspect Said After Opening Fire, According to Witnesses
Witnesses have spoken of the moments after a gunman went on a rampage at a food festival in California and shot dead three people, including a 6-year-old boy. The gunman who attacked the Gilroy Garlic Festival in Gilroy, around 30 miles south of San Jose, was eventually shot dead by police.
Chief of Gilroy Police, Scot Smithee, told a news conference that the man managed to enter the festival on Sunday by cutting his way through a fence and that he was likely to have had an accomplice, although it was unclear whether that person had opened fire.
"It's just incredibly sad and disheartening that at an event that does so much good the community had to suffer from a tragedy like this," said Smithee, according to Reuters.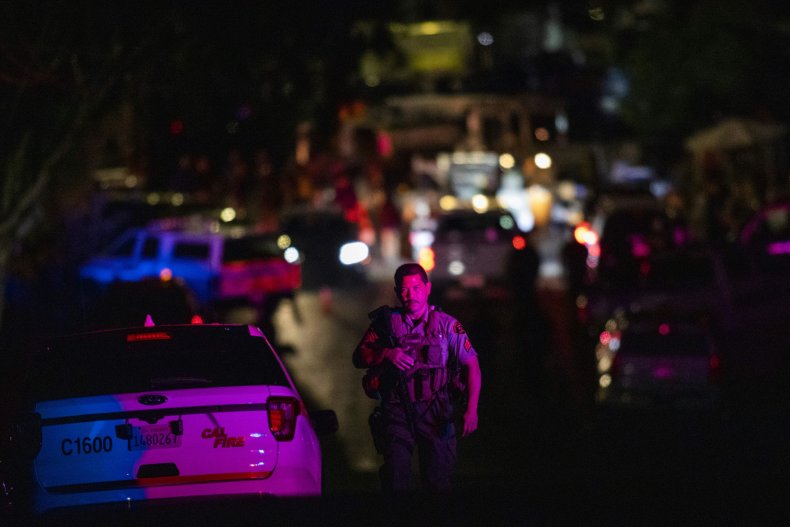 The band Tin Man was starting an encore at the festival when shots rang out. Singer Jack van Breen dived under the stage when he saw a man in a green shirt and grayish handkerchief around his neck fire into the food area with what looked like an assault rifle.
Van Breen said he had heard someone shout: "Why are you doing this?" and got the reply: "Because I'm really angry, "The Associated Press reported.
Another witness described hearing what sounded like "a semi-automatic going off really close," adding that "as soon as the gunfire started, everybody scattered and people were yelling for their kids," CBS reported.
Another witness, Cynthia Saldivar, who was working at the festival, told CNN that when the gunfire started, "everyone started running out towards us, up the hill to the street to be safe. Then I saw some people shot, some doing CPR on others."
"There were three people that I've seen badly injured and we tried to get them up the hill on Miller Street, I believe it's called, where there were people to fully help them," she said.
The 6-year-old boy who was fatally shot was named as Stephen Luciano Romero, of San Jose. The Santa Clara County Medical Center admitted five victims while two patients are being treated at a medical center at Stanford University, according to CNN. At at least 15 people were injured, some critically.
Brian Bowe, executive director of the annual three-day festival that attracts 100,000 people, said: "We couldn't feel worse. It's just a horrible thing to experience."