International Gin and Tonic Day 2019: Where to Get Gin Deals and Discounts
Gin and tonic—the popular summer cocktail hailing from Britain and known for its crisp, clean taste—is made from gin, which is having a moment across the globe.
The spirit saw a rise of 15 percent in global travel retail volume last year, according to a report by the International Wine and Spirits Research (IWSR), and an international growth rate of 8.3 percent in the same year, with the U.K. alone having seen a 32.5 percent increase in gin consumption, Liqour.com reports.
In the liquor's native country Britain, a record 73 million bottles of gin were sold in 2018, with sales of more than £2 billion ($2.6 billion), nearly doubling in sales between 2016 and 2018, according to the Wine and Spirit Trade Association, The Independent reports.
What is gin and tonic?
The cocktail is made with gin, a distilled alcoholic drink made from juniper berries which gives the drink its botanical flavor, and tonic water, a type of carbonated water. The drink is typically garnished with a slice or wedge of lime.
Types of gin
In recent years there have been several variations of gin introduced but below are the four main common types, gin expert Nathan O'Neill, the head bartender at NoMad Bar in New York City, told Bon Appetit.
London gin: This gin is what is often referred to as dry gin because it contains no sweeteners or other flavorings and its main ingredient is juniper. London gin is among the most commonly used.
Plymouth: This gin is only produced by one distillery in the world – the Blackfriars Distillery in Plymouth, England, which has been in operation since 1793. The historic gin is drier in taste than London gin, with a stronger citrus flavor made with a mix of juniper, coriander seed (adds acidity), dried sweet orange peels, cardamom, Angelica root, and Orris root that gives it a spicier taste. The bottle features an old ship emblem on its face which reflects its connection to the British Royal Navy which had requested a higher proof, known as Navy Strength, as gin was believed to help fight off illnesses.
Genever: This robust flavored gin originates from 16th century Holland and its main ingredient is the malt wine spirit, accompanied by other botanical notes including cloves, ginger, nutmeg and caraway, which gives it an earthier taste than other gins.
Old Tom: Dating back to around the 18th century, Old Tom is known for its richer, sweeter taste, with more licorice added during the distillation process. Sometimes sugar is added to enhance the sweetness while other times the botanicals in it alone can do the job. It works best in any mixed drinks with bitter flavors for a more balanced taste.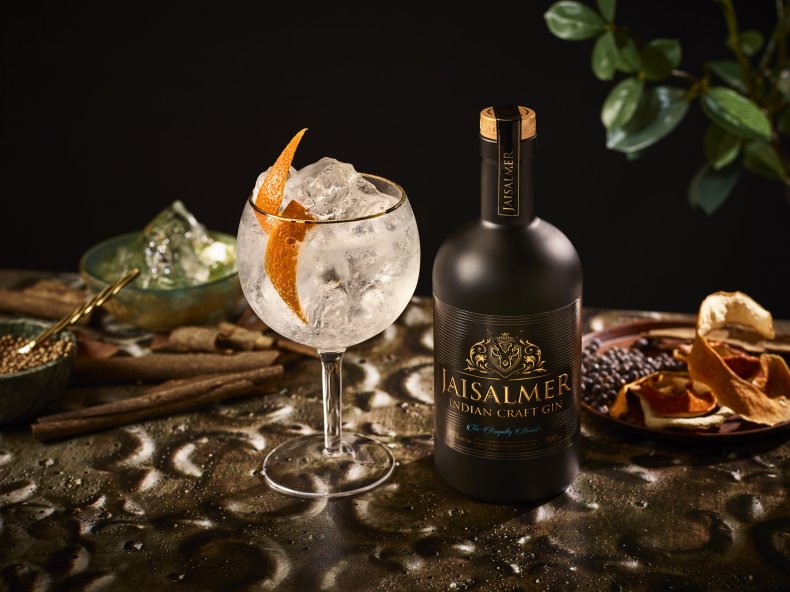 Top gin and tonic facts
Gin and tonic was created by British soldiers in India around the 1820s who began drinking tonic water made with quinine powder, an antimalarial substance, and soda to help ward off malaria. The soldiers added gin and sugar to the mix to make the bitter tonic water more palatable and the gin and tonic concoction was born. Today's tonic water contains much lower levels of quinine and is mostly sweetened and not as bitter as it originally was.
There are differing claims around the origin of gin, including the belief that it was first invented during the Eighty Years' War in 1585 when English soldiers drank jenever (the Dutch word for gin) during battle for its calming effects and from where the phrase Dutch courage has originated.
The lime garnish of the gin and tonic cocktail is said to originate from the mid 1800s when the U.K. parliament required lime or lemon juice be kept on board naval ships to help fight soldiers' vitamin C deficiencies. Royal navy doctor Rear Admiral Sir Thomas Desmond Gimlette was said to have introduced mixing Navy Strength gin with lime cordial for immunization purposes, which later became famous as the gimlet cocktail, according to the Forces Network.
In Spain, the gin-tonic—a spin-off of the gin and tonic—has become popular. The drink is known for its lavish varied garnishes tailored to its flavors and incorporates fruit bases in addition to the traditional herbal and botanical ingredients of the classic gin and tonic. It's served in a balloon glass (copa de balon) to help gather the aromas to the opening of the glass. Garnishes can range from ginger and licorice roots to grapes and other fruits.
Top gin and tonic deals
Enjoy the classic gin and tonic flavors of Plymouth and Tanqueray gin with Fever Tree's new Aromatic tonic water, made with South American angostura bark, which was used by the British royal navy surgeons as a fever remedy in the 19th century. A 750 ml of gin with two 500ml bottles of tonic water is available from $36 and $51 at Reservbar.com.
Drizly.com is offering Bombay Sapphire East gin with Fever Tree tonic water from $24.99 to $31.99
The Liquor Store Online is also offering slashed prices on various popular gins including Beefeater, Bombay Sapphire and Aviation, including a 1.8L of Aviation Gin American Batch Distilled at $102.99 (reduced from $117.49).
Bag this smooth leather gin bottle tote and bottle of Gray Whale gin, made with locally sourced organic and wild foraged ingredients in California which pays homage to the flavors along the California great whale's 12,000 mile migration from Baja California to the Arctic. Currently on sale for $72 (from $94) at Reservebar.com.
Gin enthusiasts will enjoy the Garnish Island Gin Club event at 7pm tomorrow at the Winslow Gin House and Eatery in New York City's East Village. The event includes a welcome cocktail, an introduction to Garnish Island Gin and distillery and two more cocktails which you'll learn how to make—all for $30 at thewinslownyc.com.