Gina Carano Fans Petition Disney To Rehire Her on 'The Mandalorian'
Some fans of Gina Carano have started a petition for Disney to rehire her on The Mandalorian following her termination from the Lucasfilm series last week.
The ex-MMA fighter was dismissed from her role as Cara Dune after an offensive social media post in a move that has outraged conservatives.
More than 36,000 people have signed the Change.org petition that calls on Disney to reject "cancel culture" and reinstate the actress.
"Gina Carano, the actress who plays Cara Dune in the Disney+ show, The Mandalorian, has been fired by Disney. Why? Because of cancel culture and Twitter," the statement reads.
"Her recent (now deleted) tweet responsible was one expressing her dismay for the way conservatives are being treated by liberals today, and to do this, she compared it to the way Jews were being treated by Nazis in World War II.
"I'm not going to say she was right or wrong with her views, but firing celebrities over their political views has been happening way too often, and once again, Hollywood has struck down another conservative."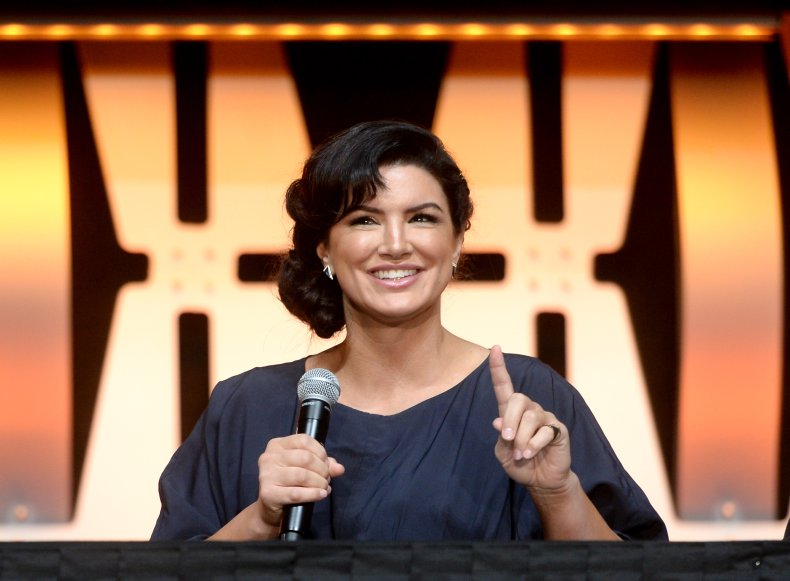 The petition claims that the Star Wars series "will not be the same without" Carano as Cara Dune and ends with a final plea to Disney fans: "Speak out. Disney needs to stop the trend of firing actors for controversial tweets, and just keep treating the fans to a great show. Rehire Gina Carano. Firing her isn't justice."
The post that led to her termination saw Carano compare being a Republican today to the experience of Jewish people during the Holocaust and was deemed "abhorrent and unacceptable" by Lucasfilm.
Carano has since responded to last week's controversy to announce she is working on a new venture with conservative podcaster Ben Shapiro and his website The Daily Wire.
"The Daily Wire is helping make one of my dreams—to develop and produce my own film—come true," Carano said in a statement to Deadline on Friday. "I cried out and my prayer was answered. I am sending out a direct message of hope to everyone living in fear of cancellation by the totalitarian mob. I have only just begun using my voice which is now freer than ever before, and I hope it inspires others to do the same. They can't cancel us if we don't let them."
Her social media followers have also surged since news broke of her being fired by Lucasfilm.
But while some fans of The Mandalorian want her to return to the show, many are already planning her replacement, with Xena star Lucy Lawless the favorite among many.
Meanwhile, toy company Hasbro has reportedly scrapped plans to release two Cara Dune action figures amid the backlash.