'The Mandalorian' Fans Once Again Petition Disney to Fire Gina Carano Over Offensive Tweets
Either Gina Carano really enjoys riling up fans of Disney's The Mandalorian, or she feels particularly compelled to exercise her First Amendment rights, because comments she's posted on Twitter have gotten #FireGinaCarano to trend once again. And like other times in the past, the actress and former mixed martial arts fighter has fended off critics with yet another offensive tweet.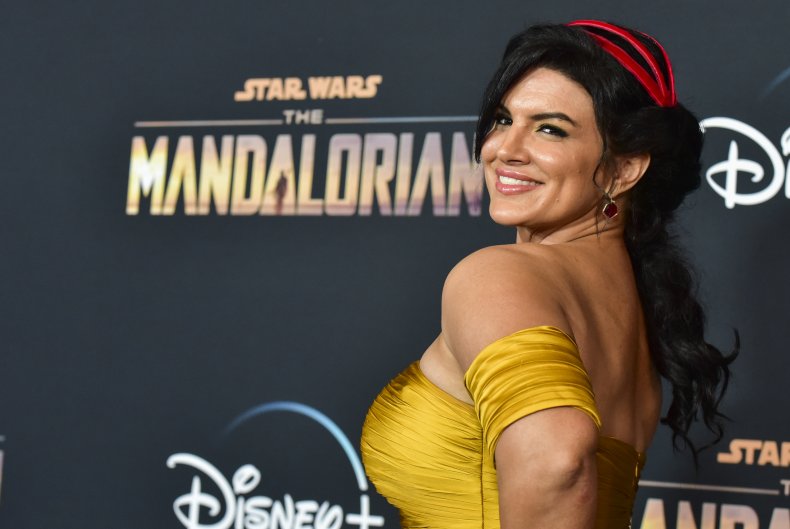 The tweet that set people off this week was an attack on Democratic leaders, about the wearing of masks to prevent the spread of the coronavirus. Sent out on Saturday, the tweet depicts a picture with the text: "Democratic government leaders now recommends [sic] we all wear blindfolds along with masks so we can't see what's going on."
Here are a few of the responses:
However, she does have her defenders, like this commenter:
Being a trained fighter, she's certainly not used to backing down from a fight, and she wasn't about to do so this time, either. She followed the next day with another anti-mask tweet.
Of course, that message drew its own share of responses.
On Monday, Carano seemed to send one final message (at least for now) to her detractors. Here's that not-so-subtle post:
Although, she did respond on Wednesday with a show of camaraderie for someone else who said she's been the victim of cancel culture.
Controversy has followed the 38-year-old Carano around all summer, after she suddenly began sharing controversial opinions on social media. Matters first reached a fever pitch at the beginning of August, when the hashtag #Ginacaranoisoverparty began trending. This came following a tweet she posted of a famous black-and-white photo showing a collective Nazi Salute, where one man isn't saluting. After some initially stunned responses and others calling her racist, she posted an article about the photo and wrote: "Heartbreaking and powerful story of a man who changed his ways for the woman he loved.. love changes the world, one person at a time."
Other people on Twitter then accused her of blocking accounts that support the Black Lives Matter movement. Carano followed up with various tweets calling her critics "cowards," "bullies" and "trolls." Then, in September, the Disney+ star urged churches and businesses to re-open amid the pandemic. Needless to say, that didn't sit well with many people, though there were a fair share of likeminded people who agreed with her.
Just about a week after that, though, she was accused of transphobia by seemingly mocking people who write their preferred pronouns in their Twitter bios when she put "beep/bop/boop" next to her name. When criticized for doing so, she tweeted: "I decided to put 3 VERY controversial words in my bio.. beep/bop/boop. I'm not against trans lives at all. They need to find less abusive representation." (She has since deleted the words next to her name.)
While her bosses at Disney likely don't appreciate all of the attention Carano draws, it seems unlikely she will be going anywhere soon, especially since The Mandalorian is only a few episodes into its second season and it hasn't even reintroduced her character, Cara Dune, yet.