Gina Haspel Says She Would Disobey Trump If Ordered to Restart Torture Program
President Donald Trump's nominee to lead the Central Intelligence Agency (CIA) said at her Senate confirmation hearing Wednesday that she would disobey an order from the president she found immoral.
Current CIA Deputy Director Gina Haspel, a 30-year veteran of the agency and the first woman nominated to lead it, has faced criticism from Democrats for her involvement in an interrogation program that tortured detainees during the George W. Bush administration. While on the campaign trail in 2016, Trump said "torture works" and that the United States should "go much stronger than waterboarding."
When repeatedly asked by Democratic Senator Mark Warren if she would carry out orders from the president that she found morally objectionable, Haspel eventually answered "No."
"My moral compass is strong, I would not allow the CIA to undertake activity that is immoral, even if it is technically legal," Haspel said. She also said she "would not restart, under any circumstances, an interrogation program at the CIA."
Haspel was involved in the CIA's rendition, detention and interrogation program, which sent suspected terrorists to foreign countries to be interrogated, and in some cases, tortured, after 9/11 under the banner of "enhanced interrogation."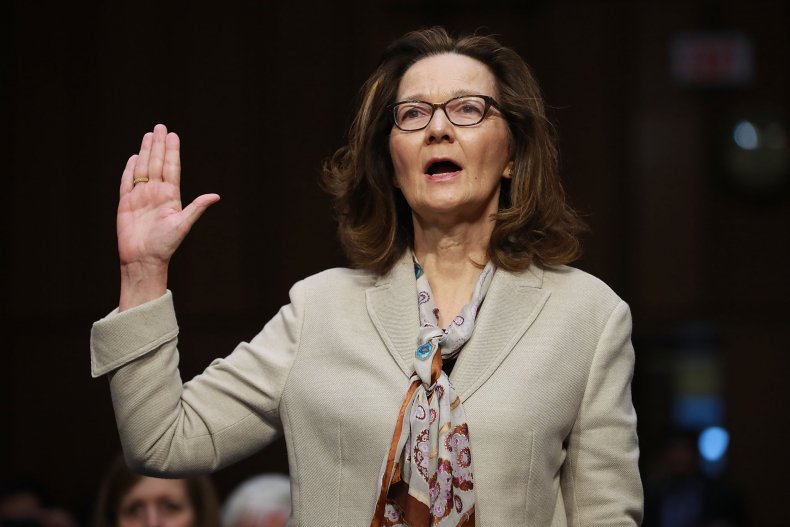 Much of Haspel's involvement with the program remains classified, but in 2002 she was reportedly in charge of a CIA "black site" in Thailand where detainees were sent for interrogation. She also drafted a cable giving instructions to destroy videotapes of some interrogations in 2005. A 2010 report detailed her role in the destruction of those tapes, but that report has never been declassified for the public.
Warner, the ranking Democrat on the committee, challenged Haspel on the timing of the tapes' destruction, pointing out the tapes were destroyed just days after former Michigan Democratic Senator Carl Levin introduced legislation to create an independent commission to investigate the CIA's treatment of detainees. Haspel later said she was unaware of the legislation.
Haspel has also said that the fate of the tapes was decided by a superior who "alone made the decision to destroy the tapes." She added that she never saw the tapes, but that they posed a potential security risk to the CIA officers in them if they were ever leaked to Al-Qaeda.
During Wednesday's hearing, Haspel's supporters pointed out that the programs she was involved in were authorized by President George W. Bush. Calling Haspel "the most prepared nominee" in the agency's history, Republican Senate Intelligence Committee Chairman Richard Burr told Haspel: "You have operated under authorities signed and granted by the President of the United States...This hearing is about how you'll lead the CIA into the future, not how you faithfully executed missions in the past."
President Barack Obama ended the use of "black sites" in 2009. In 2014, the Senate released a report on the CIA's interrogation program that found it was used more extensively than the CIA previously revealed. The following year, Congress limited interrogation techniques to what was depicted in the Army Field Manual, a decision Haspel said she supported.
While former CIA officials have praised Haspel, civil liberties groups have come out strongly against her nomination.
"Gina Haspel was a central figure in one of the most illegal and shameful chapters in modern American history. She was up to her eyeballs in torture: both in running a secret torture prison in Thailand, and carrying out an order to cover up torture crimes by destroying videotapes," said Christopher Andrews, the deputy director of the ACLU's Washington office.
Last week, Haspel reportedly contacted the White House and offered to withdraw her nomination over worries her involvement in the torture program could hamstring her confirmation, but ultimately decided to continue with the confirmation process.
Trump defended his nominee in on Twitter Monday, saying she "has come under fire because she was too tough on Terrorists."
"Think of that, in these very dangerous times, we have the most qualified person, a woman, who Democrats want OUT because she is too tough on terror," Trump tweeted.