Ginger Cat Sat at Candlelit Table Ready for Her Date: 'Waiting for You'
A cat named Ginger has melted hearts online after a video of her on a romantic dinner date with her owner went viral on social media.
In the video, shared Monday on TikTok by the cat's owner Kim Ngan Le under the username Heyitsgingerandpepper, the orange cat can be seen sitting on a pillow in front of a tiny table set with red roses, little candles and Champagne. Rose petals are strewn on the floor.
The hilarious clip comes with a caption that says: "POV: your date is waiting for you." This is followed by: "Patiently waiting for you."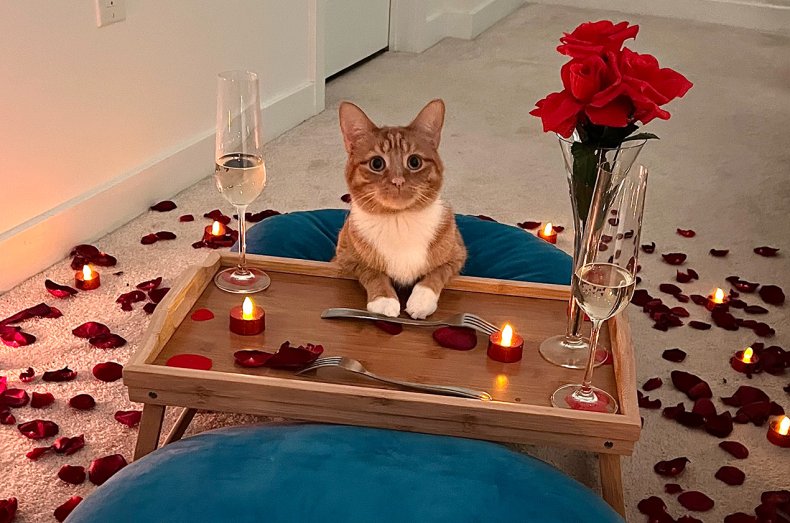 Kim told Newsweek that her cats saw the "hoomans" having a date night so they decided to set up one for themselves.
"They have cat wine and chicken cat food for dinner. And later they just cuddle and chill."
Many cat owners love their cats more than most things in the world, but do cats love their owners too? Or do they just play with our feelings, using us for food and shelter?
Research indicates that cats do love their owners. A 2019 study from Oregon State University suggests that cats exhibit the same attachment to their owners that babies show to their parents.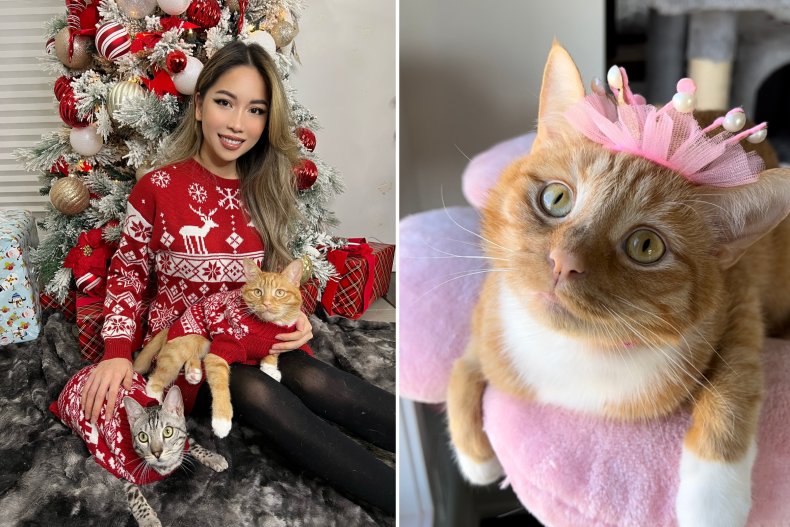 The cats involved in the study were pleased to see their owners and loved to get their attention. Moreover, kittens in the study acted distressed when their caregivers left and felt happy and secure when they returned. They still acted this way one year later, and the responses were similar to how children react to their parents.
The TikTok video quickly attracted animal lovers on the platform and has gotten over 1.4 million views, with 203,800 likes so far.
One user, Jen Katigbak, commented: "The eye contact is true love." And Ms.cook said: "Omg his little paws, the way he's sitting." Abby wrote: "Best date ever."
Desiree said: "That would literally be the best date I've been on in yearsssss." And Cloudiya Garcia added: "Honestly this is my ideal date." MZ90 wrote: "100/10 date, would ask out again."
Another user, Mads, commented: "He's gunna propose for sure." And MontyandMilo said: "How on Earth did you get him to stay sat there like that." Aprilldb joked: "I'd much rather be on this date than the ones I get off Hinge," referring to the dating app.
Jen wrote: "Aww. She looks so happy to see you too! Absolutely precious." And cherry7847 said: "Oh my goodness I'd show up 2 hours early just to have extra time with him."
Newsweek could not verify the details of the post and reached out to Heyitsgingerandpepper for comment.
Update, 2/1/2023, 11:20 a.m. ET: This article has been updated with comment from Kim Ngan Le and with new pictures.
Do you have funny and adorable videos or pictures of your pet you want to share? Send them to life@newsweek.com with some details about your best friend and they could appear in our Pet of the Week lineup.