Newt Gingrich, the conservative former House Speaker, complained Sunday that the introduction of ballot drop boxes to Georgia's election process this year will "make it harder" for GOP candidates to win during January's runoff contests. Specifically, he targeted Georgia Secretary of State Brad Raffensperger, who is a Republican himself, in a tweet that seemed to echo Donald Trump's unsubstantiated allegations of misconduct and partisan schemes.
"Why is Georgia Secretary of State Raffensperger working so hard to add drop boxes and take other steps to make it harder for Republicans to win," Gingrich wrote on Twitter. "Is he really that intimidated by Stacey Abrams?"
Abrams, who previously served in Georgia's state legislature and challenged Republican Governor Brian Kemp during the 2018 gubernatorial election, is now a voting rights advocate. As both of Georgia's senatorial elections moved to runoffs in the aftermath of November 3, Abrams emerged at the forefront of grassroots initiatives supporting Democratic candidates' campaigns. The results of January's runoff elections, between Republican incumbents David Perdue and Kelly Loeffler and Democratic challengers Jon Ossoff and Raphael Warnock, will determine which party gains control of the U.S. Senate.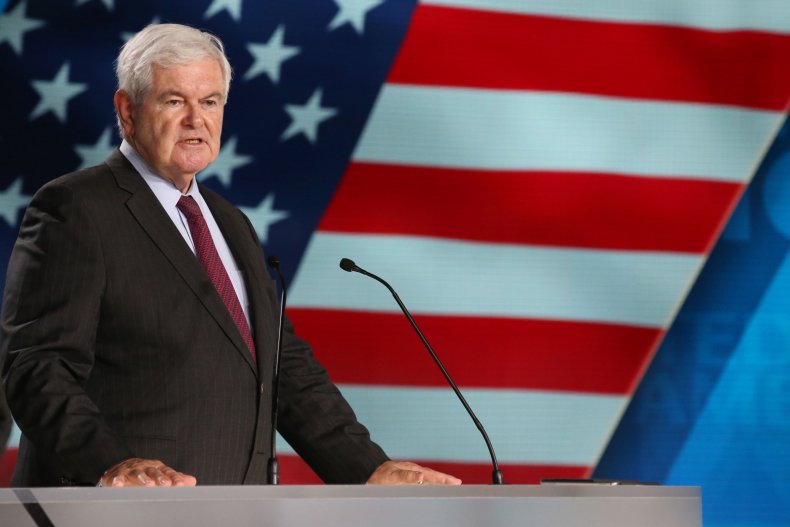 Like most states, Georgia received a record number of mail-in ballots ahead of last month's general election. In preparation for the influx of absentee votes, given concerns about in-person voting during a pandemic, election officials established a network of drop box locations across most of the state where residents could cast ballots without increasing their risks of contracting COVID-19.
The elections board voted to extend the state's use of drop boxes through the end of December since many voters are expected to cast mail ballots ahead of the January 5 runoffs. Several counties have established additional drop boxes in their respective jurisdictions ahead of the elections.
Many criticized Gingrich's claim about drop boxes, and their potential impact on Republicans' success in Georgia, as being in line with attempts at voter suppression. His tweet came just over a week after Human Rights Watch released a report that highlighted gaps in drop box access in dozens of Georgia counties, and pointed to clear inequities tied to race and class.
Gingrich isn't the only Republican who sees the drop boxes as problematic. On Wednesday, the Georgia Republican Party and Republican National Committee filed a joint lawsuit seeking to limit drop boxes' availability to regular business hours. Currently the drop boxes are open 24 hours a day.
Nsé Ufot, CEO of the New Georgia Project founded by Abrams, described it as "a sneaky, underhanded attempt to make it more difficult for Georgians to vote."
Newsweek reached out to Raffensperger's office for comment but did not receive a reply in time for publication.