Even GOP's Newt Gingrich Wants More Gun Control Laws After Las Vegas Shooting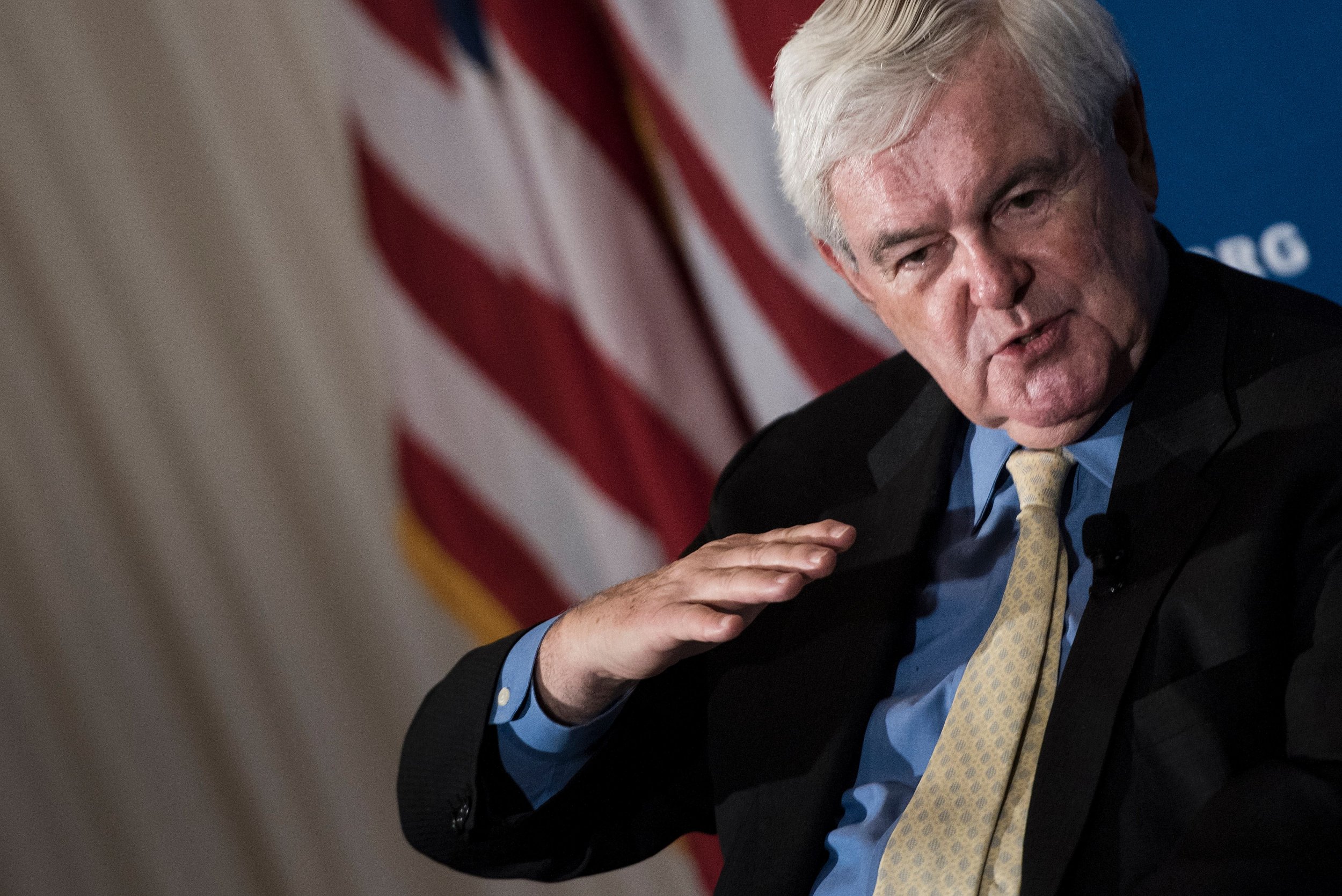 House and Senate Republicans have largely shied away from discussing gun control in the wake of Sunday's mass shooting in Las Vegas that left 58 people dead and hundreds more injured. Many of the GOP legislators have stated they do not want to "politicize" what's been called the deadliest mass shooting in the nation's recent history.
That is, until GOP operative Newt Gingrich, the former House speaker, broke ranks during an interview with Fox News Wednesday.
Long a Second Amendment advocate—and one who has not contended for or held political office since resigning from the House in 1999—the former Georgia congressman appeared to alter his stance by stating that gun control statues had to "catch up" as "technology changes," according to Mediaite.
"I also think some of the technology has to be looked at…," Gingrich said. "Look, if there is something that makes it easy to convert a semi-automatic into an automatic, maybe that does have to be looked at and put under the federal firearms act, which makes it illegal to have a genuinely automatic weapon."
Gingrich seemed to be referencing the "bump stock," an attachment that can allow a rifle to fire faster. The suspected Las Vegas shooter, Stephen Paddock, reportedly had 12 guns in his hotel room and a sniper perch fitted with a bump stock.
"It strikes me as a practical common sense thing that we ought to find some way to make—take that particular device and make it part of the illegal to have an automatic weapon," Gingrich said.
A day after the shooting, Democrats came out en masse to call for more regulations on guns, while Republicans like current House Speaker Paul Ryan and Senate Majority Leader Mitch McConnell extended "thoughts and prayers."
Other top Republican leaders passed on discussing gun rights laws so soon after the shooting.
"I just think politicizing this terrible tragedy is beyond disgusting and we ought to wait a respectful period of time, out of respect for people who lost their lives or were injured before we get into the push and shove of politics around here," Senate Majority Whip John Cornyn (R-Texas) said.
But Cornyn and others have evidently opened the door to passing legislation, particularly when it comes to bump stocks. He reportedly called for a congressional hearing on the matter Wednesday afternoon, according to Bloomberg.
Representative Bill Flores (R-Texas) also called for a ban.
"Based on the videos I heard and saw, and now that I've studied up on what a bump stock is—I didn't know there was such a thing—there's no reason for it," Flores told The Hill. "I have no problem from banning myself from owning it."