Ginsburg's Death Was 'Personal' for All New Yorkers, De Blasio Says, Will Rename Brooklyn Building After Her
Painted on the street outside the Brooklyn Municipal Building are the words "Black Lives Matter," making it a fitting spot to honor Justice Ruth Bader Ginsburg, according to New York Mayor Bill de Blasio.
De Blasio announced during a briefing on Tuesday that the Brooklyn Municipal Building will be renamed after Ginsburg. De Blasio said the building was an appropriate way to honor to the Brooklyn native, because it represents the value of public service and had a message out front, "Black Lives Matter," that was connected to "fairness and equality."
In the five days since the 87-year-old's death, de Blasio said he's talked to "so many" people who feel pain and a deep loss over her death, which he called "personal for all of us as New Yorkers."
"It's personal for so many people who were inspired by her and saw her as a guiding light and example," de Blasio said. "We want to make sure we honor her in every conceivable way and especially in the borough that she came from that gave her so much of her strength and spirit, the borough of Brooklyn."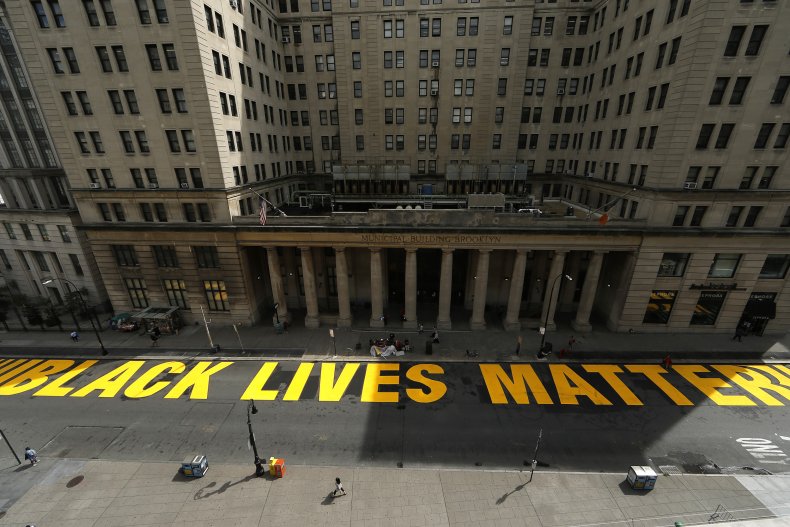 Born in a working-class neighborhood of Brooklyn in 1933, she attended James Madison High School before going to Cornell University. Decades later, she was nicknamed the "Notorious RBG," after the rapper Notorious B.I.G., who was also from Brooklyn.
Honoring Ginsburg by renaming the Brooklyn Municipal Building after her is an "extraordinary opportunity" to remind the borough of "one of their own" who changed the world, de Blasio said. The official renaming will happen in the "weeks to come" during a ceremony with her family.
On Saturday, landmarks across New York state were lit blue in honor of Ginsburg's passing. The directive came from Governor Andrew Cuomo, who said New Yorkers from "all walks of life" should take a moment to reflect on her life and contributions to America.
Along with a building in her honor, Ginsburg will also be memorialized with a statue in Brooklyn. An appointed commission will be responsible for choosing an artist and a location, Cuomo announced on Saturday. They will then make recommendations to Cuomo as to how the statue should be designed, located and installed.
"While the family of New York mourns Justice Ginsburg's death, we remember proudly that she started her incredible journey right here in Brooklyn. Her legacy will live on in the progress she created for our society, and this statue will serve as a physical reminder of her many contributions to the America we know today and as an inspiration for those who will continue to build on her immense body of work for generations to come," Cuomo said.