Giraffage Is Ready to Make Fans Dance at 2018 Coachella Performance
Bright lights, cat memes, smiley face emojis, swirling shades of blue, yellow and green— these are just a few of the things EDM lovers will notice flashing across a LED screen at a Giraffage show. More than just the standard neon lights and lasers at a typical electro set, Giraffage puts on full fledged productions when he's performing, equipped with money shower gifs pulsating to the synthetic beats booming from his stage speakers.
There's only one intention behind the Bay Area producer's fun and energetic set, and that's to bring on the good vibes and get people dancing. Giraffage, whose birth name is Charlie Yin, did just that with the October 2017 release of his first album, Too Real. He'll do it again Sunday when he performs at the 2018 Coachella Valley Music & Arts Festival.
Newsweek chatted with Giraffage about his upcoming Coachella set, and he revealed everything he had in store for his first show at the annual festival.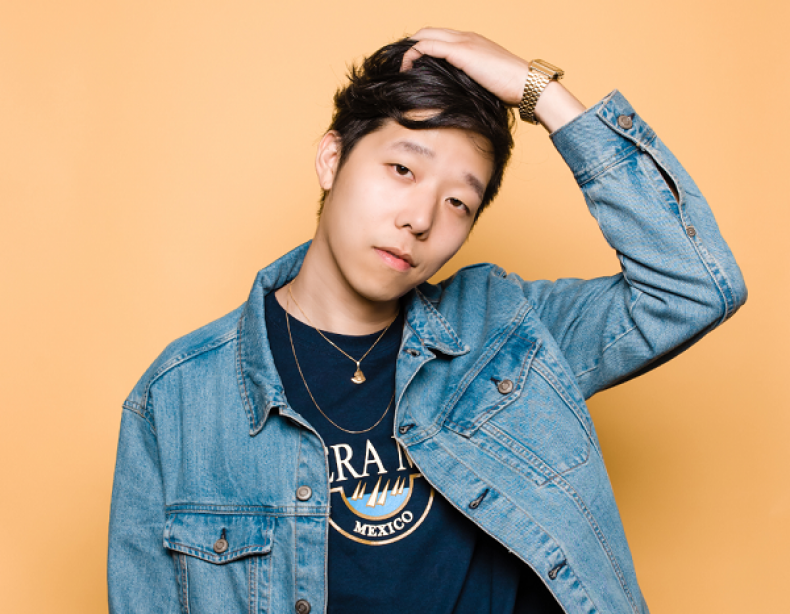 Are you excited for Coachella?
I am excited. It's my first time even attending as a fan, so I'm spending the entire weekend there and checking out the other artists. I have a lot of friends coming out, so I think it'll be nice to reconnect with old friends.
Is there anyone you're especially excited to see?
Yeah, they've booked a lot of really cool house DJs. I really wanna see Omar-S and Avalon Emerson. Also, I really wanna see Beyoncé.
I got a chance to catch your show at Williamsburg Music Hall last fall and it was such an energetic and fun set. Can fans expect to see something similar at Coachella?
It'll be different than shows I've done before. I'm excited for fans to see a new set, and I think because I'm playing in the desert I might get a little more dancey than usual. I still haven't figured out my set too much yet, but it'll definitely be different.
Are you nervous at all?
Yeah. I still get pretty nervous before any show, even if I'm just playing for 50 people. So I'm definitely a little nervous for this.
You seem to pull fans in visually just as much as you do with the sounds of your music. What's the motivation behind that?
I like my shows to be a representation of me as a person, so a lot of the visuals are made by me and my VJ. And also all the music that I play is made by me or I have a hand in making it. It just kind of gives you a representation of me as an artist. So I always try to capture that in my shows, in the visuals and the music. I think we're gonna reuse a lot of the visuals [from former shows] at Coachella, but we're also throwing in some new visuals that we've made and some old ones we haven't used.
When you first got started, your parents weren't too thrilled with your decision to become a musician.
They expected me to be an engineer or something, but I just never really cared too much about school. I listened to music all the time in my room instead of actually studying. Luckily I was able to segway into music after I graduated from college.
So music was something you wanted to pursue as a kid?
Pretty much. I always figured I'd be working in the music industry in some way when I was growing up. I just didn't know in what way. I was originally gonna go into marketing when I got out of college, but somehow I've kinda just been able to do the Giraffage thing.
Were you listening to EDM back when you were a kid?
A little bit. I really liked Daft Punk when I was growing up. And I got super into Boards of Canada in high school. But mostly I was listening to indie rock and whatever was on the radio at the time. There's also this music video channel that I would run to after school and watch for hours and hours. I'd listen to whatever music played on there.
You're music is a blend of different sounds and moods. It's like a mix of electronic, and house, and dubstep and trip hop. What's the inspiration behind such a blended sound?
I think my sound is kind of like an amalgamation of all the music I listen to. I try and listen to all kinds of music and I think because of that, my style kind of evolves as my music tastes evolve. Lately, I've been listening to a lot of house music, so I think the new few songs that I make will probably be really house influenced.
What is the best thing about being able to play at a festival?
I think festivals are cool because it's a place to bring people together. It's very inclusive. No matter what music you like there's someone there for you to discover. I think it's a really cool environment to enjoy and see a lot of your favorite artists and maybe artists you didn't know before. Especially at a place like Coachella where the lineup is so curated. They have a really cool lineup this year.
What's next for you?
I have a few more festivals. I'm doing Lightning in a Bottle [in San Antonio] and a few others that I don't think I'm allowed to say right now. But basically, festivals and I might do a few small tours here and there throughout the rest of the year.