Giraffe Attacks Mother and Son, Leaves Them in Critical Condition
A woman and her three-year-old son are in critical condition after a giraffe attacked them in South Africa on Monday.
Dr. Katy Williams was operated on Thursday for multiple injuries, and her son Finn had surgery on Tuesday to relieve pressure on his brain. A family statement on Thursday said that the two were in stable but critical condition at the Busamed Modderfontein Hospital in Johannesburg. Williams and her husband Sam live and work at the Blyde Wildlife Estate, where the incident took place.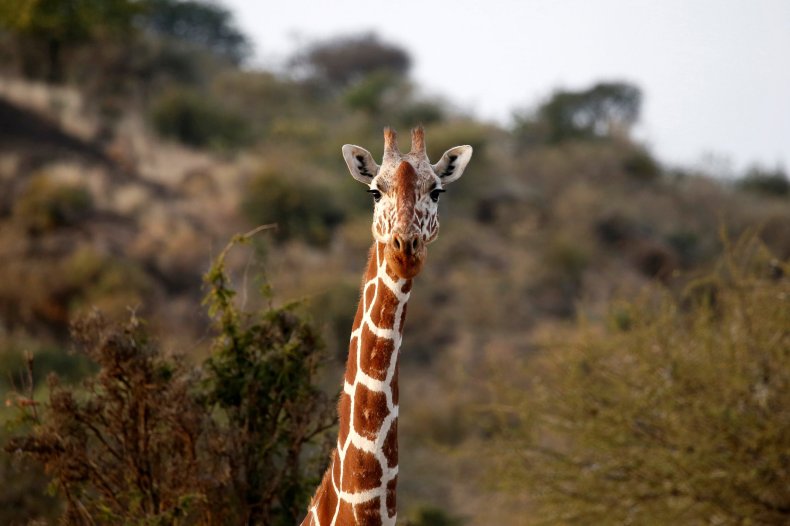 "Dr. Sam Williams would like to thank all doctors and medical personnel from the hospital for their efforts to give his wife and son the best chance to heal. The family said that they have decided to take one day at a time and to remain positive," a statement issued by the family's lawyer, Marina Botha, said, according to the BBC.
Sam Williams was returning from a run when he saw his wife and son being trampled by the female giraffe about 160 yards away from their home. Williams called emergency services after he was able to chase the animal away. Katy and her son Finn were then airlifted to the hospital in Johannesburg, around 300 miles away from the wildlife sanctuary in Hoedspruit.
"We are all in shock about this very sad incident and we ensure the family that they are in our prayers," Riaan Cilliers, the manager of the Blyde Wildlife Estate said in a statement. He called the accident "an act of nature" and believed that the attack happened because the giraffe, which had a young calf, thought that Katy and Finn were a threat.
Giraffes are usually peaceful animals and only attack when they feel threatened.
Another giraffe killed an award-winning South African director in May. While filming at a safari lodge, the giraffe headbutted Carlos Carvalho, who was pronounced dead at a hospital in Johannesburg.
"When Carlos was standing in front of the giraffe, the animal spread its legs, bent its neck and swung its head at Carlos," the owner of the Glen Africa Country Lodge, Richard Brooker said, according to The Telegraph.
Brooker said that the giraffe would remain at the lodge because "he did nothing wrong."
"It came out of nowhere and Carlos didn't even see it coming. He wasn't aware of the danger. I could see he was unconscious (…) I knew he had severe head trauma. But I never thought he was going to die," Dirkus Van Der Merwe, a member of the film crew said, according to The Telegraph.