Giraffe Calf Runs Rings Around Grownups in Adorable Video
Adorable giraffe calf Amari has shown that she may be just 6 months old but she is already running rings around the adults in her zoo enclosure.
Schönbrunn Zoo in the Austrian capital of Vienna put the youngster on show to mark her half birthday on July 23.
Keepers say the young calf is full of energy.
Video footage of Amari in the enclosure shows her charging around the grownup giraffes and even racing them for their favorite food.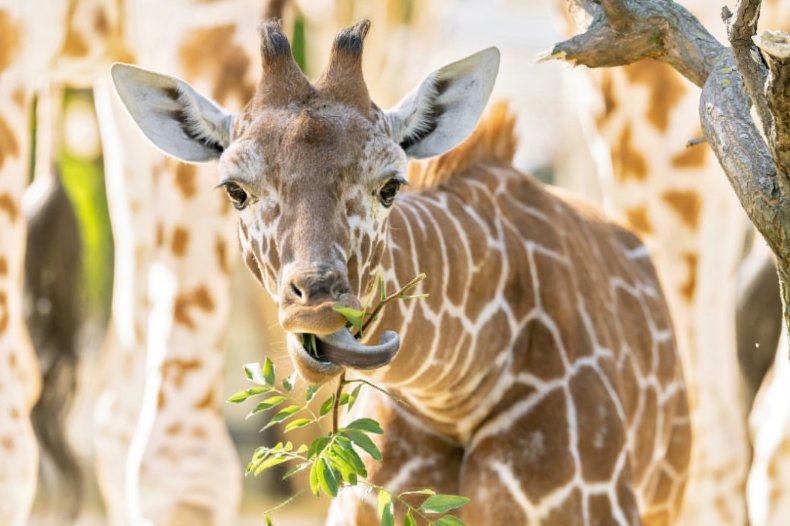 Amari was born at the end of January and her name means "the strong one" in the Yoruba language.
It was touch and go at first, though, as Amari's mother Fleur refused to suckle her, forcing carers to feed her rich cows' milk to keep her healthy.
Eveline Dungl, head of the zoological department, said: "Amari is now well over two meters tall and full of energy.
"With her long, blue tongue, she likes to pluck fresh leaves together with the rest of the group, but we also continue to feed them Holstein cow's milk."
Holstein Friesians are a breed of dairy cattle that were originally bred in the Dutch provinces of North Holland and in Friesland, as well as in the northern German state of Schleswig-Holstein.
The zoo video shows how fences have been adapted to include branches so giraffes of all sizes can graze on their favorite snacks.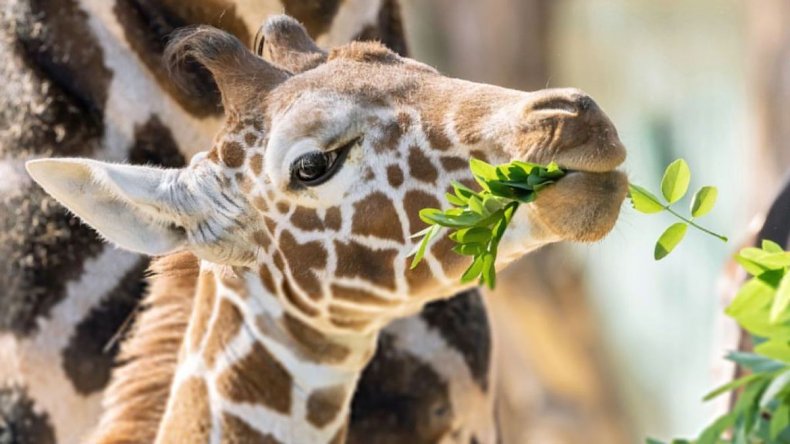 The zoo explained: " Dedicated branches allow the giraffes to be fed at head height. The giraffes not only taste the leaves, but also the bark."
Dungl added: "Some of the branches are also fixed in on the floor of the facility, because the animals love to scratch their bodies and legs with the thin, soft twigs."
Zoo Director Stephan Hering-Hagenbeck said: "Traditionally, we get a large part of the branches and leaves that our giraffes eat from the forestry and agricultural enterprise of the city of Vienna.
"Once or twice a week, branches of deciduous trees such as poplar, field maple, ash, hornbeam and copper beech and robinia are brought to the zoo from the forest administration of the Wienerwald and Lobau.
"Robinia are particularly popular with our giraffes. We are very grateful for this reliable supply of fresh feed for our animals."
The zoo added: "Some of it is fed immediately, for example to elephants, monkeys or hoofed animals.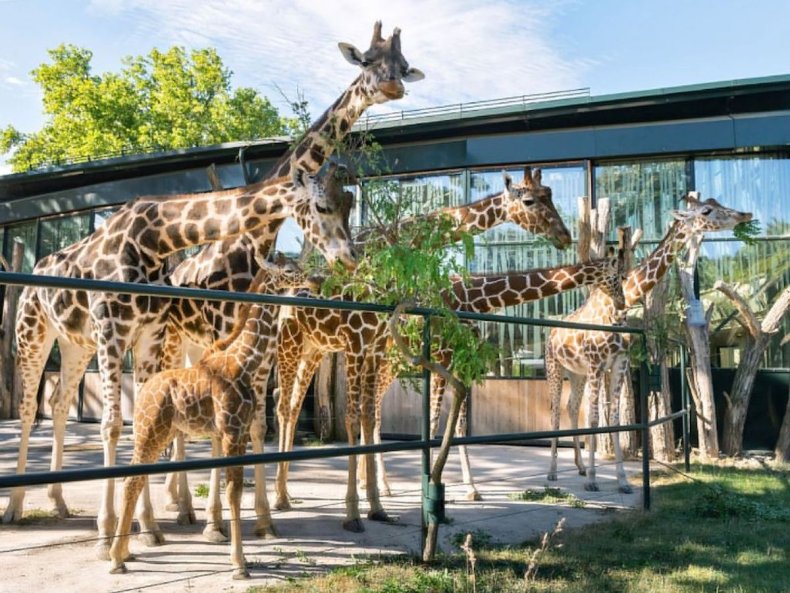 "The other part is frozen for the colder season and kept as a reserve to be thawed again in the winter."
Vienna's Forest Director Andreas Januskovecz said: "The forestry and agricultural enterprise of the City of Vienna has had a long-standing friendship with Schoenbrunn Zoo.
"I am therefore pleased that we can enrich the diet of the animals with the clippings that are produced."
This story was provided to Newsweek by Zenger News.