Beloved Florida Giraffes Named Lily and Jioni Killed by Lightning in 'Absolutely Heart-Wrenching' Accident
The deaths of two giraffes in a Florida lightning storm has been described as "absolutely heart-wrenching," by the Wildlife Director at the safari park where the pair lived.
Florida's CBS12 reported the two beloved giraffes, ten-year-old Lily and one-year-old Jioni, died during a storm in early May. A recent pathology report has confirmed the pair were killed by lightning.
Staff at Lion County Safari in Loxahatchee, in Palm Beach County, Florida, where the two giraffes lived, were overcome by the sudden and unexpected deaths of the beloved animals.
"It was absolutely heart-wrenching," Brian Dowling, the park's wildlife director explained. "There were so many tears around here. Everyone was absolutely devastated by it," he added.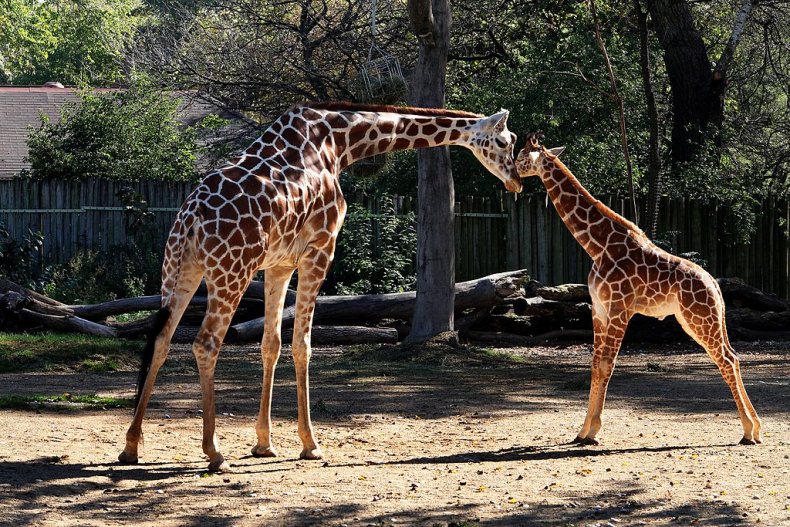 Haley Passeser, a spokesperson for the park told CBS Miami that some of the staff had been particularly affected. "The whole team here was devastated and we're still in the mourning process weeks later," she said."There were a lot of tears shed. Some of our keepers had to take some personal time off to process," Passer added.
According to police at the park, the animals are given large stretches of land to roam in, including covered areas to take shelter in during storms. However, the animals generally prefer to be out in the open and keepers do not try and force them into safer spots.
"We do try to provide them a lot of choice, and in a case such as that when we ourselves are also seeking shelter," Passeser explained. "If they don't choose to seek shelter, there isn't a lot we can do to encourage them to," she added.
The park has said it will review its policies and consulting with experts through the state to ascertain their procedures are in keeping with best practice. However, the park feels there is little they could have done to avoid the tragic outcome. "It was just very tragic, natural effect, natural accident, and it was very devastating to our staff and we are still mourning from it," Passeser said.
Animals, like humans, are often hit by lightning. According to the National Weather service, on average 49 people are killed by lightning in the United States each year, based on data collected over the last 30 years.
Between 2008-17, Florida had the highest number of human fatalities related to lightning strikes, the National Weather Service reported. A total of 47 individuals were killed by lightning in the period of just under ten years.