Girl, 11, in 'Critical' Condition Following Suspected Snake Bite
An 11-year-old girl was said to be in critical condition after suffering a suspected snake bite in New South Wales, Australia, on Wednesday.
According to Echo Net Daily, medical staff at Lismore Base Hospital were able to stabilize the patient last night.
She was rushed to Lismore Base by a Westpac Life Saver Rescue Helicopter yesterday evening after her condition deteriorated.
"The youngster's condition is believed to be critical," a spokesperson for the Westpac Life Saver Rescue Helicopter service told reporters.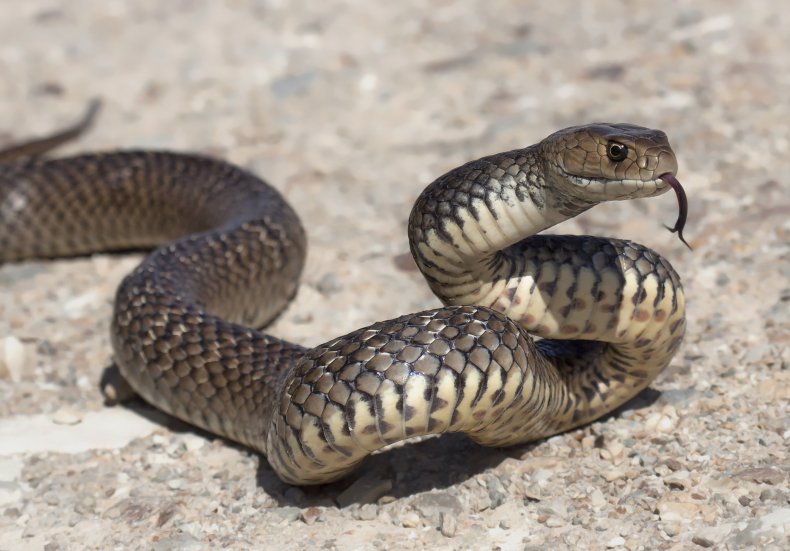 According to the World Health Organization (WHO), it is thought that around 5.4 million people are bitten by snakes each year—but this is an estimate and the exact number isn't known. Around 2.7 million involve the injection of venom.
While, in most cases, deaths can be prevented with a swift administration of antivenom, children are more likely to suffer serious complications due to their smaller body mass index.
According to NSW Environment, Energy and Science, there are approximately 100 venomous snakes in Australia, including the brown snake, tiger snake, death adder and mulga—12 that are "likely" to cause a wound that can kill a human.
It is thought that 81,000 to 138,000 deaths are caused by snakebites each year, according to the WHO. Around half of these are thought to occur in India alone, Down to Earth reports—where, in one instance Newsweek reported on earlier this year, a man bit his wife after he himself was bitten by a venomous snake so that they could die together.
In the U.S., 20 percent of snakes are poisonous. However, fewer than one in every 37,500 people will be bitten by venomous snakes in any given year. This works out at around 7,000 to 8,000 bites annually.
The likelihood of dying from a venomous snake bite is even lower—one in 50 million, a number that works out as 5 to 6 fatalities a year.
If you or someone you know is bitten by a snake, the advice given by the U.S. Centers for Disease Prevention and Control (CDC) is to remain still and calm and call the emergency services as soon as possible. Remembering the color, shape and size of the snake can help with treatment of the bite.
Signs you may have been bitten include: a pair of puncture marks and severe pain at the site of the wound, redness or swelling near the wound, nausea, vomiting, difficulties breathing, troubles associated with vision, sweating, increased salivation and numbing or tingling.