9-Year-Old Girl Protests Stephen Curry Shoes Only Being Sold in Men's Section, Gets Him to Change Listing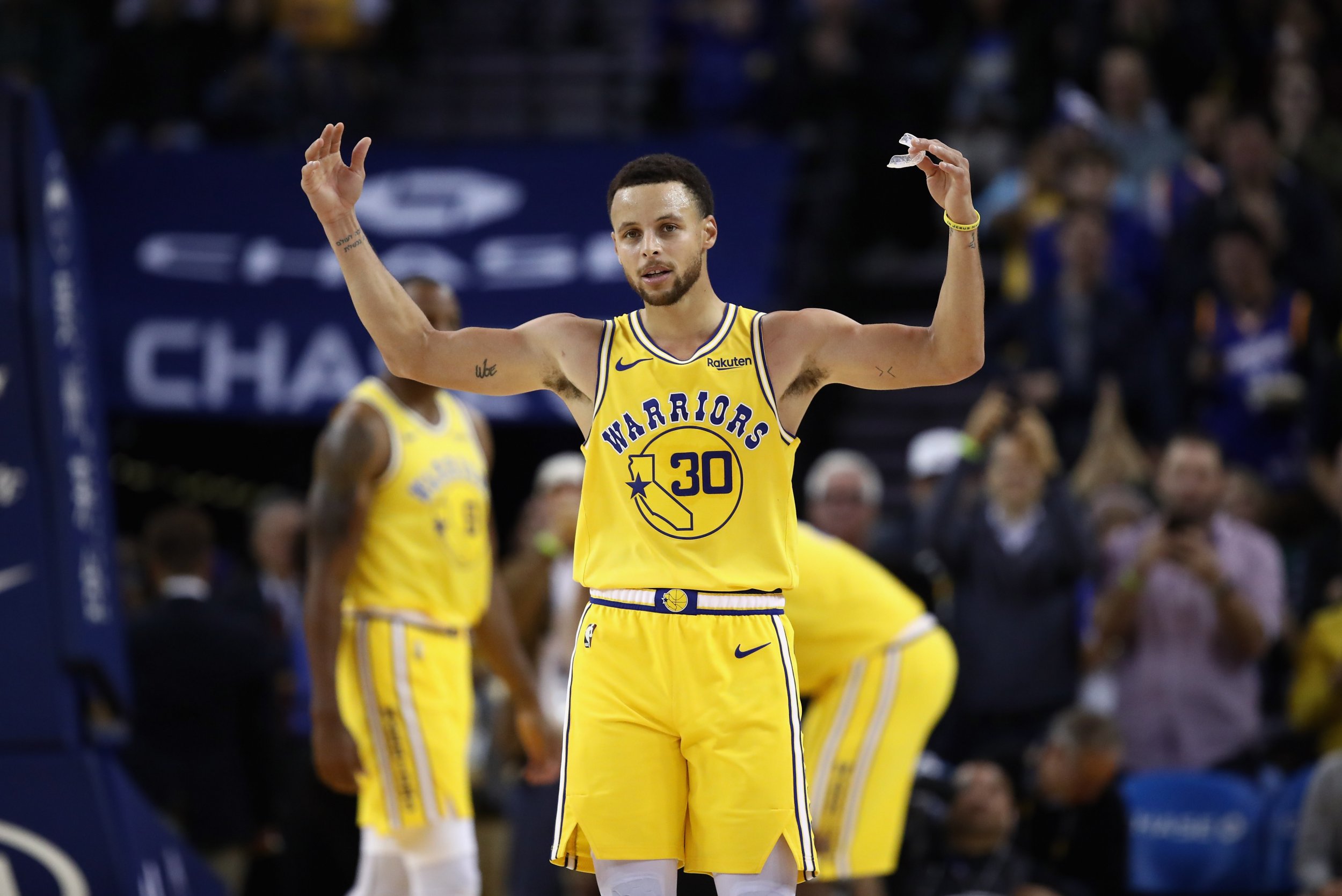 NBA players are used to field all sorts of questions from journalists, but the one Stephen Curry faced from a nine-year-old girl was almost unprecedented.
Having spent time looking for a pair of basketball sneakers to take to the court with during the season, Riley Morrison grew frustrated at the lack of options for young girls—and opted to contact Curry directly in the hope he could address the issue.
The nine-year-old from Napa, California, sent a hand-written letter to the two-time MVP asking him why the new Under Armour Curry 5 shoes are only listed in the boy's and men's sections, despite being customizable for different sizes. She explained she had visited Under Armour website with her dad, Chris, but was disappointed to find there were no Curry 5s for sale in the girls section.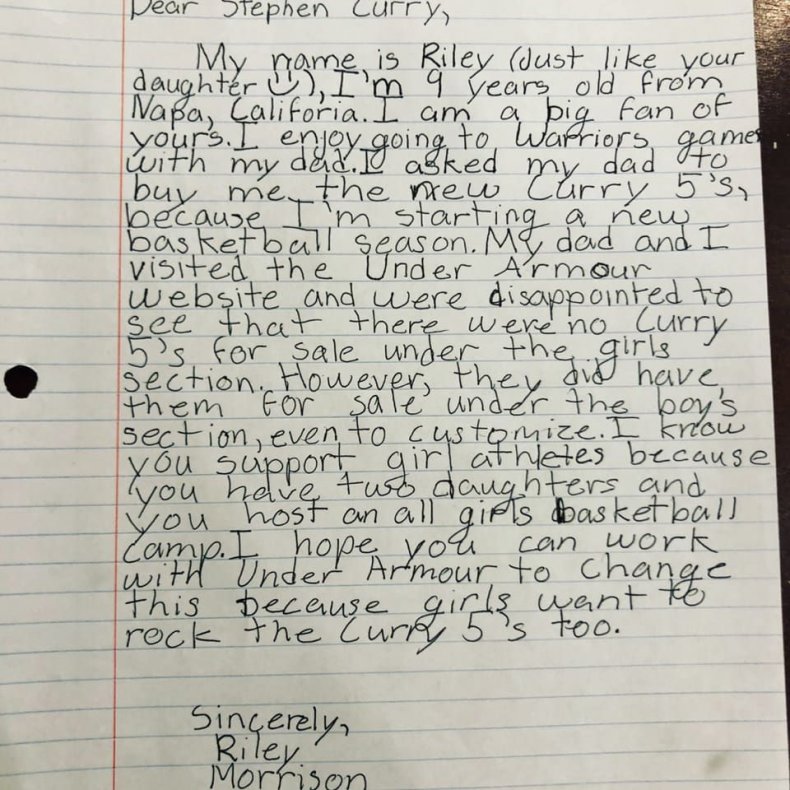 "I know you support girl athletes because you have two daughters and you host an all-girls basketball camp," Riley wrote, taking care to note she shares the same name with Curry's daughter.
"I hope you can work with Under Armour to change this, because girls want to rock the Curry 5s, too."
In the letter, Riley added that she is a big fan of Curry and enjoys going to Warriors games with her dad.
"She looked at me and said, 'Dad, that's not fair,'" her dad was quoted as saying by Teen Vogue . "And I said, 'Well maybe you can write a letter.'"
Riley followed the advice and the letter went viral after a picture of it was shared on Twitter by Liz Plank, a senior producer and political correspondent at Vox.
To his credit, Curry responded to the letter and wrote back to Riley in his own hand, pledging to address the issue and promising her she will be among the first kids to receive a pair of Curry 6 when they are released.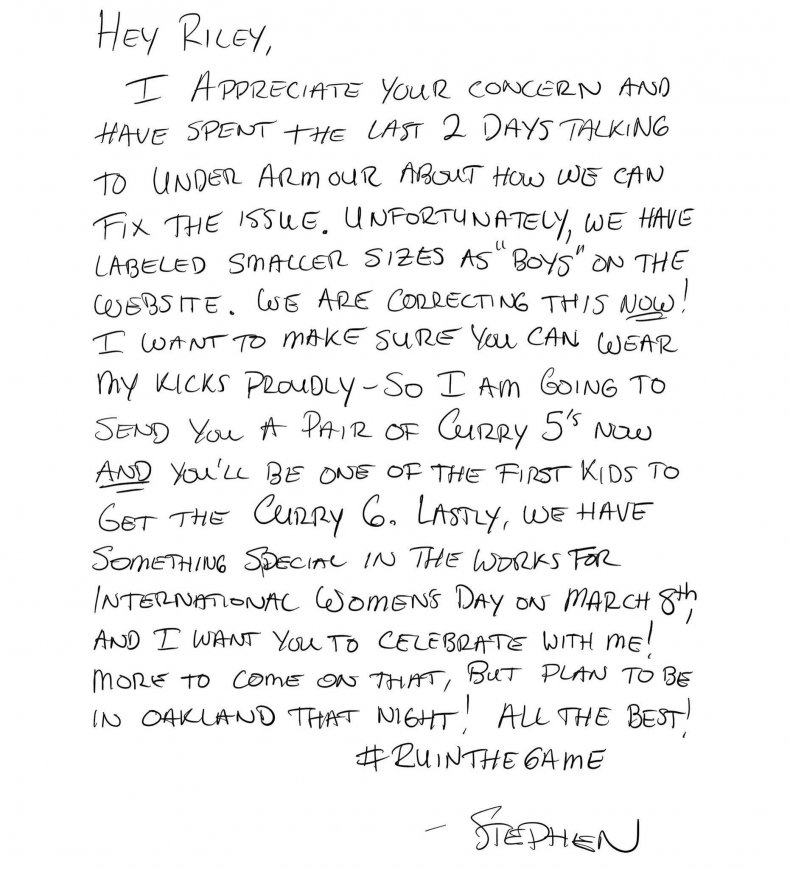 "Hey Riley," the 30-year-old wrote.
"I appreciate your concern and have spent the last two days talking to Under Armour about how we can fix the issue.
"Unfortunately, we have labeled smaller sizes as 'Boys' on the website. We are correcting this now! I want to make sure you can wear my kicks proudly—so I'm going to send you a pair of Curry 5s now and you'll be one of the first kids to get the Curry 6."
The three-time NBA champion added Under Armour have "something special" in the works to celebrate International Women's Day on March 8 and invited Riley to celebrate with him.
"Thanks to Riley and Stephen, we're correcting a simple yet critical error," Under Armour told Newsweek in a statement. "We've actually offered Curry signature footwear in youth sizing for boys and girls since the initial Curry 1; however, labeling that youth sizing for 'Boys' and not designating it for boys and girls, was simply wrong."
"Beginning now and moving forward our youth sizes will be properly labeled on UA.com to reflect co-gender 'Grade School' sizing, and on boxes beginning with the first youth sizes of the Curry 6 delivering this spring."
This article was updated to include a comment from Under Armour.